Abstract
Noise, chemicals and genetic defects are all common causes of irreversible hearing loss, which at present have no cure. Gene therapy may soon be utilized in both the protection and the treatment of these exogenous and endogenous sources of hearing loss. Gene therapy technology is rapidly developing and the inner ear is a particularly feasible model for gene therapy. This review outlines our current understanding of the mechanisms behind deafness and prospects for treatment, discusses the inner ear model in detail and reviews the efforts that have been made in inner ear gene therapy. Finally, the proposed next steps will be discussed. The viral mediated delivery of neurotrophins and antoxidants offers imminent promise in preventing and treating exogenous hearing loss and improving cochlear implant therapy.
This is a preview of subscription content
Access options
Subscribe to Journal
Get full journal access for 1 year
$119.00
only $9.92 per issue
All prices are NET prices.
VAT will be added later in the checkout.
Tax calculation will be finalised during checkout.
Buy article
Get time limited or full article access on ReadCube.
$32.00
All prices are NET prices.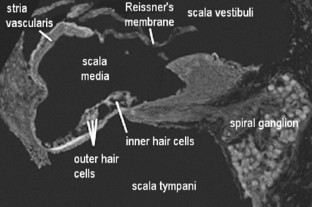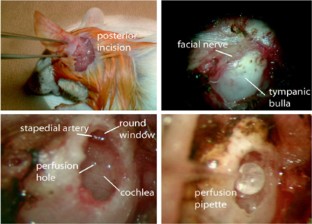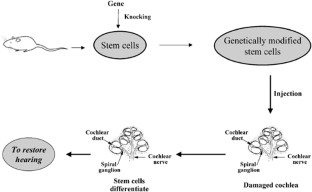 References
Steel K, Kros C . A genetic approach to understanding auditory function. Nat Genet 2001; 27: 143–149.

Probst FJ et al. Correction of deafness in shaker-2 mice by an unconventional myosin in a BAC transgene. Science 1998; 280: 1444–1447.

Duan ML et al. Framtida bot för hörselskador? Geneterapi och implamtation av stamceller möjliga nya behandlingsvägar. Läkartidningen 2000; 97: 1106–1112.

Duan ML et al. Protection and treatment of sensorineural hearing disorders caused by exogenous factors: experimental findings and potential clinical application. Hear Res 2002; 169: 169–178.

Schweitzer BD . Ototoxicity of chemotherapeutic agents. Otolaryngol Clin North Am 1993; 26: 759–789.

Laurell G . Ototoxicity of the anticancer drug cisplatin-clinical and experimental aspects. Thesis 1991, Karolinska Institutet.

Wang J et al. Local application of sodium thiosulfate prevents cisplatin-induced hearing loss in the guinea pig. J Neuropharmacol 2003; 45: 380–393.

Johnson AC, Nylen P, Borg E, Hoglund G . Sequence of exposure to noise and toluene can determine loss of auditory sensitivity in the rat. Acta Otolaryngol 1991; 109: 34–40.

Duan ML et al. Dose and time-dependent protection of the antioxidant N-L-acetylcysteine against impulse noise trauma. Hear Res 2004; 192: 1–9.

Rybak LP et al. Effect of protective agents against cisplatin ototoxicity. Am J Otol 2000; 21: 513–520.

Sha SH, Schacht J . Antioxidants attenuate gentamicin-induced free radical formation in vitro and ototoxicity in vivo: D-methionine is a potential protectant. Hear Res 2000; 142: 34–40.

Ohlemiller KK et al. Targeted deletion of the cytosolic Cu/Zn-superoxide dismutase gene (Sod1) increases susceptibility to noise-induced hearing loss. Audiol Neurootol 1999; 4: 237–246.

Sha S, Zajic G, Epstein C, Schacht J . Overexpression of copper/zinc superoxide dismutase protects from kanamycin-induced hearing loss. Audiol Neurootol 2001; 6: 117–123.

Ernfors P, Van De Water TR, Loring J, Jaenisch R . Complementary roles of BDNF and NT-3 in auditory and vestibular development. Neuron 1995; 14: 1153–1164.

Ernfors P, Duan ML, Elshamy WM, Canlon B . Protection of auditory neurons from aminoglycoside toxicity by neurotrophin-3. Nat Med 1996; 2: 463–467.

Duan ML, Agerman K, Ernfors P, Canlon B . Complementary roles of neurotrophin 3 and a N-methyl-D-aspartate antagonist in the protection of noise and aminoglycoside-induced ototoxicity. Proc Natl Acad Sci USA 2000; 97: 7597–7602.

Hess A et al. In vitro activation of extracellular signal-regulated kinase 1/2 in the inner ear of guinea pigs. Brain Res 2002; 956: 236–245.

Miller JM et al. Neurotrophins can enhance spiral ganglion cell survival after inner hair cell loss. Int J Dev Neurosci 1997; 15: 631–643.

Shinohara T et al. Neurotrophic factor intervention restores auditory function in deafened animals. Proc Natl Acad Sci USA 2002; 99: 1657–1660.

Chen Z et al. Acute treatment of noise trauma with local caroverine application in the guinea pig. Acta Otolaryngol 2003; 123: 905–909.

Jero J et al. Cochlear gene delivery through an intact round window membrane in mouse. Hum Gene Ther 2001; 12: 539–548.

Staecker H, Li D, O'Malley B, Van De Water T . Gene expression in the mammalian cochlea: a study of multiple vector systems. Acta Otolaryngol 2001; 121: 157–163.

Wareing M et al. Cationic liposome mediated transgene expression in the cochlea. Hear Res 1999; 128: 61–69.

Jero J, Tseng CJ, Mhatre AN, Lalwani AK . A surgical approach appropriate for targeted cochlear gene therapy in the mouse. Hear Res 2001; 151: 106–114.

Zheng JL, Gao WQ . Overexpression of Math1 induces robust production of extra hair cells in postnatal rat inner ears. Nat Neurosci 2000; 3: 580–586.

Schneider ME, Belyantseva IA, Azevedo RB, Kachar B . Rapid renewal of auditory hair bundles. Nature 2002; 418: 837–838.

Oshima K et al. Intrathecal injection of HJV-E containing HGF gene to cerebrospinal fluid can prevent and ameliorate hearing impairment in rats. FASEB J 2004; 18: 212–214.

Stover T, Yagi M, Raphael Y . Transduction of the contralateral ear after adenovirus-mediated cochlear gene transfer. Gene Therapy 2000; 7: 377–383.

Verma IM, Somia N . Gene therapy – promises, problems and prospects. Nature 1997; 389: 239–242.

Luebke AE, Steiger JD, Hodges BL, Amalfitano A . A modified adenovirus can transfect cochlear hair cells in vivo without compromising cochlear function. Gene Therapy 2001; 8: 789–794.

Yagi M et al. Spiral ganglion neurons are protected from degeneration by GDNF therapy. J Assoc Res Otolaryngol 2000; 1: 315–325.

Kawamoto K et al. Hearing and hair cells are protected by adenoviral gene therapy with TGF-B1 and GDNF. Mol Ther 2003; 7: 484–492.

Hakuba N et al. Adenovirus-mediated overexpression of a gene prevents hearing loss and progressive inner hair cell loss after transient cochlear ischemia in gerbils. Gene Therapy 2003; 10: 426–433.

Agrawal RS et al. Pre-emptive gene therapy using recombinant adeno-associated virus delivery of extracellular superoxide dismutase protects heart against ischemic reperfusion injury, improves ventricular function and prolongs survival. Gene Therapy 2004; 11: 962–969.

Thomas CE, Ehrhardt A, Kay MA . Progress and problems with the use of viral vectors for gene therapy. Nat Genet Rev 2003; 4: 346–358.

Blair E . Adenoviral vectors, breaking a barrier to gene therapy? Gene therapy 2004; 11: 229–230.

Duan ML et al. Adenoviral and adeno-associated viral vector mediated gene transfer in the guinea pig cochlea. NeuroReport 2002; 13: 1295–1299.

Lalwani AK et al. Long-term in vivo cochlear transgene expression mediated by recombinant adeno-associated virus. Gene Therapy 1998; 5: 277–281.

Luebke AE, Foster PK, Muller CD, Peel AL . Cochlear function and transgene expressio in the guinea pig cochlea, using adenovirus- and adeno-associated virus-directed gene transfer. Hum Gene Ther 2001; 12: 773–781.

Lalwani AK, Mhatre AN . Cochlear gene therapy. Ear Hearing 2004; 24: 342–348.

Bowers WJ et al. Neurotrophin-3 transduction attenuates cisplatin spiral ganglion neuron ototoxicity in the cochlea. Mol Ther 2002; 6: 12–18.

Han JJ et al. Transgene expression in the guinea pig cochlea mediated by a lentivirus-derived gene transfer vector. Hum Gene Ther 1999; 10: 1867–1873.
Acknowledgements
This work was supported by the Swedish Research Council, the Foundation Tysta Skolan, Stiftelsen Clas Groschinskys Minnesfond, Educational Department of Anhui Province, Department of Science and technology, Anhui Province, China.
About this article
Cite this article
Duan, M., Venail, F., Spencer, N. et al. Treatment of peripheral sensorineural hearing loss: gene therapy. Gene Ther 11, S51–S56 (2004). https://doi.org/10.1038/sj.gt.3302369
Published:

Issue Date:

DOI: https://doi.org/10.1038/sj.gt.3302369
Keywords
inner ear

spiral ganglion cell

hair cell

adenovirus

adeno-associated virus

lentivirus

neurotrophin

antioxidant

stem cell
Further reading
Takushi Miyoshi
Inna A. Belyantseva
Thomas B. Friedman

Human Genetics (2022)

T Kurioka
K Mizutari
A Shiotani

Gene Therapy (2016)

Gene Therapy (2012)