Abstract
Gene therapy is expected to revolutionize the treatment of kidney diseases. Viral interleukin (vIL)-10 has a variety of immunomodulatory properties. We examined the applicability of vIL-10 gene transfer to the treatment of rats with crescentic glomerulonephritis, a T helper 1 (Th 1) predominant disease. To produce the disease, Wistar–Kyoto rats were injected with a rabbit polyclonal anti-rat glomerular basement membrane antibody. After 3 h, a large volume of plasmid DNA expressing vIL-10 (pCAGGS-vIL-10) solution was rapidly injected into the tail vein. pCAGGS solution was similarly injected into control rats (pCAGGS rats). We confirmed the presence of vector-derived vIL-10 mainly in the liver and observed high serum vIL-10 levels in pCAGGS-vIL-10-injected rats. Compared with the pCAGGS rats, the pCAGGS-vIL-10 rats showed significant therapeutic effects: reduced frequency of crescent formation, decrease in the number of total cells, macrophages, and CD4+ T cells in the glomeruli, decrease in urine protein, and attenuation of kidney dysfunction. Using quantitative real-time polymerase chain reaction, we also observed that this model was Th1-predominant in the glomeruli and that the ratio of the transcripts of CD4, interferon-γ, tumor necrosis factor-α, and monocyte chemotactic protein-1 to the transcripts of glucose-6-phosphate dehydrogenase in the glomeruli were all significantly lower in the pCAGGS-vIL-10 rats than in the pCAGGS rats. These results demonstrate that pCAGGS-vIL-10 gene transfer by hydrodynamics-based transfection suppresses crescentic glomerulonephritis.
Access options
Subscribe to this journal
Receive 12 print issues and online access
$259.00 per year
only $21.58 per issue
Rent or buy this article
Get just this article for as long as you need it
$39.95
Prices may be subject to local taxes which are calculated during checkout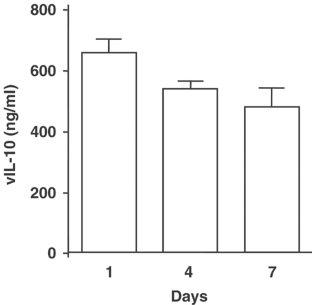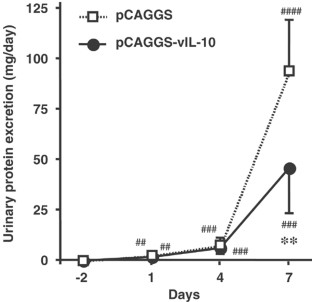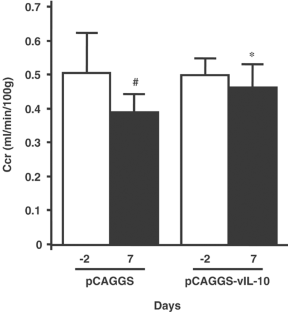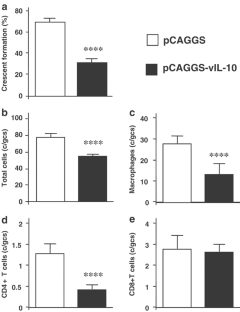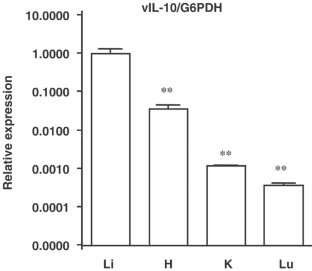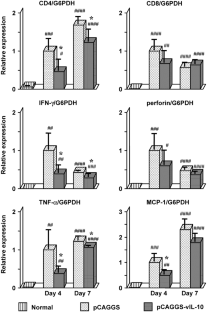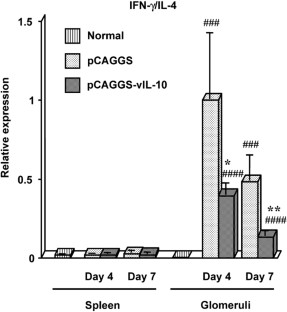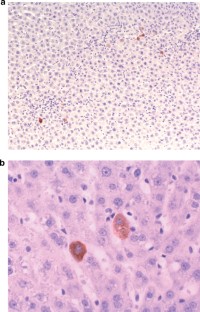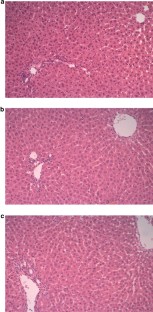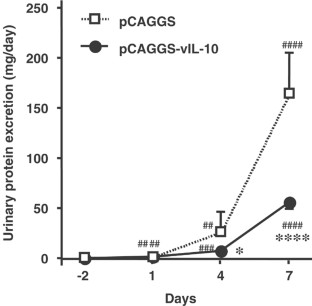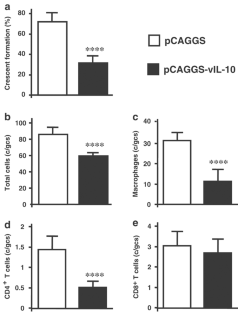 References
Massry SG, Glassock RJ . Textbook of Nephrology, 4th ed: Glomerular diseases. Lippincott Williams & Wilkins: Philadelphia, PA, 2001, pp 720–726.

Unanue ER, Dixon FJ . Experimental glomerulonephritis: immunological events and pathogenetic mechanisms. Adv Immunol 1967; 6: 1–90.

Holdsworth SR, Kitching AR, Tipping PG . Th1 and Th2 T helper cell subsets affect patterns of injury and outcomes in glomerulonephritis. Kidney Int 1999; 55: 1198–1216.

Tipping PG et al. Immune modulation with interleukin-4 and interleukin-10 prevents crescent formation and glomerular injury in experimental glomerulonephritis. Eur J Immunol 1997; 27: 530–537.

Huang XR, Tipping PG, Shuo L, Holdsworth SR . Th1 responsiveness to nephritogenic antigens determines susceptibility to crescentic glomerulonephritis in mice. Kidney Int 1997; 51: 94–103.

Kitching AR, Tipping PG, Holdsworth SR . IL-12 directs severe renal injury, crescent formation and Th1 responses in murine glomerulonephritis. Eur J Immunol 1999; 29: 1–10.

Kitching AR et al.Interleukin-4 deficiency enhances Th1 responses and crescentic glomerulonephritis in mice. Kidney Int 1998; 53: 112–118.

Kitching AR, Tipping PG, Timoshanko JR, Holdsworth SR . Endogenous interleukin-10 regulates Th1 responses that induce crescentic glomerulonephritis. Kidney Int 2000; 57: 518–525.

de Waal Malefyt R et al. Interleukin 10 (IL-10) inhibits cytokine synthesis by human monocytes: an autoregulatory role of IL-10 produced by monocytes. J Exp Med 1991; 174: 1209–1220.

Taga K, Tosato G . IL-10 inhibits human T cell proliferation and IL-2 production. J Immunol 1992; 148: 1143–1148.

Del Prete G et al. Human IL-10 is produced by both type 1 helper (Th1) and type 2 helper (Th2) T cell clones and inhibits their antigen-specific proliferation and cytokine production. J Immunol 1993; 150: 353–360.

Moore KW et al. Homology of cytokine synthesis inhibitory factor (IL-10) to the Epstein–Barr virus gene BCRF1. Science 1990; 248: 1230–1234.

Hsu DH et al. Expression of interleukin-10 activity by Epstein–Barr virus protein BCRF1. Science 1990; 250: 830–832.

Vieira P et al. Isolation and expression of human cytokine synthesis inhibitory factor cDNA clones: homology to Epstein–Barr virus open reading frame BCRF1. Proc Natl Acad Sci USA 1991; 88: 1172–1176.

de Waal Malefyt R et al. Interleukin 10 (IL-10) and viral IL-10 strongly reduce antigen-specific human T cell proliferation by diminishing the antigen-presenting capacity of monocytes via downregulation of class II major histocompatibility complex expression. J Exp Med 1991; 174: 915–924.

Go NF et al. Interleukin 10, a novel B cell stimulatory factor: unresponsiveness of X chromosome-linked immunodeficiency B cells. J Exp Med 1990; 172: 1625–1631.

MacNeil IA et al. IL-10, a novel growth cofactor for mature and immature T cells. J Immunol 1990; 145: 4167–4173.

Kim KN et al. Viral IL-10 and soluble TNF receptor act synergistically to inhibit collagen-induced arthritis following adenovirus-mediated gene transfer. J Immunol 2000; 164: 1576–1581.

Nakano A et al. Cytokine gene therapy for myocarditis by in vivo electroporation. Hum Gene Ther 2001; 12: 1289–1297.

Liu F, Song Y, Liu D . Hydrodynamics-based transfection in animals by systemic administration of plasmid DNA. Gene Therapy 1999; 6: 1258–1266.

Zhang G, Budker V, Wolff JA . High levels of foreign gene expression in hepatocytes after tail vein injections of naked plasmid DNA. Hum Gene Ther 1999; 10: 1735–1737.

Maruyama H et al. High-level expression of naked DNA delivered to rat liver via tail vein injection. J Gene Med 2002; 4: 333–341.

Niwa H, Yamamura K, Miyazaki J . Efficient selection for high-expression transfectants with a novel eukaryotic vector. Gene 1991; 108: 193–199.

Atkins RC, Holdsworth SR, Glasgow EF, Matthews FE . The macrophage in human rapidly progressive glomerulonephritis. Lancet 1976; 1: 830–832.

Holdsworth SR, Neale TJ . Macrophage-induced glomerular injury. Cell transfer studies in passive autologous antiglomerular basement membrane antibody-initiated experimental glomerulonephritis. Lab Invest 1984; 51: 172–180.

Misra RP . Isolation of glomeruli from mammalian kidneys by graded sieving. Am J Clin Pathol 1972; 58: 135–139.

Ishikawa et al. Molecular cloning of rat cytolysin. J Immunol 1989; 143: 3069–3073.

Maruyama H et al. Continuous erythropoietin delivery by muscle-targeted gene transfer using in vivo electroporation. Hum Gene Ther 2000; 11: 429–437.

Maruyama H et al. Long-term production of erythropoietin after electroporation-mediated transfer of plasmid DNA into the muscles of normal and uremic rats. Gene Therapy 2001; 8: 461–468.

Jorgensen C et al. Systemic viral interleukin-10 gene delivery prevents cartilage invasion by human rheumatoid synovial tissue engrafted in SCID mice. Arthritis Rheum 1999; 42: 678–685.

Kluth DC et al. Macrophages transfected with adenovirus to express IL-4 reduce inflammation in experimental glomerulonephritis. J Immunol 2001; 166: 4728–4736.

Yang Y, Li Q, Ertl HC, Wilson JM . Cellular and humoral immune responses to viral antigens create barriers to lung-directed gene therapy with recombinant adenoviruses. J Virol 1995; 69: 2004–2015.

Barr D et al. Strain related variations in adenovirally mediated transgene expression from mouse hepatocytes in vivo: comparisons between immunocompetent and immunodeficient inbred strains. Gene Therapy 1995; 2: 151–155.

Maruyama H et al. Kidney-targeted naked DNA transfer by retrograde renal vein injection in rats. Hum Gene Ther 2002; 13: 455–468.

Lemley KV, Kriz W . Structure and function of the renal vasculature. In: Tisher CC, Brenner BM (ed). Renal Pathology, 2nd ed: JB Lippincott Company: Philadelphia PA, 1994, pp 981–1026.

Ishida H et al. Continuous administration of anti-interleukin 10 antibodies delays onset of autoimmunity in NZB/W F1 mice. J Exp Med 1994; 179: 305–310.

Huang XR et al. Mechanisms of T cell-induced glomerular injury in anti-glomerular basement membrane (GBM) glomerulonephritis in rats. Clin Exp Immunol 1997; 109: 134–142.

Fujinaka H et al. Suppression of anti-glomerular basement membrane nephritis by administration of anti-monocyte chemoattractant protein-1 antibody in WKY rats. J Am Soc Nephrol 1997; 8: 1174–1178.

Karkar AM, Smith J, Pusey CD . Prevention and treatment of experimental crescentic glomerulonephritis by blocking tumour necrosis factor-α. Nephrol Dial Transplant 2001; 16: 518–524.

Kawasaki K, Yaoita E, Yamamoto T, Kihara I . Depletion of CD8 positive cells in nephrotoxic serum nephritis of WKY rats. Kidney Int 1992; 41: 1517–1526.

Bogdan C, Vodovotz Y, Nathan C . Macrophage deactivation by interleukin 10. J Exp Med 1991; 174: 1549–1555.

Adams DH, Lloyd AR . Chemokines: leucocyte recruitment and activation cytokines. Lancet 1997; 349: 490–495.

Stahl RAK et al. Increased expression of monocyte chemoattractant protein-1 in anti-thymocyte antibody-induced glomerulonephritis. Kidney Int 1993; 44: 1036–1047.

Meezan E, Hjelle JT, Brendel K . A simple, versatile, nondisruptive method for the isolation of morphologically and chemically pure basement membranes from several tissues. Life Sci 1975; 17: 1721–1732.

Suzuki T et al. Viral interleukin 10 (IL-10), the human herpes virus 4 cellular IL-10 homologue, induces local anergy to allogeneic and syngeneic tumors. J Exp Med 1995; 182: 477–486.

Ohwada K . Improvement of cardiac puncture in mice. Jikken Dobutsu 1986; 35: 353–355 (Japanese).

Goldman R . Endogenous creatinine clearance by rats. Proc Soc Exp Biol Med 1967; 125: 1021–1024.

Massry SG, Glassock RJ . Textbook of Nephrology, 4th ed.: Progression of Renal Insufficiency. Lippincott Williams & Wilkins: Philadelphia PA, 2001, pp 1203–1220.
Acknowledgements
We are grateful to Ms Keiko Yamagiwa and Mr Naofumi Imai of the Division of Clinical Nephrology and Rheumatology, Niigata University Graduate School of Medical and Dental Sciences, for technical assistance.
About this article
Cite this article
Higuchi, N., Maruyama, H., Kuroda, T. et al. Hydrodynamics-based delivery of the viral interleukin-10 gene suppresses experimental crescentic glomerulonephritis in Wistar–Kyoto rats. Gene Ther 10, 1297–1310 (2003). https://doi.org/10.1038/sj.gt.3301988
Received:

Accepted:

Published:

Issue Date:

DOI: https://doi.org/10.1038/sj.gt.3301988
Keywords
gene therapy hydrodynamics-based transfection

viral IL-10

crescentic glomerulonephritis