Abstract
To date, only adherent cell lines have been used for the generation of packaging cells for the production of type C retrovirus vectors. The large-scale production of high titre retrovirus vectors could benefit from the development of packaging cells growing in suspension. Here, we describe the ability of two different lymphoid cell lines, one B- and one T-lymphoblastoid cell line (Namalwa and CEM, respectively), to produce MLV-based vectors. Upon transfection with a third generation packaging construct, the virus particle production by Namalwa cells was characterised by low RT-activity, and by CEM cells as high RT activity as previously established adherent packaging cells. An amphotropic packaging cell line (CEMFLYA) was therefore established from CEM cells. Upon introduction of a lacZ vector genome, the novel packaging cell line produced vector particles routinely in the region of 107 infectious units/ml. The vectors were helper-free and highly stable in fresh human serum. The potential for scaled up vector production was demonstrated by continuous culture of the new packaging cells for 14 days in a 250 ml spinner flask. These suspension packaging cells should be applicable to large bioreactor systems to bulk produce high titre, complement-resistant retrovirus vectors for gene therapy. Gene Therapy (2001) 8, 737–745.
Access options
Subscribe to Journal
Get full journal access for 1 year
$119.00
only $9.92 per issue
All prices are NET prices.
VAT will be added later in the checkout.
Tax calculation will be finalised during checkout.
Buy article
Get time limited or full article access on ReadCube.
$32.00
All prices are NET prices.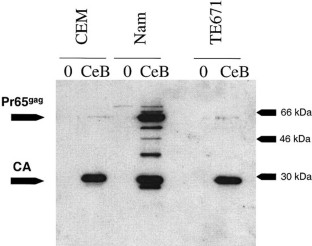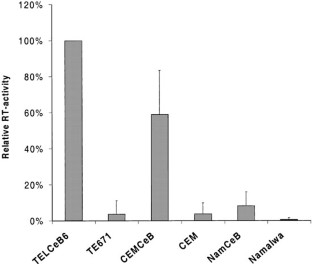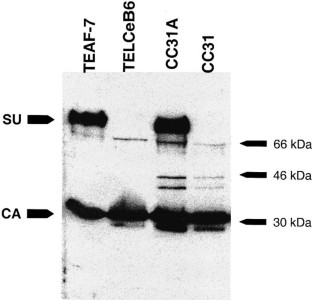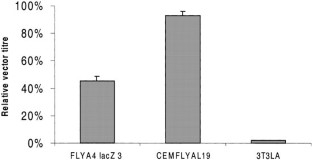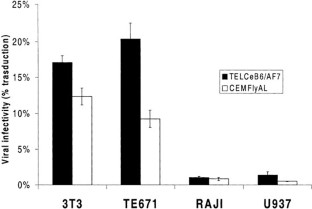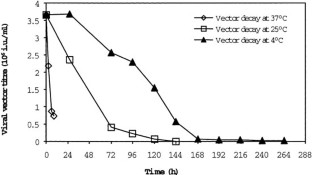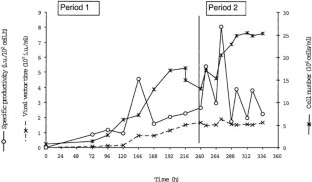 References
Danos O, Mulligan RC . Safe and efficient generation of recombinant retroviruses with amphotropic and ecotropic host ranges Proc Natl Acad Sci USA 1988 85: 6460–6464

Mann R, Mulligan RC, Baltimore D . Construction of a retrovirus packaging mutant and its use to produce helper-free defective retrovirus Cell 1983 33: 153–159

Markowitz D, Goff S, Bank A . Construction and use of a safe and efficient amphotropic packaging cell line Virology 1988 167: 400–406

Miller AD, Buttimore C . Redesign of retrovirus packaging cell lines to avoid recombination leading to helper virus production Mol Cell Biol 1986 6: 2895–2902

Miller AD, Rosman GJ . Improved retroviral vectors for gene transfer and expression Biotechniques 1989 7: 980–982

Rigg RJ et al. A novel human amphotropic packaging cell line: high titer, complement resistance, and improved safety Virology 1996 218: 290–295

Cosset FL et al. High-titer packaging cells producing recombinant retroviruses resistant to human serum J Virol 1995 69: 7430–7436

Patience C et al. Packaging of endogenous retroviral sequences in retroviral vectors produced by murine and human packaging cells J Virol 1998 72: 2671–2676

Chong H, Starkey W, Vile RG . A replication-competent retrovirus arising from a split-function packaging cell line was generated by recombination events between the vector, one of the packaging constructs, and endogenous retroviral sequences J Virol 1998 72: 2663–2670

Takeuchi Y et al. Type C retrovirus inactivation by human complement is determined by both the viral genome and the producer cell J Virol 1994 68: 8001–8007

Takeuchi Y et al. Sensitization of cells and retroviruses to human serum by (alpha 1–3) galactosyltransferase Nature 1996 379: 85–88

Rother RP et al. A novel mechanism of retrovirus inactivation in human serum mediated by anti-alpha-galactosyl natural antibody J Exp Med 1995 182: 1345–1355

Lesko J et al. Large-scale production of infectious bovine rhinotracheitis virus in cell culture on microcarriers Acta Virol 1993 37: 73–78

Giard DJ et al. Virus production with a newly developed microcarrier system Appl Environ Microbiol 1977 34: 668–672

Berry JM et al. Production of reovirus type-1 and type-3 from Vero cells grown on solid and macroporous microcarriers Biotechnol Bioeng 1999 62: 12–19

Yahi N, Baghdiguian S, Fantini J . Production of a highly cytopathic HIV-1 isolate from a human mucosal epithelial cell line cultured on microcarrier beads in serum-free medium In Vitro Cell Dev Biol Anim 1995 31: 62–66

Xiao C et al. Pilot production of high-titer interferon and virus with a microcarrier suspension culture system Chin Med Sci J 1992 7: 67–71

van Wezel AL et al. Large scale animal cell cultivation for production of cellular biologicals Dev Biol Stand 1985 60: 229–236

Maldarelli F, Yagi MJ . Increased yield of mouse mammary tumor virus (MMTV) by cultivation of monolayer-derived mammary tumor cells in suspension In Vitro Cell Dev Biol 1986 22: 542–548

Hosoi S et al. Optimization of cell culture conditions for production of biologically active proteins Cytotechnology 1991 5: S17–S34

Perrin P et al. An experimental rabies vaccine produced with a new BHK-21 suspension cell culture process: use of serum-free medium and perfusion-reactor system Vaccine 1995 13: 1244–1250

Ferry N et al. Retroviral-mediated gene transfer into hepatocytes in vivo Proc Natl Acad Sci USA 1991 88: 8377–8381

Marandin A et al. Retrovirus-mediated gene transfer into human CD34+38low primitive cells capable of reconstituting long-term cultures in vitro and nonobese diabetic-severe combined immunodeficiency mice in vivo Hum Gene Ther 1998 9: 1497–1511

Takeuchi Y et al. Feline leukemia virus subgroup B uses the same cell surface receptor as gibbon ape leukemia virus J Virol 1992 66: 1219–1222

Pizzato M et al. Initial binding of murine leukemia virus particles to cells does not require specific env-receptor interaction J Virol 1999 73: 8599–8611

Fortin JF et al. Host-derived ICAM-1 glycoproteins incorporated on human immunodeficiency virus type 1 are biologically active and enhance viral infectivity J Virol 1997 71: 3588–3596

Paquette JS et al. Level of ICAM-1 surface expression on virus producer cells influences both the amount of virion-bound host ICAM-1 and human immunodeficiency virus type 1 infectivity J Virol 1998 72: 9329–9336

Kotani H et al. Improved methods of retroviral vector transduction and production for gene therapy Hum Gene Ther 1994 5: 19–28

Forestell SP, Bohnlein E, Rigg RJ . Retroviral end-point titer is not predictive of gene transfer efficiency: implications for vector production Gene Therapy 1995 2: 723–730

Le Doux JM et al. Kinetics of retrovirus production and decay Biotechnol Bioeng 1999 63: 654–662

Shen BQ et al. Kinetics of retroviral production from the amphotropic yCRIP murine producer cell line Cytotechnology 1996 22: 185–195

Lee GM et al. Temperature significantly affects retroviral vector production and deactivation rates, and thereby determines retroviral titers Bioproc Eng 1998 19: 343–349

Raisch KP et al. Constitutive production of a murine retrovirus in the human B- lymphoblastoid cell line, DG-75 Virology 1998 250: 135–139

Slingsby JH et al. Analysis of 4070A envelope levels in retroviral preparations and effect on target cell transduction efficiency Hum Gene Ther 2000 11: 1439–1451

Collins M et al. Patent GB9517263.1. Expression Systems: UK 1995

Müller D et al. Continuous perfused fluidized bed technology. Increased productivities and product concentrations. In: Bernard A, Griffiths B, Noé W, Wurm F (eds) Animal Cell Technology: Products from Cells, Cell as Products Kluwer Academic Publishers: Dordrecht 1999 319–321

Blüml G et al. Fluidized bed technology: influence of fluidization velocity on nutrient consumption and product expression. In: Merton O-W, Perrin P, Griffiths B (eds) New Developments and New Applications in Animal Cell Technology Kluwer Academic Publishers: Dordrecht 1998 385–387

Montagnon BJ, Fanget B, Vincent-Falquet JC . Industrial-scale production of inactivated poliovirus vaccine prepared by culture of Vero cells on microcarrier Rev Infect Dis 1984 6 (Suppl. 2): S341–S344

Pay TW et al. Production of rabies vaccine by an industrial scale BHK 21 suspension cell culture process Dev Biol Stand 1985 60: 171–174

Pullen KF et al. Very large scale suspension cultures of mammalian cells Dev Biol Stand 1985 60: 175–177

Merten O-W et al. Comparison of different bioreactor systems for the production of high titer retroviral vectors Biotechnol Prog 2001 (in press)

Martin F et al. Retroviral vector targeting to melanoma cells by single-chain antibody incorporation in envelope Hum Gene Ther 1998 9: 737–746

Porter CD et al. Comparison of efficiency of infection of human gene therapy target cells via four different retroviral receptors Hum Gene Ther 1996 7: 913–919

Martin F et al. Retrovirus targeting by tropism restriction to melanoma cells J Virol 1999 73: 6923–6929
Acknowledgements
This work is supported by GlaxoWellcome and the Medical Research Council. MP was funded by a EU TMR grant (contr. number FMBICT961804). We thank Brendan Hughes at GlaxoWellcome for seeding the idea of suspension packaging cells, Robin Weiss at Wohl Virion Centre for helpful advice, and Sabine Low-Hong and Olivier Danos at Genethon for excellent experimental work and kindly support, respectively. We also thank Michael Themis at Imperial College London, who has developed suspension packaging cell lines producing ecotropic retrovirus vectors, for helpful discussion and sharing data.
About this article
Cite this article
Pizzato, M., Merten, O., Blair, E. et al. Development of a suspension packaging cell line for production of high titre, serum-resistant murine leukemia virus vectors. Gene Ther 8, 737–745 (2001). https://doi.org/10.1038/sj.gt.3301457
Received:

Accepted:

Published:

Issue Date:

DOI: https://doi.org/10.1038/sj.gt.3301457
Keywords
MLV

packaging

suspension cell

serum resistance