Abstract
Dendritic cells (DC) present immunogenic epitopes of antigens in the context of MHC class I and class II molecules in association with costimulatory molecules, and efficiently activate both cytotoxic T cells and T helper cells. Gene modified DC expressing antigen encoding cDNA represent a particularly attractive approach for the immunotherapy of disease. We previously described a gene delivery system for DC based on receptor-mediated endocytosis of ligand/polyethylenimine (PEI) DNA transfer complexes that target cell surface receptors which are abundantly expressed on DC. Employing this gene delivery system, DC were generated that express chicken ovalbumin (OVA) cDNA as a model antigen and introduce antigen into the MHC class I presentation pathway. We demonstrate here that modification of OVA cDNA as transferrin receptor (TfR) or invariant chain (Ii) fusions effectively generate MHC class II specific immune responses in addition to MHC class I responses. TfR-OVA contains the membrane anchoring region of transferrin receptor and represents a membrane-bound form of OVA for access to the MHC class II compartment. Ii-OVA fusions directly target the MHC class II processing pathway. Thus, modification of antigen encoding cDNA represents a convenient and effective means to direct antigens to MHC class II presentation and thus to generate T cell help.
Access options
Subscribe to this journal
Receive 12 print issues and online access
$259.00 per year
only $21.58 per issue
Rent or buy this article
Prices vary by article type
from$1.95
to$39.95
Prices may be subject to local taxes which are calculated during checkout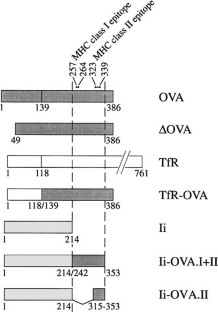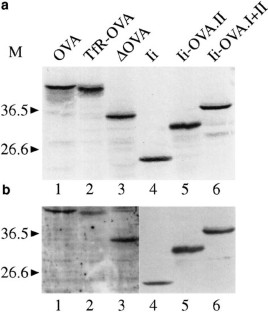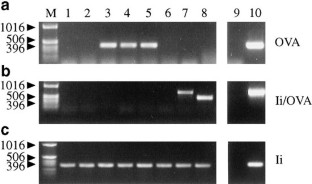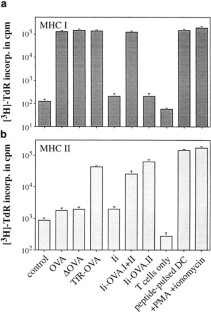 Similar content being viewed by others
References
Hart DN . Dendritic cells: unique leukocyte populations which control the primary immune response Blood 1997 90: 3245–3287

Banchereau J, Steinman RM . Dendritic cells and the control of immunity Nature 1998 392: 245–252

Austyn JM . Dendritic cells Curr Opin Hematol 1998 5: 3–15

Koch N, van Driel IR, Gleeson PA . Highjacking a chaperone: manipulation of the MHC class II presentation pathway Immunol Today 2000 21: 546–550

Rovere P et al. Dendritic cell maturation and antigen presentation in the absence of invariant chain Proc Natl Acad Sci USA 1998 95: 1067–1072

Norbury CC et al. Class I MHC presentation of exogenous soluble antigen via macropinocytosis in bone marrow macrophages Immunity 1995 3: 783–791

Albert ML, Sauter B, Bhardwaj N . Dendritic cells acquire antigen from apoptotic cells and induce class I-restricted CTLs Nature 1998 392: 86–89

Hsu FJ et al. Vaccination of patients with B-cell lymphoma using autologous antigen-pulsed dendritic cells Nat Med 1996 2: 52–58

Murphy G et al. Phase I clinical trial: T-cell therapy for prostate cancer using autologous dendritic cells pulsed with HLA-A0201-specific peptides from prostate-specific membrane antigen Prostate 1996 29: 371–380

Nestle FO et al. Vaccination of melanoma patients with peptide- or tumor lysate-pulsed dendritic cells Nat Med 1998 4: 328–332

Thurner B et al. Vaccination with mage-3A1 peptide-pulsed mature, monocyte-derived dendritic cells expands specific cytotoxic T cells and induces regression of some metastases in advanced stage IV melanoma J Exp Med 1999 190: 1669–1678

Bellone M, Iezzi G, Imro MA, Protti MP . Cancer immunotherapy: synthetic and natural peptides in the balance Immunol Today 1999 20: 457–462

Boczkowski D, Nair SK, Snyder D, Gilboa E . Dendritic cells pulsed with RNA are potent antigen-presenting cells in vitro and in vivo J Exp Med 1996 184: 465–472

Diebold SS et al. Efficient gene delivery into human dendritic cells by adenovirus polyethylenimine and mannose polyethylenimine transfection Hum Gene Ther 1999 10: 775–786

Diebold SS et al. Mannose polyethylenimine conjugates for targeted DNA delivery into dendritic cells J Biol Chem 1999 274: 19087–19094

Diebold SS, Zenke M . Gene modified antigen presenting dendritic cells for T cell mediated immunity. In: Motman K, Michiels L and Walker JM (eds) Methods in Molecular Medicine, Cancer Immunotherapy Humana Press: Totowa, NJ (in press)

Hung K et al. The central role of CD4(+) T cells in the antitumor immune response J Exp Med 1998 188: 2357–2368

Pardoll DM, Topalian SL . The role of CD4+ T cell responses in antitumor immunity Curr Opin Immunol 1998 10: 588–594

De Veerman M et al. Retrovirally transduced bone marrow-derived dendritic cells require CD4+ T cell help to elicit protective and therapeutic antitumor immunity J Immunol 1999 162: 144–151

Schnell S, Young JW, Houghton AN, Sadelain M . Retrovirally transduced mouse dendritic cells require CD4+ T cell help to elicit antitumor immunity: implications for the clinical use of dendritic cells J Immunol 2000 164: 1243–1250

Baxevanis CN et al. Tumor-specific CD4+ T lymphocytes from cancer patients are required for optimal induction of cytotoxic T cells against the autologous tumor J Immunol 2000 164: 3902–3912

Boon T, Coulie PG, Van den Eynde B . Tumor antigens recognized by T cells Immunol Today 1997 18: 267–268

Schuler G, Steinman RM . Dendritic cells as adjuvants for immune-mediated resistance to tumors J Exp Med 1997 186: 1183–1187

Teasdale RD, D'Agostaro G, Gleeson PA . The signal for Golgi retention of bovine beta 1,4-galactosyltransferase is in the transmembrane domain J Biol Chem 1992 267: 4084–4096

Inaba K et al. Generation of large numbers of dendritic cells from mouse bone marrow cultures supplemented with granulocyte/macrophage colony-stimulating factor J Exp Med 1992 176: 1693–1702

Jing SQ et al. Role of the human transferrin receptor cytoplasmic domain in endocytosis: localization of a specific signal sequence for internalization J Cell Biol 1990 110: 283–294

Girones N et al. Mutational analysis of the cytoplasmic tail of the human transferrin receptor. Identification of a sub-domain that is required for rapid endocytosis J Biol Chem 1991 266: 19006–19012

Barnes KA, Mitchell RN . Detection of functional class II-associated antigen: role of a low density endosomal compartment in antigen processing J Exp Med 1995 181: 1715–1727

Pinet VM, Long EO . Peptide loading onto recycling HLA-DR molecules occurs in early endosomes Eur J Immunol 1998 28: 799–804

Neefjes J . CIIV, MIIC and other compartments for MHC class II loading Eur J Immunol 1999 29: 1421–1425

Guagliardi LE et al. Co-localization of molecules involved in antigen processing and presentation in an early endocytic compartment Nature 1990 343: 133–139

Fernandes DM, Vidard L, Rock KL . Characterization of MHC class II-presented peptides generated from an antigen targeted to different endocytic compartments Eur J Immunol 2000 30: 2333–2343

Sanderson S, Frauwirth K, Shastri N . Expression of endogenous peptide-major histocompatibility complex class II complexes derived from invariant chain-antigen fusion proteins Proc Natl Acad Sci USA 1995 92: 7217–7221

Sponaas A, Carstens C, Koch N . C-terminal extension of the MHC class II-associated invariant chain by an antigenic sequence triggers activation of naive T cells Gene Therapy 1999 6: 1826–1834

van Bergen J et al. Get into the groove! Targeting antigens to MHC class II Immunol Rev 1999 172: 87–96

Paz P, Brouwenstijn N, Perry R, Shastri N . Discrete proteolytic intermediates in the MHC class I antigen processing pathway and MHC I-dependent peptide trimming in the ER Immunity 1999 11: 241–251

Mori K . Tripartite management of unfolded proteins in the endoplasmic reticulum Cell 2000 101: 451–454

Westermann J et al. Retroviral interleukin-7 gene transfer into human dendritic cells enhances T cell activation Gene Therapy 1998 5: 264–271

Kozak M . Point mutations define a sequence flanking the AUG initiator codon that modulates translation by eukaryotic ribosomes Cell 1986 44: 283–292

Bridge E, Ketner G . Redundant control of adenovirus late gene expression by early region 4 J Virol 1989 63: 631–638

Baker A, Cotten M . Delivery of bacterial artificial chromosomes into mammalian cells with psoralen-inactivated adenovirus carrier Nucleic Acids Res 1997 25: 1950–1956

Baker A et al. Polyethylenimine (PEI) is a simple, inexpensive and effective reagent for condensing and linking plasmid DNA to adenovirus for gene delivery Gene Therapy 1997 4: 773–782

Madruga J et al. Polarised expression pattern of focal contact proteins in highly motile antigen presenting dendritic cells J Cell Sci 1999 112: 1685–1696

Hogquist KA et al. T cell receptor antagonist peptides induce positive selection Cell 1994 76: 17–27

Kurts C et al. Constitutive class I-restricted exogenous presentation of self antigens in vivo J Exp Med 1996 184: 923–930

Murphy KM, Heimberger AB, Loh DY . Induction by antigen of intrathymic apoptosis of CD4+CD8+TCRlo thymocytes in vivo Science 1990 250: 1720–1723
Acknowledgements
We thank FR Carbone and WR Heath for OT-I mice and plasmid DNA, SM Kurz for recombinant mouse GM-CSF, T Blankenstein for helpful discussions, S Knespel for technical assistance and I Gallagher for expert secretarial assistance. This work was in part funded by grants from the Deutsche Forschungsgemeinschaft (DFG, SFB506 and Ze231 and Ko 810/4-4) to MZ and NK, respectively. SD was supported by the MDC Gene Therapy Program.
About this article
Cite this article
Diebold, S., Cotten, M., Koch, N. et al. MHC class II presentation of endogenously expressed antigens by transfected dendritic cells. Gene Ther 8, 487–493 (2001). https://doi.org/10.1038/sj.gt.3301433
Received:

Accepted:

Published:

Issue Date:

DOI: https://doi.org/10.1038/sj.gt.3301433
Keywords