Abstract
In human cells, telomerase activity is regulated by transcriptional control of the telomerase reverse transcriptase gene (hTERT) whose product is the catalytic subunit of the enzyme. The hTERT promoter is active in virtually all types of tumors and immortal cells, but is silent in most adult somatic tissues. In this study, we placed the herpes simplex virus thymidine kinase gene under the control of the hTERT promoter with the aim of restricting its expression to tumor cells. In transfection experiments, the hTERT promoter driven thymidine kinase gene (hTERTp/TK) conferred ganciclovir sensitivity to all tumor and immortal cell lines tested, whereas normal somatic cells remained largely unaffected. Human hTERTp/TK-positive cancer cells implanted in nude mice developed into tumors that could be eradicated by ganciclovir treatment. The hTERTp/TK cassette was inserted into an adenovirus vector and its efficacy in reducing tumor growth was compared with that of an adenovirus carrying the thymidine kinase gene under the control of the cytomegalovirus immediate–early promoter (CMVp/TK). In a xenograft model using the human 143B osteosarcoma cell line, a single injection of either virus resulted in equivalent tumor regression and survival upon ganciclovir treatment. In animals injected intratumorally with the CMVp/TK adenovirus, expression of the thymidine kinase gene was detected in tumors, as well as in liver samples. Expression of the suicide gene in combination with ganciclovir resulted in severe liver histopathology and in an elevation of hepatic enzymes. In sharp contrast, when the hTERT promoter controlled the thymidine kinase gene, transgene expression was observed in tumors, but not in liver samples. Normal liver function in these animals was confirmed by serum levels of hepatic enzymes that were indistinguishable from those of control healthy mice. These results indicate that by restricting thymidine kinase expression to tumor cells, the hTERT promoter allows the tumoricidal effect of the suicidal gene to be exerted without detrimental consequences on healthy tissues and vital organs. The tight specificity of expression imparted by the hTERT promoter will assist the development of novel approaches to the treatment of a broad array of cancer types.
This is a preview of subscription content
Access options
Subscribe to Journal
Get full journal access for 1 year
$119.00
only $9.92 per issue
All prices are NET prices.
VAT will be added later in the checkout.
Tax calculation will be finalised during checkout.
Buy article
Get time limited or full article access on ReadCube.
$32.00
All prices are NET prices.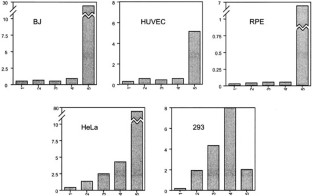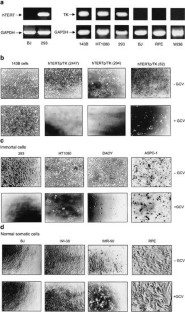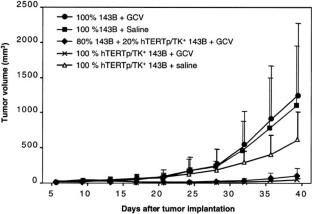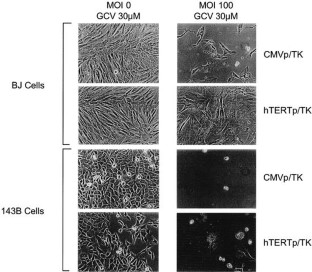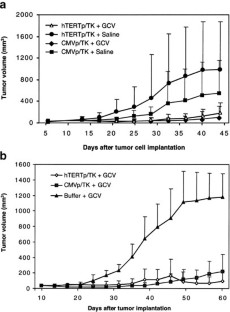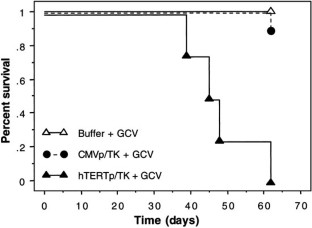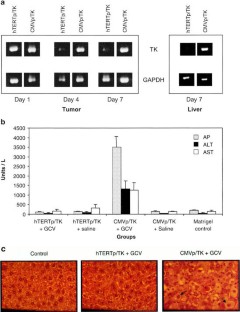 References
Salmons B, Saller RM, Baumann JG, Gunzburg WH . Construction of retroviral vectors for targeted delivery and expression of therapeutic genes Leukemia 1995 9: S53–S60

Cooper MJ . Noninfectious gene transfer and expression systems for cancer gene therapy Semin Oncol 1996 23: 172–187

Hart IR . Tissue specific promoters in targeting systemically delivered gene therapy Semin Oncol 1996 23: 154–158

Patterson A, Harris AL . Molecular chemotherapy for breast cancer Drugs Aging 1999 14: 75–90

Miller N, Whelan J . Progress in transcriptionally targeted and regulatable vectors for genetic therapy Hum Gene Ther 1997 8: 803–815

Dachs GU, Dougherty GJ, Stratford IJ, Chaplin DJ . Targeting gene therapy to cancer: a review Oncol Res 1997 9: 313–325

Nakamura TM et al. Telomerase catalytic subunit homologs from fission yeast and human Science 1997 277: 955–959

Meyerson M et al. hEST2, the putative human telomerase catalytic subunit gene, is up-regulated in tumor cells and during immortalization Cell 1997 90: 785–795

Kilian A et al. Isolation of a candidate human telomerase catalytic subunit gene, which reveals complex splicing patterns in different cell types Hum Mol Genet 1997 6: 2011–2019

Wright WE et al. Telomerase activity in human germline and embryonic tissues and cells Dev Genet 1996 18: 173–179

Ulaner GA et al. Telomerase activity in human development is regulated by human telomerase reverse transcriptase (hTERT) transcription and by alternate splicing of hTERT transcripts Cancer Res 1998 58: 4168–4172

Sharma HW et al. Differentiation of immortal cells inhibits telomerase activity Proc Natl Acad Sci USA 1995 92: 12343–12346

Yamada O, Takanashi M, Ujihara M, Mizoguchi H . Down-regulation of telomerase activity is an early event of cellular differentiation without apparent telomeric DNA change Leuk Res 1998 22: 711–717

Xu D et al. Suppression of telomerase reverse transcriptase (hTERT) expression in differentiated HL-60 cells: regulatory mechanisms Br J Cancer 1999 80: 1156–1161

Kolquist KA et al. Expression of TERT in early premalignant lesions and a subset of cells in normal tissues Nat Genet 1998 19: 182–186

Chiu CP et al. Differential expression of telomerase activity in hematopoietic progenitors from adult human bone marrow Stem Cells 1996 14: 239–248

Hohaus S et al. Telomerase activity in human hematopoietic progenitor cells Haematologica 1997 82: 262–268

Yasumoto S et al. Telomerase activity in normal human epithelial cells Oncogene 1996 13: 433–439

Harle-Bachor C, Boukamp P . Telomerase activity in the regenerative basal layer of the epidermis in human skin and in immortal and carcinoma-derived skin keratinocytes Proc Natl Acad Sci USA 1996 93: 6476–6481

Tahara H et al. Immuno-histochemical detection of human telomerase catalytic component, hTERT, in human colorectal tumor and non-tumor tissue sections Oncogene 1999 18: 1561–1567

Bachor C, Bachor OA, Boukamp P . Telomerase is active in normal gastrointestinal mucosa and not up-regulated in precancerous lesions J Cancer Res Clin Oncol 1999 125: 453–460

Nakamura Y et al. Quantitative reevaluation of telomerase activity in cancerous and noncancerous gastrointestinal tissues Mol Carcinog 1999 26: 312–320

Ramirez RD, Wright WE, Shay JW, Taylor RS . Telomerase activity concentrates in the mitotically active segments of human hair follicles J Invest Dermatol 1997 108: 113–117

Hayflick L, Moorhead PS . The serial cultivation of human diploid cell strains Exp Cell Res 1961 25: 585–621

Harley CB, Futcher AB, Greider CW . Telomeres shorten during ageing of human fibroblasts Nature 1990 345: 458–460

Harley CB . Telomere loss: mitotic clock or genetic time bomb? Mutat Res 1991 256: 271–282

Kim NW et al. Specific association of human telomerase activity with immortal cells and cancer Science 1994 266: 2011–2015

Shay JW, Bacchetti S . A survey of telomerase activity in human cancer Eur J Cancer 1997 33: 787–791

Feng J et al. The RNA component of human telomerase Science 1995 269: 1236–1241

Weinrich SL et al. Reconstitution of human telomerase with the template RNA component hTR and the catalytic protein subunit hTRT Nat Genet 1997 17: 498–502

Günes Ç, Lichtsteiner S, Vasserot AP, Englert C . Expression of the hTERT gene is regulated at the level of transcriptional initiation and repressed by Mad1 Cancer Res 2000 60: 2116–2121

Matthews T, Boehme R . Antiviral activity and mechanism of action of ganciclovir Rev Infect Dis 1988 10: S490–S494

Ramesh R et al. In vivo analysis of the 'bystander effect': a cytokine cascade Exp Hematol 1996 24: 829–838

Devereux TR et al. DNA methylation analysis of the promoter region of the human telomerase reverse transcriptase (hTERT) gene Cancer Res 1999 59: 6087–6090

Kyo S et al. Estrogen activates telomerase Cancer Res 1999 59: 5917–5921

Misiti S et al. Induction of hTERT expression and telomerase activity by estrogens in human ovary epithelium cells Mol Cell Biol 2000 20: 3764–3771

Wu KJ et al. Direct activation of TERT transcription by c-MYC Nat Genet 1999 21: 220–224

Greenberg RA et al. Telomerase reverse transcriptase gene is a direct target of c-myc but is not functionally equivalent in cellular transformation Oncogene 1999 18: 1219–1226

Cong YS, Wen J, Bacchetti S . The human telomerase catalytic subunit hTERT: organization of the gene and characterization of the promoter Hum Mol Genet 1999 8: 137–142

Takakura M et al. Cloning of human telomerase catalytic subunit (hTERT) gene promoter and identification of proximal core promoter sequences essential for transcriptional activation in immortalized and cancer cells Cancer Res 1999 59: 551–557

Horikawa I, Cable PL, Afshari C, Barrett JC . Cloning and characterization of the promoter region of human telomerase reverse transcriptase gene Cancer Res 1999 59: 826–830

Oh S et al. In vivo and in vitro analysis of Myc for differential promoter activities of the human telomerase (hTERT) gene in normal and tumor cells Biochem Biophys Res Commun 1999 263: 361–365

Kyo S et al. Sp1 cooperates with c-Myc to activate transcription of the human telomerase reverse transcriptase gene (hTERT) Nucleic Acids Res 2000 28: 669–677

Kanaya T et al. Adenoviral expression of p53 represses telomerase activity through down-regulation of human telomerase reverse transcriptase transcription Clin Cancer Res 2000 6: 1239–1247

Oh S, Song Y, Yim J, Kim TK . The Wilms' tumor 1 tumor suppressor gene represses transcription of the human telomerase reverse transcriptase gene J Biol Chem 1999 274: 37473–37478

Frederiksen KS, Petri A, Abrahamsen N, Poulsen HS . Gene therapy for lung cancer Lung Cancer 1999 23: 191–207

Bussemakers MJ . Changes in gene expression and targets for therapy Eur Urol 1999 35: 408–412

Nettelbeck DM, Jerome V, Muller R . Gene therapy: designer promoters for tumour targeting Trends Genet 2000 16: 174–181

Coen DM, Irmiere AF, Jacobson JG, Kerns KM . Low levels of herpes simplex virus thymidine-thymidylate kinase are not limiting for sensitivity to certain antiviral drugs or for latency in a mouse model Virology 1989 168: 221–231

Elshami AA et al. The effect of promoter strength in adenoviral vectors containing herpes simplex virus thymidine kinase on cancer gene therapy in vitro and in vivo Cancer Gene Ther 1997 4: 213–221

Esandi MC et al. Gene therapy of experimental malignant mesothelioma using adenovirus vectors encoding the HSVtk gene Gene Therapy 1997 4: 3–10

Majumdar AS et al. Efficacy of herpes simplex virus thymidine kinase in combination with cytokine gene therapy in an experimental metastatic breast cancer model Cancer Gene Ther 2000 7: 1086–1099
Acknowledgements
We thank B Lemos, T Winburn and S Starr for excellent assistance in animal experiments, L Cardoza and V Votin for making the adenoviral pre-stocks, and A Delpinal for some of the RT-PCR work. We are grateful to Drs C Harley, G Morin and CP Chiu for their critical reading of the manuscript and valuable suggestions.
About this article
Cite this article
Majumdar, A., Hughes, D., Lichtsteiner, S. et al. The telomerase reverse transcriptase promoter drives efficacious tumor suicide gene therapy while preventing hepatotoxicity encountered with constitutive promoters. Gene Ther 8, 568–578 (2001). https://doi.org/10.1038/sj.gt.3301421
Received:

Accepted:

Published:

Issue Date:

DOI: https://doi.org/10.1038/sj.gt.3301421
Keywords
human telomerase reverse transcriptase (hTERT)

hTERT promoter

thymidine kinase

liver toxicity

adenoviral vectors