Abstract
CXCR4 is the major co-receptor used by X4 strains of human immunodeficiency virus type I (HIV-1). In HIV-1-infected patients, the appearance of X4 strains (T cell line-tropic) correlates with disease progression. Since its discovery, the CXCR4 co-receptor has been a major target for different agents which block its function, such as stromal-derived factor 1α (SDF-1α) and the anti-CXCR4 monoclonal antibody, 12G5. In the present studies, the 12G5 hybridoma was used to construct a single-chain variable antibody fragment (SFv). Murine leukemia virus (MLV) and simian virus 40 (SV40) were utilized as delivery vehicles for the anti-CXCR4 SFv. Intracellular expression of the anti-CXCR4 SFv led to down-regulation of this critical co-receptor, as demonstrated by immunostaining. This effect significantly and specifically protected transduced cells from challenge with HIV-1, as measured by HIV-1 p24 antigen expression. Inhibition of HIV-1 replication was specific for X4 HIV-1 strains as demonstrated by MAGI assays. HeLa-CD4/βgal-CCR5 cells expressing the anti-CXCR4 SFv showed significant inhibition of infectivity by the X4 HIV-1 strain NL4–3, but not with the R5 HIV-1 strain Bal. Thus, this anti-HIV-1 molecular therapy has the potential to inhibit HIV-1 replication and virion spread. Targeting CXCR4 by intracellular immunization could be of additional benefit to certain HIV-1-infected patients on highly active antiretroviral therapy (HAART).
Relevant articles
Open Access articles citing this article.
Congcong Zhang

,

Rina M. Ötjengerdes

…

Andrea L. J. Marschall

BioDrugs Open Access 16 April 2020
Access options
Subscribe to this journal
Receive 12 print issues and online access
$259.00 per year
only $21.58 per issue
Rent or buy this article
Prices vary by article type
from$1.95
to$39.95
Prices may be subject to local taxes which are calculated during checkout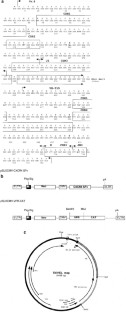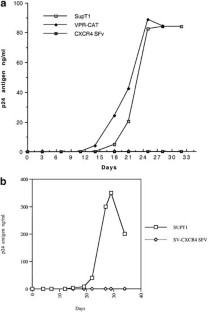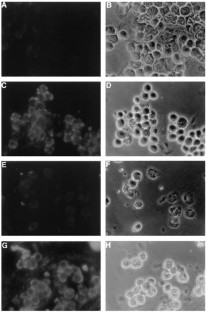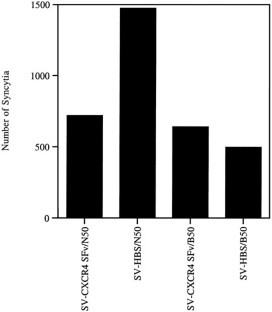 References
Maddon PJ et al. The T4 gene encodes the AIDS virus receptor and is expressed in the immune system and the brain Cell 1986 47: 333–348

Feng Y, Broder CC, Kennedy PE, Berger EA . HIV-1 entry cofactor: functional cDNA cloning of a seven-transmembrane G-protein coupled receptor Science 1996 272: 872–877

Alkhatib G et al. CC CKR5: a RANTES, MIP-1α, MIP-1β receptor as a fusion cofactor for macrophage-tropic HIV-1 Science 1996 272: 1955–1958

Deng H et al. Identification of a major co-receptor for primary isolates of HIV-1 Nature 1996 381: 661–666

Doranz BJ et al. A dual-tropic primary HIV-1 isolate that uses fusin and the β-chemokine receptors CKR-5, CKR-3, and CKR-2B as fusion cofactors Cell 1996 85: 1149–1158

Dragic T et al. HIV-1 entry into CD4+ cells is mediated by the chemokine receptor CC-CKR5 Nature 1996 381: 667–673

Heyryun C et al. The β-chemokine receptors CCR3 and CCR5 facilitate infection by primary HIV-1 isolates Cell 1996 85: 1135–1148

Samson M et al. Molecular cloning and functional expression of a new human CC-chemokine receptor gene Biochemistry 1996 35: 3362–3367

Berger EA et al. A new classification for HIV-1 Nature 1998 391: 240

Scarlatti G et al. In vivo evolution of HIV-1 co-receptor usage and sensitivity to chemokine-mediated suppression Nature Med 1997 3: 1259–1265

Zhang L et al. Chemokine coreceptor usage by diverse primary isolates of human immunodeficiency virus type I J Virol 1998 72: 9307–9312

Schramm B et al. Viral entry through CXCR4 is a pathogenic factor and therapeutic target in human immunodeficiency virus type 1 disease J Virol 2000 74: 184–192

Penn ML et al. CXCR4 utilization is sufficient to trigger CD4+ T cell depletion in HIV-1-infected human lymphoid tissue Proc Natl Acad Sci USA 1999 96: 663–668

Bleul CC et al. The lymphocyte chemoattractant SDF-1 is a ligand for LESTR/fusin and blocks HIV-1 entry Nature 1996 382: 829–833

Oberlin E et al. The CXC chemokine SDF-1 is the ligand for LESTR/fusin and prevents infection by T cell-line-adapted HIV-1 Nature 1996 382: 823–835

Endres MJ et al. CD4-independent infection by HIV-2 is mediated by fusin/CXCR4 Cell 1996 87: 745–756

Brelot A et al. Role of the first and third extracellular domains of CXCR4 in human immunodeficiency virus coreceptor activity J Virol 1997 71: 4744–4751

Strayer DS . SV40 as an effective gene transfer vector in vivo J Biol Chem 1996 271: 24741–24746

Strayer DS, Kondo R, Milano J, Duan LX . Use of SV40-based vectors to transduce foreign genes to normal human peripheral blood mononuclear cells Gene Therapy 1997 4: 219–225

Strayer DS, Milano J . SV40 mediates stable gene transfer in vivo Gene Therapy 1996 3: 581–587

Bouhamdan M, Duan LX, Pomerantz RJ, Strayer DS . Inhibition of HIV-1 by an anti-integrase single-chain variable fragment (SFv): delivery by SV40 provides durable protection against HIV-1 and does not require selection Gene Therapy 1999 6: 660–666

Bouhamdan M, Kulkosky J, Duan LX, Pomerantz RJ . Inhibition of HIV-1 replication and infectivity by expression of a fusion protein, Vpr-anti-integrase single-chain variable fragment (SFv): intravirion molecular therapeutics J Hum Virol 2000 3: 6–15

Ho W-Z et al. Inhibition of HIV type 1 replication in chronically-infected monocytes and lymphocytes by retrovirus-mediated gene transfer of anti-rev single-chain variable fragments AIDS Res Hum Retroviruses 1998 14: 1573–1580

Levy-Mintz P et al. Intracellular expression of single-chain variable fragments to inhibit early stages of the viral life cycle by targeting human immunodeficiency virus type 1 integrase (published correction 2001; 75: 1092) J Virol 1996 70: 8821–8832

Kaartinen M, Solin M-L, Makela O . V genes of oxazolone antibodies in 10 strains of mice Eur J Immunol 1991 21: 2863–2869

Marion TN et al. IgG anti-DNA autoantibodies within an individual autoimmune mouse are the products of clonal selection J Immunol 1989 142: 4269–4274

Diaw L et al. Structural and affinity studies of IgM polyreactive natural autoantibodies J Immunol 1997 158: 968–976

Kondo R, Feitelson MA, Strayer DS . Use of SV40 to immunize against hepatitis B surface antigen: implications for the use of SV40 for gene transduction and its use as an immunizing agent Gene Therapy 2000 (in press

Crump MP et al. Solution structure and basis for functional activity of stromal cell-derived factor-1; dissociation of CXCR4 activation from binding and inhibition of HIV-1 EMBO J 1997 16: 6966–7007

Doranz B et al. A small molecule inhibitor directed against chemokine receptor CXCR4 prevents its use as an HIV-1 coreceptor J Exp Med 1997 186: 1395–1400

Murakami T et al. A small molecule CXCR4 inhibitor that blocks T cell line-tropic HIV-1 infection J Exp Med 1997 186: 1389–1393

Schols D et al. Inhibition of T-tropic HIV strains by selective antagonization of the chemokine receptor CXCR4 J Exp Med 1997 186: 1383–1388

Kusunoki A et al. Antisense oligodeoxynucleotide complementary to CXCR4 mRNA block replication of HIV-1 in Cos cells Nucleosides Nucleotides 1999 18: 1705–1708

Chen JD et al. Inactivation of HIV-1 chemokine co-receptor CXCR4 by a novel intrakine strategy Nature Med 1997 10: 1110–1116

Otto OY et al. Enhanced inhibition of human immunodeficiency virus type 1 by Met-stromal-derived factor 1β correlates with down-modulation of CXCR4 J Virol 1999 73: 4582–4589

Steinberger P et al. Functional deletion of the CCR5 receptor by intracellular immunization produces cells that are refractory to CCR5-dependent HIV-1 infection and cell fusion Proc Natl Acad Sci USA 2000 97: 805–810

Bai J et al. Characterization of anti-CCR5 ribozyme-transduced CD34+ hematopoietic progenitor cells in vitro and in a SCID-hu mouse model in vivo Mol Ther 2000 1: 244–254

Mulligan RC . The basic science of gene therapy (review) Science 1993 260: 926–932

Rund D et al. Efficient transduction of human hematopoietic cells with the human multidrug resistance gene 1 via SV40 pseudovirions Hum Gene Ther 1998 9: 649–657

Strayer DS et al. Efficient gene transfer to hematopoietic progenitor cells using SV40-derived vectors Gene Therapy 2000 7: 886–895

Embretson J et al. Massive covert infection of helper T lymphocytes and macrophages by HIV during the incubation period of AIDS Nature 1993 362: 359–362

Ausubel FM et al. (ed.). Current Protocols in Molecular Biology, vol. 1 John Wiley & Sons: New York 1994

Strayer DS et al. Titering replication-defective virus for use in gene transfer BioTechniques 1997 22: 447–450
Acknowledgements
We wish to thank Ms Rita M Victor and Ms Brenda O Gordon for excellent secretarial assistance, Dr Tim Manser for his critical evaluations of the CXCR4 SFv sequence, Dr Joseph Kulkosky for helpful discussions, and Dr Janet S Butel who kindly supplied the pBSV-1, from which all SV40-derived constructs were created. These studies were supported in part by USPHS grants AI41399 and RR13156 to DSS, and AI38666, NS27405 and AI36557 to RJP.
About this article
Cite this article
BouHamdan, M., Strayer, D., Wei, D. et al. Inhibition of HIV-1 infection by down-regulation of the CXCR4 co-receptor using an intracellular single chain variable fragment against CXCR4. Gene Ther 8, 408–418 (2001). https://doi.org/10.1038/sj.gt.3301411
Received:

Accepted:

Published:

Issue Date:

DOI: https://doi.org/10.1038/sj.gt.3301411
Keywords
HIV-1

SFv

CXCR4

gene therapy