Abstract
This study was conducted to investigate immunological components of somatic gene therapy for primary glioblastoma multiforme (GBM) in adults. It involved 13 patients treated by surgical resection of tumor with subsequent radiation therapy. Seven of them received additional herpes simplex virus thymidine kinase/ganciclovir (HSV-tk/GCV) gene therapy by direct intracerebral injection of retrovirus (RV) vector producing cells (VPC) during tumor surgery and subsequent systemic administration of GCV. Peripheral blood for FACS immunophenotyping, isolation of peripheral mononuclear cells (PMNC), and serum ELISA assays for IL-12 and soluble Fas ligand (sFasL) was collected daily during the first 4 post-operative weeks. Tumor specimens were obtained at primary or recurrent surgery and at autopsy. Tumors from gene therapy patients showed varying degrees of peritumoral necrosis around the former tumor resection cavity. Numbers of tumor-infiltrating lymphocytes found weeks after gene therapy were not significantly increased compared with primary tumors. Mitotic tumor cells were sparse close to the VPC injection sites, but abundant in brain areas somewhat distant from these sites. Serum ELISA revealed significantly increased sFasL and IL-12 levels in the gene therapy group compared with controls. Immunophenotyping of PMNC did not show a significant activation of T cells or NK cells during gene therapy. Interferon gamma secretion was evaluated by ELISPOT assays employing PMNC cocultivated with autologous tumor cells. It demonstrated an antitumor immune response in the gene therapy group, but not in the control group. These findings support the concept of in vivo induction of a systemic immune response by local intracerebral HSV-tk/GCV pharmacogene therapy for primary human GBM.
Relevant articles
Open Access articles citing this article.
Tao Zheng

,

Wentao Wang

…

Yi Sun

Nano-Micro Letters Open Access 15 July 2020

Henning Olbrich

,

Constanze Slabik

&

Renata Stripecke

Virus Genes Open Access 25 July 2017
Access options
Subscribe to this journal
Receive 12 print issues and online access
$259.00 per year
only $21.58 per issue
Rent or buy this article
Get just this article for as long as you need it
$39.95
Prices may be subject to local taxes which are calculated during checkout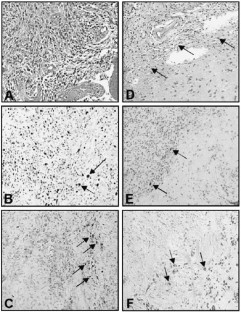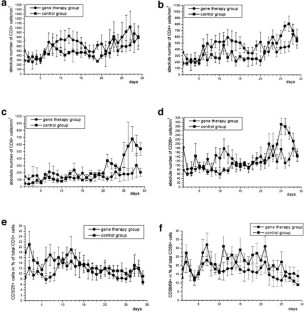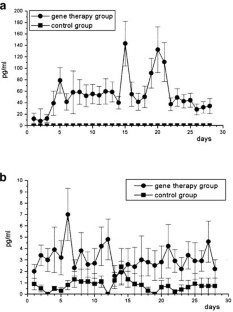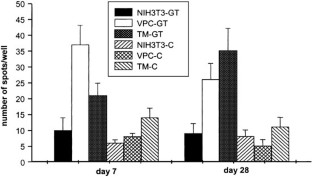 References
Culver KW et al. In vivo gene transfer with retroviral vector-producer cells for treatment of experimental brain tumors Science 1992 256: 1550–1552

Oldfield EH et al. Gene therapy for the treatment of brain tumors using intra-tumoral transduction with the thymidine kinase gene and intravenous ganciclovir Hum Gene Ther 1993 4: 39–69

Moolten FL . Tumor chemosensitivity conferred by inserted herpes thymidine kinase genes: paradigm for a prospective cancer control strategy Cancer Res 1986 46: 5276–5281

Danos O, Mulligan RC . Safe and efficient generation of recombinant retroviruses with amphotropic and ecotropic host ranges Proc Natl Acad Sci USA 1988 85: 6460–6464

Izquierdo M et al. Human malignant brain tumor response to herpes simplex thymidine kinase (HSVtk)/ganciclovir gene therapy Gene Therapy 1996 3: 491–495

Klatzmann D et al. A phase I/II study of herpes simplex virus type 1 thymidine kinase 'suicide' gene therapy for recurrent glioblastoma Hum Gene Ther 1998 9: 2595–2604

Palu G et al. Gene therapy of glioblastoma multiforme via combined expression of suicide and cytokine genes: a pilot study in humans Gene Therapy 1999 6: 330–337

Ram Z et al. Therapy of malignant brain tumors by intratumoral implantation of retroviral vector-producing cells Nature Med 1997 3: 1354–1361

Shand N et al. A phase 1–2 clinical trial of gene therapy for recurrent glioblastoma multiforme by tumor transduction with the herpes simplex thymidine kinase gene followed by ganciclovir Hum Gene Ther 1999 10: 2325–2335

Puumalainen AM, Vapalahti M, Yla-Herttuala S . Gene therapy for malignant glioma patients Adv Exp Med Biol 1998 451: 505–509

Rainov NG, on behalf of the GLI328 International Study Group . a phase III clinical evaluation of herpes simplex virus type 1 thymidine kinase and ganciclovir gene therapy for previously untreated glioblastoma multiforme in adults Hum Gene Ther 2000 (in press

Raffel C et al. Gene therapy for the treatment of recurrent pediatric malignant astrocytomas with in vivo transduction with the herpes simplex thymidine kinase gene/ganciclovir system Hum Gene Ther 1994 5: 863–890

Gagandeep S et al. Prodrug-activated gene therapy: involvement of an immunological component in the 'bystander effect' Cancer Gene Ther 1996 3: 83–88

Freeman SM et al. In vivo studies on the mechanism of the bystander effect Cancer Gene Ther 1994 1: 326–332

Barba D, Hardin J, Sadelain M, Gage FH . Development of anti-tumor immunity following thymidine kinase-mediated killing of experimental brain tumors Proc Natl Acad Sci USA 1994 91: 4348–4352

Hall SJ, Sanford MA, Atkinson G, Chen SH . Induction of potent antitumor natural killer cell activity by herpes simplex virus-thymidine kinase and ganciclovir therapy in an orthotopic mouse model of prostate cancer Cancer Res 1998 58: 3221–3225

Mullen CA et al. Ganciclovir chemoablation of herpes thymidine kinase suicide gene-modified tumors produces tumor necrosis and induces systemic immune responses Hum Gene Ther 1998 9: 2019–2030

Vile RG et al. Generation of an anti-tumor immune response in a non-immunogenic tumor: HSVtk killing in vivo stimulates a mononuclear cell infiltrate and a Th1-like profile of intratumoral cytokine expression Int J Cancer 1997 71: 365–369

Yamamoto S et al. Herpes simplex virus thymidine kinase/ganciclovir-mediated killing of tumor cell induces tumor-specific cytotoxic T cells in mice Cancer Gene Ther 1997 4: 91–96

Andreansky S et al. Treatment of intracranial gliomas inimmunocompetent mice using herpes simplex viruses thatexpress murine interleukins Gene Therapy 1998 5: 121–130

Weber FW et al. MRI characteristics and histological changes in glioblastoma after gene therapy Front Radiat Ther Oncol 1999 33: 244–252

Nakayama Y et al. Serum levels of interleukin-12 in patients with gastrointestinal cancer Anticancer Res 2000 20: 635–640

Lissoni P et al. Physiopathology of IL-12 in human solid neoplasms: blood levels of IL-12 in early or advanced cancer patients, and their variations with surgery and immunotherapy J Biol Regul Homeost Agents 1998 12: 38–41

Lissoni P et al. Increased blood concentrations of interleukin-12 are associated with a longer survival in untreatable metastatic solid tumor patients: preliminary observations Int J Biol Markers 1997 12: 125–127

Toyozaki T et al. Levels of soluble Fas ligand in myocarditis Am J Cardiol 1998 82: 246–248

Tanaka M, Suda T, Takahashi T, Nagata S . Expression of the functional soluble form of human fas ligand in activated lymphocytes EMBO J 1995 14: 1129–1135

Rogulski KR et al. Pronounced antitumor effects and tumor radiosensitization of double suicide gene therapy Clin Cancer Res 1997 3: 2081–2088

Vrionis FD et al. Preservation of the bystander cytocidal effect of irradiated herpes simplex virus thymidine kinase (HSV-tk) modified tumor cells J Neurooncol 1996 30: 225–236

Kramm CM et al. Systemic activation of the immune system during ganciclovir treatment following intratumoral grafting of HSVtk retroviral vector producer cells in an adolescent ependymoma patient Cancer Gene Ther 2000 (in press

Kirk AD et al. The human antiporcine cellular repertoire. In vitro studies of acquired and innate cellular responsiveness Transplantation 1993 55: 924–931

Körholz D et al. The role of interleukin-10 (IL-10) in IL-15-mediated T-cell responses Blood 1997 90: 4513–4521

Long Z et al. Molecular evaluation of biopsy and autopsy specimens from patients receiving in vivo retroviral gene therapy Hum Gene Ther 1999 10: 733–740

Rodenburg RJ, van den Hoogen FH, van de Putte LB, van Venrooij WJ . Peripheral blood monocytes of rheumatoid arthritis patients do not express elevated TNF alpha IL-1beta and IL-8 mRNA levels. A comparison of monocyte isolation procedures J Immunol Methods 1998 221: 169–175

Butterfield LH et al. Generation of human T-cell responses to an HLA-A21-restricted peptide epitope derived from alpha-fetoprotein Cancer Res 1994 59: 3134–3142

Larsson M et al. A recombinant vaccinia virus based ELISPOT assay detects high frequencies of Pol-specific CD8 T cells in HIV-1-positive individuals AIDS 1999 13: 767–777
Acknowledgements
This study was supported in part by grants 015VE1997 and 2794A/0087H from the Federal State of Saxony-Anhalt (NGR), grant 0311661/1402 (BioRegio) from the Federal Ministry of Education and Research of Germany (NGR, CMK), grant KR1711/1–1 from the German Research Council, DFG (CMK), grant SFB 503-C6 from the German Research Council, DFG (UB), grants from the Elterninitiative Kinderkrebsklinik Duesseldorf eV (CMK, UB, DK), and by Novartis Pharma GmbH, Nuremberg, Germany.
About this article
Cite this article
Rainov, N., Kramm, C., Banning, U. et al. Immune response induced by retrovirus-mediated HSV-tk/GCV pharmacogene therapy in patients with glioblastoma multiforme. Gene Ther 7, 1853–1858 (2000). https://doi.org/10.1038/sj.gt.3301311
Received:

Accepted:

Published:

Issue Date:

DOI: https://doi.org/10.1038/sj.gt.3301311
Keywords
ganciclovir

gene therapy

glioblastoma

peripheral blood mononuclear cells

retrovirus

thymidine kinase