Abstract
The liver is an attractive target organ for insulin gene expression in type 1 diabetes as it contains appropriate cellular mechanisms of regulated gene expression in response to blood glucose and insulin. We hypothesize that insulin production regulated by both glucose and insulin may be achieved using the promoter of the glucose 6-phosphatase gene (G6Pase), the expression of which in the liver is induced by glucose and suppressed by insulin. Recombinant adenoviral vectors expressing the reporter gene CAT or insulin under transcriptional direction of the G6Pase promoter were constructed. Glucose-stimulated as well as self-limiting insulin production was achieved in vector-transduced hepatoma cells in which expression of the insulin gene was controlled by the G6Pase promoter. While insulin strongly inhibited the G6Pase promoter activity under low glucose conditions, its inhibitory capacity was attenuated when glucose levels were elevated. At the physiologic glucose level of 5.5 mM glucose, vector-transduced hepatoma cells produced a self-limited level of insulin at approximately 0.2–0.3 ng/ml, which is within the range of fasting levels of insulin in normal animals. These results indicate that the G6Pase promoter possesses desirable features and may be developed for regulated hepatic insulin gene expression in type 1 diabetes.
This is a preview of subscription content
Access options
Subscribe to Journal
Get full journal access for 1 year
$119.00
only $9.92 per issue
All prices are NET prices.
VAT will be added later in the checkout.
Tax calculation will be finalised during checkout.
Buy article
Get time limited or full article access on ReadCube.
$32.00
All prices are NET prices.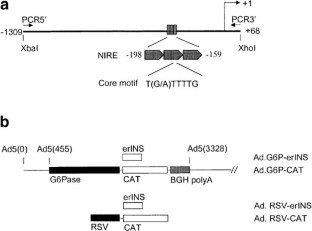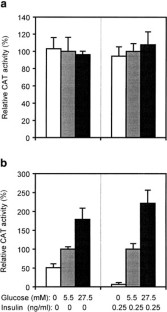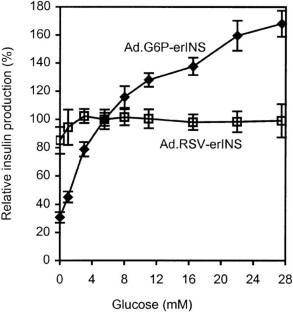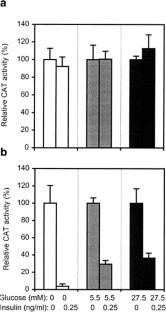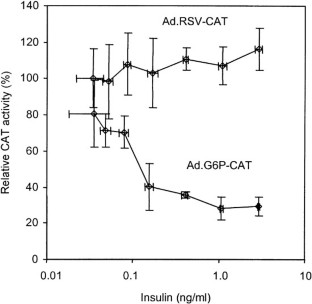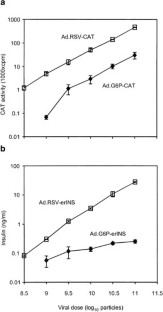 References
The Diabetes Control and Complications Trial Research Group . The effect of intensive treatment of diabetes on the development and progression of long-term complications in insulin-dependent diabetes mellitus New Engl J Med 1993 329: 977–986

Kolodka TM, Finegold M, Moss L, Woo SL . Gene therapy for diabetes mellitus in rats by hepatic expression of insulin Proc Natl Acad Sci USA 1995 92: 3293–3297

Muzzin P, Eisensmith RC, Copeland KC, Woo SL . Hepatic insulin gene expression as treatment for type 1 diabetes mellitus in rats Mol Endocrinol 1997 11: 833–837

Falqui L et al. Reversal of diabetes in mice by implantation of human fibroblasts genetically engineered to release mature human insulin Hum Gene Ther 1999 10: 1753–1762

Irminger JC, Vollenweider FM, Neerman-Arbez M, Halban PA . Human proinsulin conversion in the regulated and the constitutive pathways of transfected AtT20 cells J Biol Chem 1994 269: 1756–1762

Yanagita M, Hoshino H, Nakayama K, Takeuchi T . Processing of mutated proinsulin with tetrabasic cleavage sites to mature insulin reflects the expression of furin in nonendocrine cell lines Endocrinology 1993 133: 639–644

Groskreutz DJ, Sliwkowski MX, Gorman CM . Genetically engineered proinsulin constitutively processed and secreted as mature, active insulin J Biol Chem 1994 269: 6241–6245

Simonson GD, Groskreutz DJ, Gorman CM, MacDonald MJ . Synthesis and processing of genetically modified human proinsulin by rat myoblast primary cultures Hum Gene Ther 1996 7: 71–78

Mitanchez D et al. Regulated expression of mature human insulin in the liver of transgenic mice FEBS Lett 1998 421: 285–289

Gros L et al. Insulin production by engineered muscle cells Hum Gene Ther 1999 10: 1207–1217

Nordlie RC, Bode AM, Foster JD . Recent advances in hepatic glucose 6-phosphatase regulation and function Proc Soc Exp Biol Med 1993 203: 274–285

Bell PM, Firth RG, Rizza RA . Effects of hyperglycemia on glucose production and utilization in humans. Measurement with [23H]-, [33H]-, and [614C]glucose Diabetes 1986 35: 642–648

Rossetti L et al. Mechanism by which hyperglycemia inhibits hepatic glucose production in conscious rats. Implications for the pathophysiology of fasting hyperglycemia in diabetes J Clin Invest 1993 92: 1126–1134

Streeper RS et al. A multicomponent insulin response sequence mediates a strong repression of mouse glucose-6-phosphatase gene transcription by insulin J Biol Chem 1997 272: 11698–11701

Argaud D et al. Regulation of rat liver glucose-6-phosphatase gene expression in different nutritional and hormonal states: gene structure and 5′-flanking sequence Diabetes 1996 45: 1563–1571

Massillon D et al. Glucose regulates in vivo glucose-6-phosphatase gene expression in the liver of diabetic rats J Biol Chem 1996 271: 9871–9874

Reaven GM et al. Plasma insulin, C-peptide, and proinsulin concentrations in obese ans nonobese individuals with varying degrees of glucose tolerance J Clin Endocrinol Metab 1993 76: 44–48

Hughes SD et al. Transfection of AtT-20ins cells with GLUT-2 but not GLUT-1 confers glucose-stimulated insulin secretion. Relationship to glucose metabolism J Biol Chem 1993 268: 15205–15212

Clark SA et al. Novel insulinoma cell lines produced by iterative engineering of GLUT2, glucokinase, and human insulin expression. Published erratum appears in Diabetes 1997; 46: 1663 Diabetes 1997 46: 958–967

Motoyoshi S et al. Cellular characterization of pituitary adenoma cell line (AtT20 cell) transfected with insulin, glucose transporter type 2 (GLUT2) and glucokinase genes: insulin secretion in response to physiological concentrations of glucose Diabetologia 1998 41: 1492–1501

MacFarlane WM et al. Engineering a glucose-responsive human insulin-secreting cell line from islets of langerhans isolated from a patient with persistent hyperinsulinemic hypoglycemia of infancy J Biol Chem 1999 274: 34059–34066

Hohmeier HE et al. Regulation of insulin secretion from novel engineered insulinoma cell lines Diabetes 1997 46: 968–977

Newgard CB et al. Engineered cell lines for insulin replacement in diabetes: current status and future prospects Diabetologia 1997 40 (Suppl. 2): S42–47

Stewart C et al. Insulin-releasing pituitary cells as a model for somatic cell gene therapy in diabetes mellitus J Endocrinol 1994 142: 339–343

Lu D, Hoshino H, Takeuchi T . Regulatable production of mature insulin from a hepatocyte cell line: insulin production is up-regulated by cAMP and glucocorticoids, and down-regulated by insulin FEBS Lett 1996 399: 37–42

Lu D et al. Regulatable production of insulin from primary-cultured hepatocytes: insulin production is up-regulated by glucagon and cAMP and down-regulated by insulin Gene Therapy 1998 5: 888–895

Scott DK et al. The repression of hormone-activated PEPCK gene expression by glucose is insulin-independent but requires glucose metabolism J Biol Chem 1998 273: 24145–24151

Chen R, Doiron B, Kahn A . Glucose responsiveness of a reporter gene transduced into hepatocytic cells using a retroviral vector FEBS Lett 1995 365: 223–236

Kahn A . Transcriptional regulation by glucose in the liver Biochimie 1997 79: 113–118

Doiron B, Cuif MH, Chen R, Kahn A . Transcriptional glucose signaling through the glucose response element is mediated by the pentose phosphate pathway J Biol Chem 1996 271: 5321–5324

Massillon D et al. Carbon flux via the pentose phosphate pathway regulates the hepatic expression of the glucose-6-phosphatase and phosphoenolpyruvate carboxykinase genes in conscious rats J Biol Chem 1998 273: 228–234

Valera A, Bosch F . Glucokinase expression in rat hepatoma cells induces glucose uptake and is rate limiting in glucose utilization Eur J Biochem 1994 222: 533–539

Argaud D, Kirby TL, Newgard CB, Lange AJ . Stimulation of glucose-6-phosphatase gene expression by glucose and fructose-2,6-bisphosphate J Biol Chem 1997 272: 12854–12861

Dickens M et al. Central role for phosphatidylinositide 3-kinase in the repression of glucose-6-phosphatase gene transcription by insulin J Biol Chem 1998 273: 20144–20149

Streeper RS et al. Hepatocyte nuclear factor-1 acts as an accessory factor to enhance the inhibitory action of insulin on mouse glucose-6-phosphatase gene transcription Proc Natl Acad Sci USA 1998 95: 9208–9213

Bergot MO et al. Cis-regulation of the L-type pyruvate kinase gene promoter by glucose, insulin and cyclic AMP Nucleic Acids Res 1992 20: 1871–1877

Shih HM, Liu Z, Towle HC . Two CACGTG motifs with proper spacing dictate the carbohydrate regulation of hepatic gene transcription J Biol Chem 1995 270: 21991–21997

Portois L et al. Identification of a glucose response element in the promoter of the rat glucagon receptor gene J Biol Chem 1999 274: 8181–8190

Rivera VM et al. Regulation of protein secretion through controlled aggregation in the endoplasmic reticulum Science 2000 287: 826–830

Graham FL, Prevec L . Methods for construction of adenovirus vectors Mol Biotechnol 1995 3: 207–220

Seed B, Sheen JY . A simple phase-extraction assay for chloramphenicol acyltransferase activity Gene 1988 67: 271–277
Acknowledgements
We thank Drs Nuria Morral and Hengjiang Dong for critical review of this manuscript. We thank Oxana Galenko for her assistance in rescuing recombinant adenoviruses, and Jennifer Altomonte and Liqun Wang for their assistance in the measurement of insulin and glucose. This work was supported in part by NIH grant DK54377 and by the JDFI center at Mount Sinai School of Medicine. R Chen was supported by a Juvenile Diabetes Foundation International Fellowship (JDFI-398232).
About this article
Cite this article
Chen, R., Meseck, M., McEvoy, R. et al. Glucose-stimulated and self-limiting insulin production by glucose 6-phosphatase promoter driven insulin expression in hepatoma cells. Gene Ther 7, 1802–1809 (2000). https://doi.org/10.1038/sj.gt.3301306
Received:

Accepted:

Published:

Issue Date:

DOI: https://doi.org/10.1038/sj.gt.3301306
Keywords
glucose-6-phosphatase promoter

insulin

glucose

regulated insulin gene expression

type 1 diabetes