Abstract
The impact of a localized application of ultrasound on gene transfer to primary tumors following systemic administration of cationic lipid based transfection complexes was investigated. We have previously shown that systemic administration of DOTMA (N-[(1-(2–3-dioleyloxy) propyl)]-N-N-N-trimethylammonium chloride):cholesterol-based transfection complexes to tumor-bearing mice resulted in expression in the tumor and other tissues, primarily the lungs. Application of ultrasound to the tumor before or after the injection resulted in a significant increase in gene transfer to the tumor with no increase observed in other tissues. The magnitude of increased expression ranged from three- to 270-fold depending upon the DNA dose. The following parameters were optimized for maximal increase: duration of ultrasound application, the time interval between plasmid injection and sonoporation, and plasmid dose. A combination of plasmid quantitation and fluorescence microscopy showed that ultrasound increased tumor uptake of the plasmid and that uptake was limited to the tumor vasculature. Using an IL-12 expression plasmid, the combination of a single plasmid dose (10 μg) and ultrasound treatment produced significantly higher levels of IL-12 in tumor. This increased expression was sufficient to inhibit tumor growth compared with the control conditions. These data demonstrate the potential application of sonoporation as an effective method for enhancing the expression of systemically administered genes in tumor endothelium for cancer gene therapy.
Relevant articles
Open Access articles citing this article.
Zhi-Yi Chen

,

Kun Liang

&

Ri-Xiang Qiu

Journal of Experimental & Clinical Cancer Research Open Access 23 November 2010
Access options
Subscribe to this journal
Receive 12 print issues and online access
$259.00 per year
only $21.58 per issue
Rent or buy this article
Get just this article for as long as you need it
$39.95
Prices may be subject to local taxes which are calculated during checkout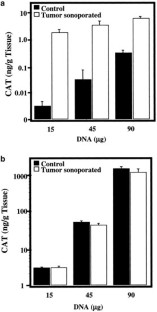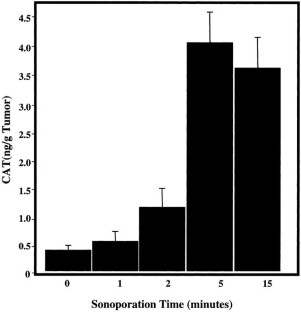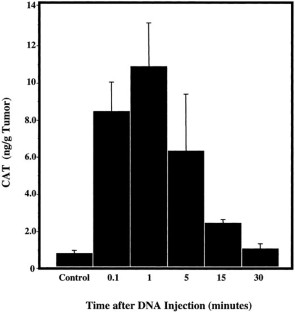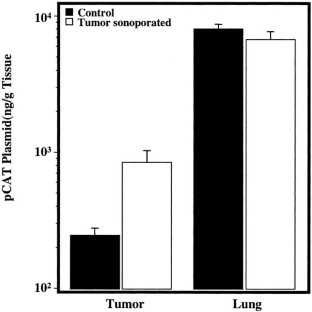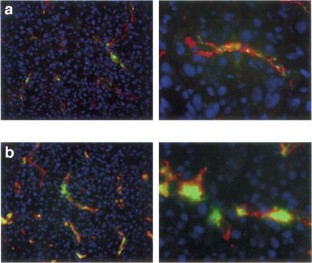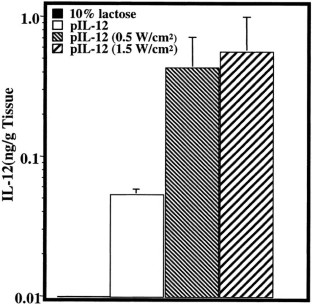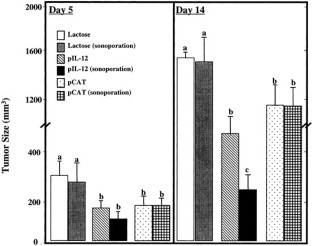 References
Mulligan RC . The basic science of gene therapy Science 1993 260: 926–932

Felgner PI, Rhodes G . Gene therapeutics Nature 1991 349: 351–335

Rolland AP . From genes to gene medicines: recent advances in nonviral gene delivery Crit Rev Ther Drug Carrier Syst 1998 15: 143–198

Hofland HEJ et al. In vivo gene transfer by intravenous administration of stable cationic lipid/DNA complex Pharm Res 1997 14: 742–749

Liu F, Huang L, Liu D . Factors controlling the efficiency of cationic lipid-mediated transfection in vivo via intravenous administration Gene Therapy 1997 4: 517–523

Mahato RI et al. Biodistribution and gene expression of lipid/plasmid complexes after systemic administration Hum Gene Ther 1998 9: 2083–2099

Brigham KB et al. In vivo transfection of murine lung with a functional prokaryotic gene using a liposome vehicle Am J Med Sci 1989 298: 278–281

Leesson-Wood LA et al. Systemic gene therapy with p53 reduces growth and metastases of a malignant human breast cancer in nude mice Hum Gene Ther 1995 6: 395–405

Anwer K et al. Optimization of cationic lipid/DNA complexes for systemic gene transfer to tumor lesions J Drug Target 2000 8: 125–135

Boulikas T . Cancer gene therapy and immunotherapy Int J Oncol 1996 9: 941–954

Kong HL, Crystal RG . Gene therapy strategies for tumor antiangiogenesis J Natl Cancer Inst 1998 90: 273–286

Pietersz GA, McKenzie IFC . Antibody conjugates for the treatment of cancer Immunol Rev 1992 129: 57–80

Thorpe PE, Derbyshire EJ . Targeting the vasculature of solid tumors J Cont Release 1997 129: 57–80

Kircheis R et al. Coupling of cell-binding ligands to polyethylenimine for targeted gene delivery Gene Therapy 1997 4: 409–418

Anwer K et al. Synergistic effect of formulated plasmid and needle-free injection for genetic vaccines Pharm Res 1999 16: 889–895

Gallo SA, Oseroff AR, Johnson PG, Hui SW . Characterization of electric-pulse-induced permeabilization of porcine skin using surface electrodes Biophys J 1997 72: 2805–2811

Liu J, Lewis TN, Prausnitz MR . Non-invasive assessment and control of ultrasound-mediated membrane permeabilization Pharm Res 1998 15: 918–924

Mitragotri S, Blankschtein D, Langer R . Transdermal drug delivery using low-frequency sonophoresis Pharm Res 1996 13: 411–420

Wyber JA, Andrews J, D'Emanuele A . The use of sonication for the efficient delivery of plasmid DNA into cells Pharm Res 1997 14: 750–756

Tata DB, Dunn F, Tindall DJ . Selective clinical ultrasound signals mediate differential gene transfer and expression in two human prostate cancer cell lines: Ln Cap and PC-3 Biochem Biophys Res Commun 1997 234: 64–67

Fechheimer M et al. Transfection of mammalian cells with plasmid DNA by scrape loading and sonication loading Proc Natl Acad Sci USA 1987 84: 8463–8467

McDonald NJ, Wolf D, Wolf C, Jolesz F . MRI evaluation of thermal ablation of tumors with focused ultrasound J Magn Reson Imaging 1998 8: 91–100

McDonald NJ, Jolesz FA, Hynynen KH . Determination of the optimal delay between sonications during focused ultrasound surgery in rabbits by using MR imaging to monitor thermal buildup in vivo Radiology 1999 21: 419–426

Hynynen K, Darkazanli A, Unger E, Schenck JF . MRI-guided noninvasive ultrasound surgery Med Phys 1993 20: 107–115

Mitragotri S, Blankschtein D, Langer R . Ultrasound-mediated transdermal protein delivery Science 1995 269: 850–853

Lauer U et al. Towards a new gene transfer system: shock wave-mediated DNA transfer J Cell Biochem 1994 18A: 226–228

Brunda MJ et al. Anti-tumor and anti-metastatic activity of interleukin 12 against murine tumors J Exp Med 1993 178: 1223–1230

Hiscox S, Jiang WG . IL-12, an emerging anti-tumor cytokine In Vivo 1997 11: 125–132

Angiolillo AL, Sgadari C, Tosato G . A role for the interferon-inducible protein 10 in inhibition of angiogenesis by interleukin 12 Ann NY Acad Sci 1996 795: 158–167

Sagadari C, Angiolillo AL, Tosato G . Inhibition of angiogenesis by interleukin-12 is mediated by the interferon inducible protein 10 Blood 1996 87: 3877–3882

Anwer A et al. Cationic lipid-based delivery system for systemic cancer gene therapy Cancer Gene Ther 2000 7: 1156–1164

Wahle A, Prause P, Dejong S, Sonka M . Geometrically correct 3-D reconstruction of intravascular ultrasound images by fusion with biplane angiography – methods and validation IEEE Trans Med Imaging 1999 18: 686–699

Blesinger P et al. Intratracheal administration of IL-12 plasmid-cationic lipid complexes inhibits murine lung metastases Hum Gene Ther 1999 10: 723–731
Acknowledgements
We would like to thank the following groups for their assistance: Integrated Manufacturing and QC Groups for providing plasmid DNA, and Dr Michael Fons for his valuable comments on this manuscript.
About this article
Cite this article
Anwer, K., Kao, G., Proctor, B. et al. Ultrasound enhancement of cationic lipid-mediated gene transfer to primary tumors following systemic administration. Gene Ther 7, 1833–1839 (2000). https://doi.org/10.1038/sj.gt.3301302
Received:

Accepted:

Published:

Issue Date:

DOI: https://doi.org/10.1038/sj.gt.3301302
Keywords
tumor

cationic liposomes

plasmid

systemic gene delivery

ultrasound

IL-12