Abstract
Recombinant adenoviruses are useful vectors for basic research. When the vectors are used for delineating protein function, several viruses, each containing a mutated version of the transgene are compared at the same time. However, methods to generate multiple vectors simultaneously within a short time period are cumbersome. In this report, we show that a novel backbone plasmid, when cotransfected with routinely used shuttle vectors into HEK293 cells allowed for production of recombinant viruses in an average of 14 days. The recombinant viruses had no detectable wild-type virus contamination by A549 plaque assay and only three to 300 E1a copies per 109 adenovirus genomes by a sensitive PCR-based assay. Further culturing or serial amplification did not result in wild-type revertants nor did cultures show increased levels of E1a copy number by quantitative PCR. Thus, recombinant adenovirus vectors can be produced very simply, rapidly and with little to no contaminating wild-type particles. This system should facilitate the generation of multiple genetic variants by eliminating the need for time-consuming plaque purification and the need to manipulate and screen very large plasmids. We call this the RAPAd.I system.
Relevant articles
Open Access articles citing this article.
Sabrina Clever

&

Asisa Volz

Medical Microbiology and Immunology Open Access 04 June 2022

Sreya Biswas

,

Lauren N. Rust

…

Benjamin J. Burwitz

Nature Communications Open Access 30 May 2022

Sima Zolfaghari

,

Ole Jørgen Kaasbøll

…

Håvard Attramadal

Journal of Cell Communication and Signaling Open Access 01 December 2021
Access options
Subscribe to Journal
Get full journal access for 1 year
$119.00
only $9.92 per issue
All prices are NET prices.
VAT will be added later in the checkout.
Tax calculation will be finalised during checkout.
Buy article
Get time limited or full article access on ReadCube.
$32.00
All prices are NET prices.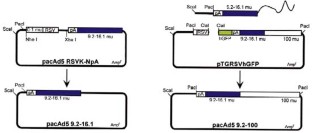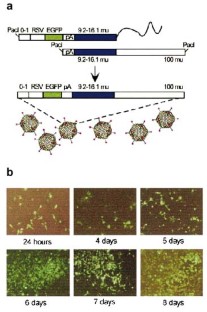 References
Shenk T . Group C adenoviruses as vectors for gene therapy. In: Kaplitt MG, Loewy AD (eds) Viral Vectors: Gene Therapy and Neuroscience Applications Academic Press: San Diego 1995 pp 43–54

Davidson BL, Roessler BJ . Adenoviral-mediated gene transfer: potential therapeutic applications. In: Kaplitt MG, Loewy AD (eds) Viral Vectors: Gene Therapy and Neuroscience Applications Academic Press: San Diego 1995 pp 173–192

Jones N, Shenk T . Isolation of deletion and substitution mutants of adenovirus type 5 Cell 1978 13: 181–188

Wohlgemuth JG, Kang SH, Bulboaca GH, Nawotka KA, Calos MP . Long-term gene expression from autonomously replicating vectors in mammalian cells Gene Therapy 1996 3: 503–512

Davidson BL et al. Expression of Escherichia coli β-galactosidase and rat HPRT in the CNS of Macaca mulatta following adenoviral mediated gene transfer Exp Neurol 1994 125: 258–267

Chartier C et al. Efficient generation of recombinant adenovirus vectors by homologous recombination in Escherichia coli J Virol 1996 70: 4805–4810

He TC et al. A simplified system for generating recombinant adenoviruses Proc Natl Acad Sci USA 1998 95: 2509–2514

Mizuguchi H, Kay MA . Efficient construction of a recombinant adenovirus vector by an improved in vitro ligation method Hum Gene Ther 1998 9: 2577–2583

Souza DW, Armentano D . Novel cloning method for recombinant adenovirus construction in Escherichia coli Biotechniques 1999 26: 502–508

Hardy S et al. Construction of adenovirus vectors through Cre/lox recombination J Virol 1997 71: 1842–1849

Aoki K et al. Efficient generation of recombinant adenoviral vectors by Cre-lox recombination in vitro Mol Med 1999 5: 224–231

Ng P et al. A high-efficiency cre-lox P-based system for construction of adenoviral vectors Hum Gene Ther 1999 10: 2667–2672

Graham FL, Smiley J, Russell WC, Nairn R . Characteristics of a human cell line transformed by DNA from human adenovirus type 5 J Gen Virol 1977 36: 59–74

Lochmuller H et al. Emergence of early region 1-containing replication-competent adenovirus in stocks of replication-defective adenovirus recombinants (delta E1 + delta E3) during multiple passages in 293 cells Hum Gene Ther 1994 5: 1485–1491

Bett AJ, Haddara W, Prevec L, Graham FL . An efficient and flexible system for construction of adenovirus vectors with insertions or deletions in early regions 1 and 3 Proc Natl Acad Sci USA 1994 91: 8802–8806

Kojima H, Ohishi N, Yagi K . Generation of recombinant adenovirus vector with infectious adenoviral genome released from cosmid-based vector by simple procedure allowing complex manipulation Biochem Biophys Res Commun 1998 246: 868–872

Ketner G et al. Efficient manipulation of the human adenovirus genome as an infectious yeast artificial chromosome clone Proc Natl Acad Sci U S A 1994 91: 6186–6190

Davis AR, Meyers K, Wilson JM . High throughput method for creating and screening recombinant adenoviruses Gene Therapy 1998 5: 1148–1152

Crouzet J et al. Recombinational construction in Escherichia coli of infectious adenoviral genomes Proc Natl Acad Sci USA 1997 94: 1414–1419

Fu S, Deisseroth AB . Use of the cosmid adenoviral vector cloning system for the in vitro construction of recombinant adenoviral vectors Hum Gene Ther 1997 8: 1321–1330

Fallaux FJ et al. New helper cells and matched early region 1-deleted adenovirus vectors prevent generation of replication-competent adenoviruses Hum Gene Ther 1998 9: 1909–1917

Fallaux FJ et al. Characterization of 911: a new helper cell line for the titration and propagation of early region 1-deleted adenoviral vectors Hum Gene Ther 1996 7: 215–222

Imler JL et al. Novel complementation cell lines derived from human lung carcinoma A549 cells support the growth of E1-deleted adenovirus vectors Gene Therapy 1996 3: 75–84

Schiedner G et al. Genomic DNA transfer with a high-capacity adenovirus vector results in improved in vivo gene expression and decreased toxicity Nat Genet 1998 18: 180–183

Samulski RJ, Chang LS, Shenk T . Helper free stocks of recombinant adeno-associated viruses: normal integration does not require viral gene expression J Virol 1989 63: 3822–3828

Bartlett JS, Samulski RJ . Genetics and biology of adeno-associated virus. In: Kaplitt MG, Loewy AD (eds) Viral Vectors: Gene Therapy and Neuroscience Applications Academic Press: San Diego 1995 pp 55–73
Acknowledgements
We are grateful for the assistance of Maria Scheel, Patrick Staber, Sarah Bronner and other members of the Gene Transfer Vector Core. We also thank Christine McLennan for secretarial assistance. This work was supported by the NIH (DK54759; HD33531) and the Roy J Carver Trust (BLD).
About this article
Cite this article
Anderson, R., Haskell, R., Xia, H. et al. A simple method for the rapid generation of recombinant adenovirus vectors. Gene Ther 7, 1034–1038 (2000). https://doi.org/10.1038/sj.gt.3301197
Received:

Accepted:

Published:

Issue Date:

DOI: https://doi.org/10.1038/sj.gt.3301197
Keywords
gene transfer

virus production