Abstract
Almost all currently available retroviral vectors based on murine leukemia virus (MLV) contain one or more viral coding sequences. Because these sequences are also present in the packaging genome, it has been suggested that homologous recombination may occur between the same nucleotide sequence in the packaging genome and the vector, resulting in the production of replication competent retrovirus (RCR). Up until now, it has been difficult to completely remove viral coding sequences since some were thought to be involved in the optimum function of the retroviral vector. For example, the gag coding sequence present in almost all available retroviral vectors has been believed to be necessary for efficient viral packaging, while the pol coding sequence present in the highly efficient vector MFG has been thought to be involved in achieving the high levels of gene expression. However, we have now developed a series of retroviral vectors that are absent of any retroviral coding sequences but produce even higher levels of gene expression without compromising viral titer. In these vectors, the intron and exon sequences from heterologous cellular or viral genes are present. When compared with the well-known MLV-based vectors, some of these newly developed vectors have been shown to produce significantly higher levels of gene expression for a longer period. In an experimental system that can maximize the production of RCR, our newly constructed vectors produced an absence of RCR. These vectors should prove to be safer than other currently available retroviral vectors containing one or more viral coding sequences.
Access options
Subscribe to Journal
Get full journal access for 1 year
$119.00
only $9.92 per issue
All prices are NET prices.
VAT will be added later in the checkout.
Tax calculation will be finalised during checkout.
Buy article
Get time limited or full article access on ReadCube.
$32.00
All prices are NET prices.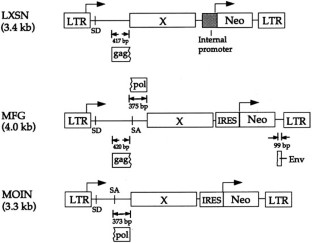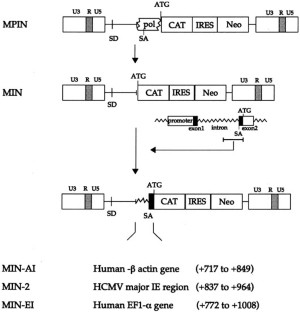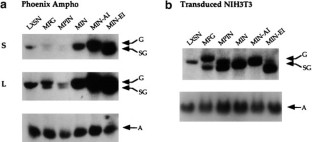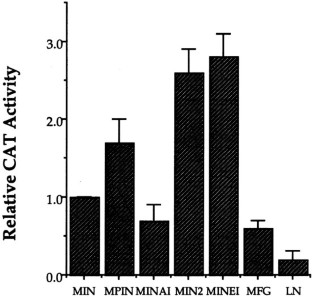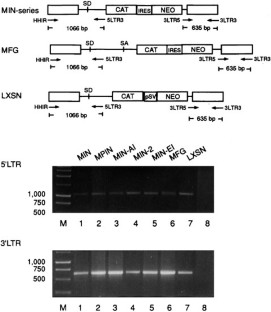 References
The Journal of Gene Medicine Website(http://www.wiley.co.uk/genetherapy)Wiley

Miller AD, Trauber DR, Buttimore C . Factors involved in production of helper virus free retrovirus vectors Somat Cell Mol Genet 1986 12: 175–183

Muenchau DD et al. Analysis of retroviral packaging lines for generation of replication-competent virus Virology 1990 176: 262–265

Otto E et al. Characterization of a replication-competent retrovirus resulting from recombination of packaging and vector sequences Hum Gene Ther 1994 5: 567–575

Miller AD, Roseman GJ . Improved retroviral vectors for gene transfer and expression Biotechniques 1989 7: 980–990

Armentano D et al. Effect of internal viral sequences on the utility of retroviral vectors J Virol 1987 61: 1647–1650

Bender MA, Palmer TD, Gelinas RE, Miller AD . Evidence that the packaging signal of Moloney murine leukemia virus extends into the gag region J Virol 1987 61: 1639–1646

Kim SH et al. Construction of retroviral vectors with improved safety, gene expression, and versatility J Virol 1998 72: 994–1004

Byun J et al. Analysis of the relative level of gene expression from different retroviral vectors used for gene therapy Gene Therapy 1996 3: 780–788

Kral WJ et al. Increased levels of spliced RNA account for augmented expression from the MFG retroviral vector in hematopoietic cells Gene Therapy 1996 3: 37–48

Dranoff G et al. Vaccination with irradiated tumor cells engineered to secrete murine GM-CSF stimulates potent, specific and long lasting antitumor immunity Proc Natl Acad Sci USA 1993 90: 3539–3543

Ohashi T et al. Efficient transfer and sustained high expression of the human glucocerebrosidase gene in mice and their functional macrophages following transplantation of bone marrow transduced by a retroviral vector Proc Natl Acad Sci USA 1992 89: 11332–11336

Ghattas IR, Sanes JR, Majors JE . The encephalomyocarditis virus internal ribosome entry site allows efficient coexpression of two genes from a recombinant provirus in cultured cells and in embryos Mol Cell Biol 1991 11: 5848–5859

Kinsella TM, Nolan GP . Episomal vectors rapidly and stably produce high-titer recombinant retrovirus Hum Gene Ther 1996 7: 1405–1413

Soneoka Y et al. A transient three-plasmid expression system for the production of high titer retroviral vectors Nucleic Acids Res 1995 23: 628–633

Thompson RC, Dripps DJ, Eisenberg SP . IL-1ra: properties and uses of an interleukin-1 receptor antagonist Agents Actions Suppl 1991 35: 41–49

Cosset FL et al. High-titer packaging cells producing recombinant retroviruses resistant to human serum J Virol 1995 69: 7430–7436

Finer MH et al. kat: a high-efficiency retroviral transduction system for primary human T lymphocytes Blood 1994 83: 43–50

Wilson PJ et al. Hunter syndrome: isolation of an iduronate-2-sulfatase cDNA clone and analysis of patient DNA Proc Natl Acad Sci USA 1990 87: 8531–8535

Horowitz M et al. The human glucocerebrosidase gene and pseudogene: structure and evolution Genomics 1989 4: 87–96

Shinnick TM, Lerner RA, Sutcliffe JG . Nucleotide sequence of Moloney murine leukaemia virus Nature 1981 293: 543–548

Biegalke BJ, Geballe AP . Sequence requirements for activation of the HIV-1 LTR by human cytomegalovirus Virology 1991 183: 381–385

Pear WS, Nolan GP, Scott ML, Baltimore D . Production of high-titer helper-free retroviruses by transient transfection Proc Natl Acad Sci USA 1993 90: 8392–8396
Acknowledgements
We thank Paula Cannon for critically reading the manuscript. This work was supported in part by research grants from the ViroMed Limited (SK) and the Korea Science and Engineering Foundation (SK; 96-0403-03-01-3).
About this article
Cite this article
Yu, S., Kim, JM. & Kim, S. High efficiency retroviral vectors that contain no viral coding sequences. Gene Ther 7, 797–804 (2000). https://doi.org/10.1038/sj.gt.3301164
Received:

Accepted:

Published:

Issue Date:

DOI: https://doi.org/10.1038/sj.gt.3301164
Keywords
MLV

retroviral vector

splicing

heterologous intron/exon