Abstract
A deficiency of arylsulfatase A (ASA) causes the lysosomal storage disease metachromatic leukodystrophy (MLD) which is characterized primarily by demyelination of the central nervous system. ASA-deficient mice develop a disease which resembles MLD in many respects and thus serve as an appropriate animal model for this disease. To establish gene therapy protocols for ASA-deficient mice, we constructed two retroviral vectors based on the murine stem cell virus. Both vectors harbor the human ASA cDNA controlled by the retroviral promoter/enhancer element, but differ by the presence or absence of a neomycin resistance gene driven by an internal promoter. A comparative analysis of the one- versus the two-gene vector and an amphotropic versus an ecotropic producer cell line revealed that the amphotropic producer cell line for the one-gene vector transfers ASA overexpression to the target cells most efficiently. The human ASA encoded by this vector is correctly expressed in heterologous mouse cells and corrects the metabolic defect of transduced ASA-deficient murine cells. The constructed one-gene vector might thus be a potentially useful tool for the development of a gene-based therapy for ASA-deficient mice.
Access options
Subscribe to this journal
Receive 12 print issues and online access
$259.00 per year
only $21.58 per issue
Rent or buy this article
Prices vary by article type
from$1.95
to$39.95
Prices may be subject to local taxes which are calculated during checkout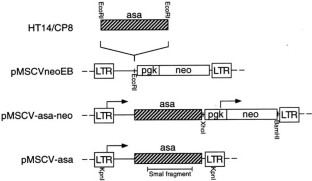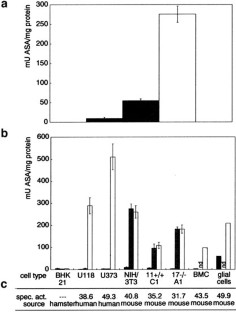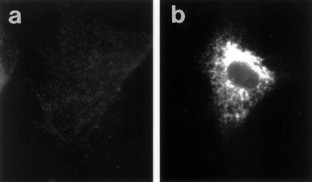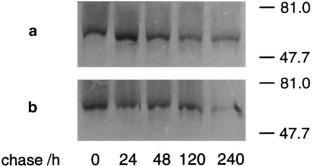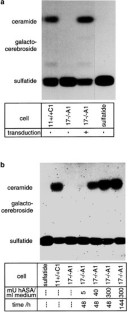 Similar content being viewed by others
References
Kolodny EH, Fluharty AL . Metachromatic leukodystrophy and multiple sulfatase deficiency: sulfatide lipidosis. In: Scriver CR, Beaudet AL, Sly WS, Valle D (eds) The Metabolic and Molecular Bases of Inherited Disease McGraw-Hill: New York 1995 2693–2740

Hess B et al. Phenotype of arylsulfatase A-deficient mice: relationship to human metachromatic leukodystrophy Proc Natl Acad Sci USA 1996 93: 14821–14826

Taylor RM, Wolfe JH . Decreased lysosomal storage in the adult MPS VII mouse brain in the vicinity of grafts of retroviral vector-corrected fibroblasts secreting high levels of beta-glucuronidase Nature Med 1997 3: 771–774

Daly TM et al. Neonatal gene transfer leads to widespread correction of pathology in a murine model of lysosomal storage disease Proc Natl Acad Sci USA 1999 96: 2296–2300

Stein CS, Ghodsi A, Derksen T, Davidson BL . Systemic and central nervous system correction of lysosomal storage in mucopolysaccharidosis type VII mice J Virol 1999 73: 3424–3429

Ghodsi A et al. Extensive beta-glucuronidase activity in murine central nervous system after adenovirus-mediated gene transfer to brain Hum Gene Ther 1998 9: 2331–2340

Cheng L et al. Sustained gene expression in retrovirally transduced, engrafting human hematopoietic stem cells and their lympho-myeloid progeny Blood 1998 92: 83–92

Hawley RG, Lieu FHL, Fong AZC, Hawley TS . Versatile retroviral vectors for potential use in gene therapy Gene Therapy 1994 1: 136–138

Matzner U et al. Long term expression and transfer of arylsulfatase A into brain in arylsulfatase A-deficient mice transplanted with bone marrow expressing the arylsulfatase A cDNA from a retroviral vector (submitted for publication)

Kornfeld S . Structure and function of the mannose 6-phosphate/insulinlike growth factor II receptors Annu Rev Biochem 1992 61: 307–330

Stein C et al. Cloning and expression of human arylsulfatase A J Biol Chem 1989 264: 1252–1259

Emmerman M, Temin HM . Genes with promoters in retrovirus vectors can be independently suppressed by an epigenetic mechanism Cell 1986 95: 459–467

Sanes JR et al. Lineage, migration, and phenotype in avian optic tectum: analysis with recombinant retroviral vectors. In Gage FH, Christen Y (eds) Gene Transfer and Therapy in the Nervous System Springer: Berlin 1992 pp 59–75

Rommerskirch W et al. Restoration of arylsulphatase A activity in human-metachromatic-leucodystrophy fibroblasts via retroviral-vector-mediated gene transfer Biochem J 1991 280: 459–461

Ohashi T, Matalon R, Barranger JA, Eto Y . Overexpression of arylsulfatase A gene in fibroblasts from metachromatic leukodystrophy patients does not induce a new phenotype Gene Therapy 1995 2: 363–368

Waheed A, Hasilik A, von Figura K . Enhanced breakdown of arylsulfatase A in multiple sulfatase deficiency J Biochem 1982 123: 317–321

Varmus H . Retroviruses Science 1988 240: 1427–1435

Krall WJ et al. Cells expressing human glucocerebrosidase from a retroviral vector repopulate macrophages and central nervous system microglia after murine bone marrow transplantation Blood 1994 83: 2737–2748

Kennedy DW, Abkowitz JL . Kinetics of central nervous system microglial and macrophage engraftment: analysis using a transgenic bone marrow transplantation model Blood 1997 90: 986–993

Neufeld EF . Lysosomal storage diseases Annu Rev Biochem 1991 60: 257–280

Hoogerbrugge PM, Valerio D . Bone marrow transplantation and gene therapy for lysosomal storage diseases Bone Marrow Transplant 1998 21: (Suppl.2) 34–36

Walkley SU, Dobrenis K . Bone marrow transplantation for lysosomal diseases Lancet 1995 345: 1382–1383

Penzien JM et al. Compound heterozygosity for metachromatic leukodystrophy and arylsulfatase A pseudodeficiency alleles is not associated with progressive neurological disease Am J Genet 1993 52: 557–564

Leinekugel P, Michel S, Conzelmann E, Sandhoff K . Quantitative correlation between the residual activity of beta-hexosaminidase A and arylsulfatase A and the severity of the resulting lysosomal storage disease Hum Genet 1992 88: 513–523

Learish R et al. Retroviral gene transfer and sustained expression of human arylsulfatase A Gene Therapy 1996 3: 343–349

Sangalli A et al. Transduced fibroblasts and metachromatic leukodystrophy lymphocytes transfer arylsulfatase A to myelinating glia and deficient cells in vitro Hum Gene Ther 1998 9: 2111–2119

Hock RA, Miller AD, Osborne WR . Expression of human adenosine deaminase from various strong promoters after gene transfer into human hematopoietic cell lines Blood 1989 74: 876–881

Plavec I et al. High transdominant RevM10 protein levels are required to inhibit HIV-1 replication in cell lines and primary T cells: implication for gene therapy of AIDS Gene Therapy 1997 4: 128–139

Markowitz D, Goff S, Bank A . A safe packaging line for gene transfer: separating viral genes on two different plasmids J Virol 1988 62: 1120–1124

Markowitz D, Goff S, Bank A . Construction and use of a safe and efficient amphotropic packaging cell line Virology 1988 167: 400–406

Aloisi F, Agresti C, Levi GJ . Establishment, characterization, and evolution of cultures enriched in type-2 astrocytes J Neurosci Res 1988 21: 188–198

Maniatis T, Fritsch EF, Sambrook J . Molecular Cloning: A Laboratory Manual Cold Spring Harbor Laboratory Press: Plainview, New York 1989

Preparation of a specific retrovirus producer cell line. In: Ausubel FM et al (eds) Current Protocols in Molecular Biology John Wiley. Chichester 1995 unit 9.10

Baum H, Dodgsen KS, Spencer B . The assay of aryl sulfatase A and B in human urine Clin Chim Acta 1959 4: 453–455

Levvy GA, Conchie J . Mammalian glycosidases and their inhibition by aldonolactones Meth Enzymol 1966 8: 571–584

Sommerlade HJ, Hille-Rehfeld A, von Figura K, Gieselmann V . Four monoclonal antibodies inhibit the recognition of arylsulphatase A by the lysosomal enzyme phosphotransferase Biochem J 1994 297: 123–130

Monti E et al. Uptake and metabolism of a fluorescent sulfatide analogue in cultured skin fibroblasts Biochim Biophys Acta 1992 1124: 80–87

Schierau A et al. Interaction of arylsulfatase A with UDP-N-acetylglucosamine:lysosomal enzyme-N-acetylglucosamine-1-phosphotransferase J Biol Chem 1999 274: 3651–3658
Acknowledgements
We wish to thank C Fischer for technical assistance and L Shaw for his comments on the manuscript. This work was supported by the Bundesministerium für Forschung und Technologie.
About this article
Cite this article
Matzner, U., Habetha, M. & Gieselmann, V. Retrovirally expressed human arylsulfatase A corrects the metabolic defect of arylsulfatase A-deficient mouse cells. Gene Ther 7, 805–812 (2000). https://doi.org/10.1038/sj.gt.3301150
Received:

Accepted:

Published:

Issue Date:

DOI: https://doi.org/10.1038/sj.gt.3301150
Keywords