Abstract
It is widely accepted that cardiac and respiratory rhythms in humans are unsynchronised1. However, a newly developed data analysis technique allows any interaction that does occur in even weakly coupled complex systems to be observed. Using this technique, we found long periods of hidden cardiorespiratory synchronization, lasting up to 20 minutes, during spontaneous breathing at rest.
Access options
Subscribe to Journal
Get full journal access for 1 year
$199.00
only $3.90 per issue
All prices are NET prices.
VAT will be added later in the checkout.
Tax calculation will be finalised during checkout.
Rent or Buy article
Get time limited or full article access on ReadCube.
from$8.99
All prices are NET prices.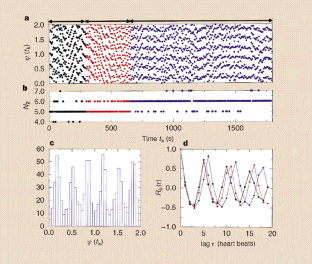 References
1

Mackey, M. C. & Glass, L. From Clocks to Chaos: The Rhythms of Life Ch. 7 (Univ. Press, Princeton, 1988).

2

Stratonovich, R. L. Topics in the Theory of Random Noise (Gordon and Breach, New York, 1963).

3

Blekhman, I. I. Synchronization in Science and Technology (ASME, New York, 1988).

4

Strogatz, S. H. & Steward, I. Sci. Am. 269, 102–109 (1993).

5

Ludwig, C. Arch. Anat. Physiol. 13, 242–302 (1847).

6

Anrep, G. V., Pascual, W., Rössler, R. Proc. R. Soc. Lond. B 119, 191–230 (1936).

7

Eckberg, D. L., Kifle, Y. T., Roberts, V. L. J. Physiol., Lond, 304, 489–502 (1980).

8

Pessenhofer, H. & Kenner, T. Pflügers Arch. 355, 77–83 (1975).

9

Rosenblum, M. G., Pikovsky, A. S., Kurths, J. Phys. Rev. Lett. 76, 1804–1807 (1996).

10

Pikovsky, A. S., Rosenblum, M. G., Osipov, G. V., Kurths, J. Physica D 104, 219–238 (1997).
About this article
Cite this article
Schäfer, C., Rosenblum, M., Kurths, J. et al. Heartbeat synchronized with ventilation. Nature 392, 239–240 (1998). https://doi.org/10.1038/32567
Comments
By submitting a comment you agree to abide by our Terms and Community Guidelines. If you find something abusive or that does not comply with our terms or guidelines please flag it as inappropriate.