Abstract
Evidence for the collision of fragmented comets or asteroids with some of the larger (jovian) planets and their moons is now well established following the dramatic impact of the disrupted comet Shoemaker–Levy 9 with Jupiter in 1994 (ref. 1). Collisions by fragmented objects result in multiple impacts that can lead to the formation of linear crater chains, or catenae, on planetary surfaces2. Here we present evidence for a multiple impact event that occurred on Earth. Five terrestrial impact structures have been found to possess comparable ages (∼214 Myr), coincident with the Norian stage of the Triassic period. These craters are Rochechouart (France), Manicouagan and Saint Martin (Canada), Obolon' (Ukraine) and Red Wing (USA). When these impact structures are plotted on a tectonic reconstruction of the North American and Eurasian plates for 214 Myr before present, the three largest structures (Rochechouart, Manicouagan and Saint Martin) are co-latitudinal at 22.8° (within 1.2°, ∼110 km), and span 43.5° of palaeolongitude. These structures may thus represent the remains of a crater chain at least 4,462 km long. The Obolon' and Red Wing craters, on the other hand, lie on great circles of identical declination with Rochechouart and Saint Martin, respectively. We therefore suggest that the five impact structures were formed at the same time (within hours) during a multiple impact event caused by a fragmented comet or asteroid colliding with Earth.
Relevant articles
Open Access articles citing this article.
Earth, Planets and Space Open Access 20 June 2014
Access options
Subscribe to Journal
Get full journal access for 1 year
$199.00
only $3.90 per issue
All prices are NET prices.
VAT will be added later in the checkout.
Tax calculation will be finalised during checkout.
Buy article
Get time limited or full article access on ReadCube.
$32.00
All prices are NET prices.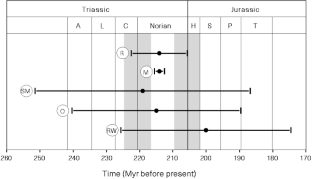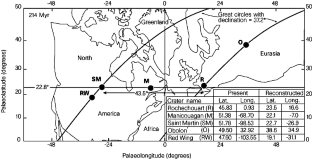 References
Orton, G. et al. Collision of comet Shoemaker-Levy 9 with Jupiter observed by the NASA infrared telescope facility. Science 267, 1277–1282 (1995).

Melosh, H. J. & Schenk, P. Split comets and the origin of crater chains on Ganymede and Callisto. Nature 365, 731–733 (1993).

Grieve, R. A. F., Rupert, J., Smith, J. & Therriault, A. The record of terrestrial impact cratering. GSA Today 5, 189–196 (1995).

Alvarez, L. W., Alvarez, W., Asaro, F. & Michel, H. V. Extraterrestrial cause for the Cretaceous-Tertiary extinction. Science 208, 1095–1108 (1980).

Hildebrand, A. R. et al. Chicxulub crater: a possible Cretaceous/Tertiary boundary impact crater on the Yukatán Peninsula. Geology 19, 867–871 (1991).

Sharpton, V. L. & Ward, P. E. (eds) Global catastrophes in earth history: an interdisciplinary conference on impacts, volcanism and mass mortality. Spec. Pap. Geol. Soc. Am. 247 (1990).

Lambert, P. The Rochechouart crater: shock zoning study. Earth Planet. Sci. Lett. 35, 258–268 (1977).

Lambert, P. La structure d'impact de météorite géante de Rochechouart.Thesis, Univ. Paris-Sud((1974)).

Reimold, W. U. & Oskierski, W. in Research in Terrestrial Impact Structures (ed. Pohl, J.) 94–114 (Vieweg, Braunschweig/Weisbaden, Germany, (1987)).

Kelley, S. P. & Spray, J. G. Alate Triassic age for the Rochechouart impact structure, France. Meteorit. Planet. Sci. 32, 629–636 (1997).

Dworak, U. Stoßwellenmetamorphose des Anorthosits vom Manicouagan Krater, Québec, Canada. Contrib. Mineral. Petrol. 24, 306–347 (1969).

Hodych, J. P. & Dunning, G. R. Did the Manicouagan impact trigger end-of-Triassic mass extinction? Geology 20, 51–54 (1992).

McCabe, H. R. & Bannatyne, B. B. Lake St. Martin cryptoexplosion crater and geology of surrounding area. Geol. Surv. Manitoba Geol. Pap. 3/70 ((1970)).

Reimold, W. U., Barr, J. M., Grieve, R. A. F. & Durrheim, R. J. Geochemistry of the melt and country rocks of the Lake St. Martin impact structure, Manitoba, Canada. Geochim. Cosmochim. Acta 54, 2093–2111 (1990).

Masaitis, V. L., Danilin, A. N., Karpov, G. M. & Raykhlin, A. I. Karla, Obolon' and Rotmisrovka astroblemes in the European part of the U.S.S.R. Dokl. Akad. Nauk SSSR 230, 174–177 (1976).

Gurov, Y. P., Val'ter, A. A. & Rakitskaya, R. B. Coesite in rocks of meteorite explosion craters on the Ukrainian shield. Int. Geol. Rev. 22, 329–332 (1978).

Gurov, Y. P., Gurova, E. P. & Rakitskaya, R. B. Impact diamonds in the craters of the Ukrainian shield. Meteoritics 30, 515–516 (1995).

Masaitis, V. L. et al. The Geology of Astroblemes (Nedra Press, Leningrad, (1980)).

Grieve, R. A. F. & Masaitis, V. L. The economic potential of terrestrial impact craters. Econ. Geol. 36, 105–151 (1994).

Gerhard, L. C., Anderson, S. B., Lefever, J. A. & Carlson, C. G. Geological development, origin, and energy mineral resources of Williston Basin, North Dakota. Am. Assoc. Petrol. Geol. Bull. 66, 989–1020 (1982).

Melosh, H. J. Impact Cratering: A Geologic Process (Oxford Univ. Press, (1989)).

Gradstein, F. M. et al. AMesozoic time scale. J. Geophys. Res. 99, 24051–24074 (1994).

Ziegler, A. M. et al. in The Tectonic evolution of Asia (eds Yin, A. & Harrison, T. M.) 371–400 (Cambridge Univ. Press, (1996)).

Hammel, H. B. et al. HST imaging of atmospheric phenomena created by the impact of comet Shoemaker-Levy 9. Science 267, 1288–1296 (1995).

Weaver, H. A. et al. The Hubble Space Telescope (HST) observing campaign on comet Shoemaker-Levy 9. Science 267, 1282–1288 (1995).

Palme, H. Identification of projectiles of large terrestrial impact craters and some implications for the interpretation of Ir-rich Cretaceous/Tertiary boundary layers. Geol. Soc. Am. Spec. Pap. 190, 223–233 (1982).

Jannsens, M. J., Hertogen, J., Takahiashi, H., Anders, E. & Lambert, P. Rochechouart impact crater: identification of projectile. J. Geophys. Res. 82, 750–758 (1977).

Horn, N. P. & Goresy, A. E. The Rochechouart crater in France: stony and not iron meteorite? Lunar Planet. Sci. XI, 468–470 (1980).

McClaren, D. J. & Goodfellow, W. D. Geological and biological consequences of giant impacts. Annu. Rev. Earth Planet. Sci. 18, 123–171 (1990).

Hut, P. et al. Comet showers as a cause of mass extinctions. Nature 329, 118–126 (1987).

Hallam, A. in Global Events and Event Stratigraphy (ed. Walliser, O. H.) 265–283 (Springer, New York, (1996)).

Bice, D. M., Newton, C. R., McCauley, S., Reiners, P. W. & McRoberts, C. A. Shocked quartz at the Triassic/Jurassic boundary in Italy. Science 259, 443–446 (1992).

Benton, M. J. More than one event in the late Triassic mass extinction. Nature 321, 857–861 (1986).

Hallam, A. & Wignall, P. B. Mass Extinctions and their Aftermath (Oxford Univ. Press, (1997)).

Love, S. G., Bottke, W. F. & Richardson, D. C. Alternative formation mechanisms for terrestrial crater chains. Lunar. Planet. Sci. XXVIII, 837–838 (1997).

Bottke, W. F. & Melosh, H. J. Formation of asteroid satellites and doublet craters by planetary tidal forces. Nature 381, 51–53 (1996).
Acknowledgements
We thank M. Benton and J. Melosh for discussions and reviews. This work was supported by NSERC (Canada) and the Open University (UK) grants to J.G.S. and S.P.K., respectively. D.B.R. acknowledges industrial support for the Palaeogeographic Atlas Project.
About this article
Cite this article
Spray, J., Kelley, S. & Rowley, D. Evidence for a late Triassic multiple impact event on Earth. Nature 392, 171–173 (1998). https://doi.org/10.1038/32397
Received:

Accepted:

Issue Date:

DOI: https://doi.org/10.1038/32397
This article is cited by
Volker Stähle
Rainer Altherr
Alexander Varychev

Contributions to Mineralogy and Petrology (2017)

Earth, Planets and Space (1999)
Comments
By submitting a comment you agree to abide by our Terms and Community Guidelines. If you find something abusive or that does not comply with our terms or guidelines please flag it as inappropriate.