Abstract
In a widely cited paper1, Slack et al. proposed that all animal phyla shared a particular pattern of gene expression, the "zootype". The zootype hypothesis implies that at least six HOX-type homeobox-containing genes should be present in all metazoa. We have done a series of phylogenetic analyses which indicate that Cnidaria, thought to be the earliest-evolving animal phylum with the exception of the sponges2, lack several HOX genes that are present in Drosophila and vertebrates. Instead, these genes may have arisen by duplication after the origin of the Cnidaria.
Access options
Subscribe to Journal
Get full journal access for 1 year
$199.00
only $3.90 per issue
All prices are NET prices.
VAT will be added later in the checkout.
Rent or Buy article
Get time limited or full article access on ReadCube.
from$8.99
All prices are NET prices.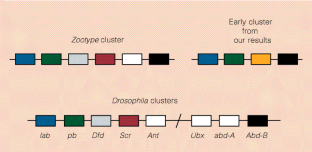 References
1

Slack, J. M. W., Holland, P. W. H. & Graham, C. F. Nature 361, 490–492 (1993).

2

Schram, F. R. & Ellis, W. N. Cladistics 10, 331–337 (1994).

3

Swofford, D. L. PAUP: Phylogenetic Analysis Using Parsimony, Version 3.1.1 (Illinois Natural History Survey, Champaign, Illinois, 1993).

4

Naito, M., Ishiguro, H., Fujisawa, T. & Kurosawa, Y. FEBS Lett. 333, 271–274 (1993).

5

Schummer, M., Scheurlen, I., Schaller, C. & Galliot, B. EMBO J. 11, 1815–1823 (1992).

6

Shenk, M. A., Bode, H. R. & Steele, R. E. Development 117, 657–667 (1993).

7

Aerne, B. L., Baader, C. D. & Schmid, V. Dev. Biol. 169, 547–556 (1995).

8

Kuhn, K., Streit, B. & Schierwater, B. Mol. Phyl. Evol. 6, 30–38 (1996).

9

Zhang, J. & Nei, M. Genetics 142, 295–303 (1996).

10

Agosti, D., Jacobs, D. & Desalle, R. Cladistics 12, 65–82 (1996).
About this article
Cite this article
Martínez, D., Bridge, D., Masuda-Nakagawa, L. et al. Cnidarian homeoboxes and the zootype. Nature 393, 748–749 (1998). https://doi.org/10.1038/31616
Comments
By submitting a comment you agree to abide by our Terms and Community Guidelines. If you find something abusive or that does not comply with our terms or guidelines please flag it as inappropriate.