In the realm of biotechnology finance, people are everything. Biotech analysts are the people responsible for making rational buy-sell decisions on a company's stock — information that is channelled to institutional buyers who depend on analysts to place a 'value' on a company's research and product portfolio in terms of a market opportunity.
According to Stelios Papadopoulos, managing director and head of the health sciences investment banking division at Paine Webber in New York, there are about 60 biotech analysts on Wall Street in 40 or so firms. Two-thirds of them have PhDs or MDs, and the rest have Masters in Business Administration (MBA) or similar backgrounds. That's a big difference from 15 years ago, he says, when it was just "the few of us [competing] against an unfriendly system" that had little appreciation of this nascent industry and the need for analysts to cover it.
Despite the increase, Papadopoulos says that in some ways it is more difficult to enter the business now. Competition is intense as there are "so many more scientists sensitized to the opportunities on Wall Street".
Papadopoulos got his PhD from New York University Medical Center in 1980. Around that time he was contemplating a career on Wall Street — a move that would allow him to marry his interest in science with business and, at the same time, offer considerably better earnings than the academic life. He was spurred on to pursue this goal after reading about Genentech's successful initial public offering of shares and promptly signed up to study for an MBA at business school by night while continuing with research by day.
In 1985, he finally landed a job as the first biotechnology analyst to be employed by securities firm Donaldson, Lufkin & Jenrette. He is now one of the most respected investment bankers in his field (investment bankers raise the large sums of cash needed to fuel this capital-intensive industry).
Papadopoulos says that what firms are looking for when they hire analysts is "intangibles — a certain sense that the person is capable of dealing with the complexity, the fuzziness, the ambiguous nature of Wall Street, and succeeding".
Although the science in biotech companies can be engaging, Papadopoulos says analysts must never lose sight of the fact that they are being paid to pick winners and, in doing so, to make money for other people. So many of the attributes that go to make a good analyst may not come easy to most scientists, who, like the athlete specializing in the 100-metre dash, are trained to focus narrowly on a specific area of science, says Papadopoulos. "By comparison, a job on Wall Street is the decathlon. You don't have to be outstanding at everything but you have to be fairly good at many different things."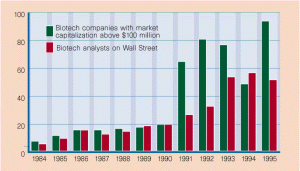 So if you are personable, open, engaging, quick on your feet, able to change course mid-stream, and can learn to operate on the basis of scarce data, assessing risk and making decisions quickly, then a career as a biotech analyst may be for you. Energy and commitment are important factors as well: some analysts work 12- to 14-hour days and spend much time on the road.
About this article
Cite this article
Gershon, D. Banking on biotech. Nature 393, 498 (1998). https://doi.org/10.1038/31040
Comments
By submitting a comment you agree to abide by our Terms and Community Guidelines. If you find something abusive or that does not comply with our terms or guidelines please flag it as inappropriate.