Abstract
The basking shark Cetorhinus maximus is the second largest fish species, attaining lengths of up to 11 m. During summer months in temperate coastal waters circumglobally, these sharks filter-feed on surface zooplankton1,2,3,4 near water-mass boundaries (fronts)5,6; however, little else is known about their biology1. Their foraging behaviour has not been investigated until now, although they have been described2 as indiscriminate planktivores that are unlikely to orientate to specific plankton-rich waters. We have now tracked basking sharks responding to zooplankton gradients. We show that they are selective filter-feeders that choose the richest, most profitable plankton patches. They forage along thermal fronts and actively select areas that contain high densities of large zooplankton above a threshold density. They remain for up to 27 hours in rich patches that are transported by tidal currents and move between patches over periods of 1–2 days. We mapped feeding locations of these sharks in two years; the maps show that these sharks indicate broad shifts in front-located secondary production. Foraging behaviour of basking sharks therefore indicates the distribution, density and characteristics of zooplankton directly. This makes these sharks unique biological 'plankton recorders', with potential use as detectors of trends in abundance of zooplankton species that are influenced by climatic fluctuations of the North Atlantic Oscillation7.
This is a preview of subscription content
Access options
Subscribe to Journal
Get full journal access for 1 year
$199.00
only $3.90 per issue
All prices are NET prices.
VAT will be added later in the checkout.
Tax calculation will be finalised during checkout.
Buy article
Get time limited or full article access on ReadCube.
$32.00
All prices are NET prices.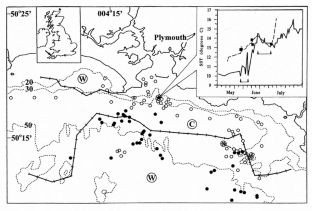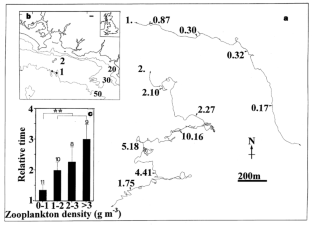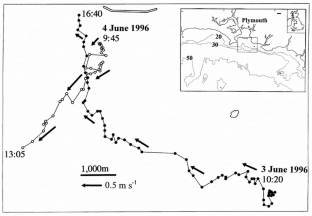 References
Sims, D. W., Fox, A. M. & Merrett, D. A. Basking shark occurrence off south-west England in relation to zooplankton abundance. J. Fish Biol. 51, 436–440 (1997).

Matthews, L. H. & Parker, H. W. Notes on the anatomy and biology of the basking shark (Cetorhinus maximus (Gunner). Proc. Zool. Soc. Lond. 120, 535–576 (1950).

Kenney, R. D., Owen, R. E. & Winn, H. E. Shark distributions off the northeast United States from marine mammal surveys. Copeia 1985, 220–223 (1985).

Berrow, S. D. & Heardman, C. The basking shark Cetorhinus maximus (Gunnerus) in Irish waters—patterns of distribution and abundance. Proc. R. Irish Acad. B 94, 101–107 (1994).

Priede, I. G. Abasking shark (Cetorhinus maximus) tracked by satellite together with simultaneous remote sensing. Fish. Res. 2, 201–216 (1984).

Choy, B. K. & Adams, D. H. An observation of a basking shark, Cetorhinus maximus, feeding along a thermal front off the east-central coast of Florida. Florida Sci. 58, 313–319 (1995).

Fromentin, J.-M. & Planque, B. Calanus and environment in the eastern North Atlantic. II. Influence of the North Atlantic Oscillation on C. finmarchicus and C. helgolandicus. Mar. Ecol. Prog. Ser. 134, 111–118 (1996).

Harvey, H. W., Cooper, L. H. N., Lebour, M. V. & Russell, F. S. Plankton production and its control. J. Mar. Biol. Assoc. UK 20, 407–441 (1935).

Southward, A. J. On changes of sea temperature in the English Channel. J. Mar. Biol. Assoc. UK 39, 449–458 (1960).

Armstrong, F. A. J., Butler, E. I. & Boalch, G. T. Hydrographic and nutrient chemistry surveys in the western English Channel during 1963 and 1964. J. Mar. Biol. Assoc. UK 52, 915–930 (1972).

Southward, A. J. & Butler, E. I. Anote on further changes of sea temperature in the Plymouth area. J. Mar. Biol. Assoc. UK 52, 931–937 (1972).

Southward, A. J. & Demir, N. The abundance and distribution of eggs and larvae of some teleost fishes off Plymouth in 1969 and 1970. J. Mar. Biol. Assoc. UK 52, 987–996 (1972).

Southward, A. J. The western English Channel—an inconstant ecosystem? Nature 285, 361–366 (1980).

Southward, A. J. Fluctuations in the 'indicator' chaetognaths Sagitta elegans and Sagitta setosa in the western Channel. Oceanol. Acta 7, 229–239 (1984).

Robinson, I. S. Satellite Oceanography(Wiley, Chichester, 1994).

Wolanski, E. & Hamner, W. M. Topographically controlled fronts in the ocean and their biological significance. Science 241, 177–181 (1988).

Kingsford, M. J., Wolanski, E. & Choat, J. H. Influence of tidally induced fronts and Langmuir circulations on distribution and movements of presettlement fishes around a coral reef. Mar. Biol. 109, 167–180 (1991).

Le Fèvre, J. Aspects of the biology of frontal systems. Adv. Mar. Biol. 23, 163–299 (1986).

Sims, D. W. & Merrett, D. A. Determination of zooplankton characteristics in the presence of surface feeding basking sharks, Cetorhinus maximus. Mar. Ecol. Prog. Ser. 158, 297–302 (1997).

Kalmijn, A. J. Electric and magnetic field detection in elasmobranch fishes. Science 218, 916–918 (1982).

Nevitt, G. A., Veit, R. R. & Kareiva, P. Dimethyl sulphide as a foraging cue for Antarctic Procellariiform seabirds. Nature 376, 680–682 (1995).

Cramp, S. et al. Handbook of the Birds of Europe the Middle East and North Africa: The Birds of the Western Palearctic Vol. 1(Oxford Univ. Press, Oxford, 1977).

Pingree, R. D., Pugh, P. R., Holligan, P. M. & Forster, G. R. Summer phytoplankton blooms and red tides along tidal fronts in the approaches to the English Channel. Nature 258, 672–677 (1975).

Yoder, J. A. et al. Aline in the sea. Nature 371, 689–692 (1994).

Fiedler, P. C., Smith, G. B. & Laurs, R. M. Fisheries applications of satellite data in the eastern north Pacific. Mar. Fish. Rev. 46, 1–13 (1984).

Southwell, K. Oceanography: Shades of the sea. Nature 389, 444 (1997).

Zar, J. H. Biostatistical Analysis(Prentice-Hall, Englewood Cliffs, 1984).
Acknowledgements
The research programme was supported by the Nature Conservancy Council for England (English Nature) and the Plymouth Environmental Research Centre. We thank A. Fox, B.Broughton, D. Murphy, A. Giles, D. Uren, R. Harris, P. Ede and R. Hopgood for their assistance in research at sea; D. Merrett for help in zooplankton analysis; and the late F. Carey and D. Nelson, whose work helped to inspire the principal investigator (D.W.S.) to begin these studies. Satellite images of SST were supplied by the NERC Satellite Receiving Station.
About this article
Cite this article
Sims, D., Quayle, V. Selective foraging behaviour of basking sharks on zooplankton in a small-scale front. Nature 393, 460–464 (1998). https://doi.org/10.1038/30959
Received:

Accepted:

Issue Date:

DOI: https://doi.org/10.1038/30959
Comments
By submitting a comment you agree to abide by our Terms and Community Guidelines. If you find something abusive or that does not comply with our terms or guidelines please flag it as inappropriate.