Abstract
Testosterone-dependent secondary sexual characteristics in males may signal immunological competence1 and are sexually selected for in several species2,3. In humans, oestrogen-dependent characteristics of the female body correlate with health and reproductive fitness and are found attractive4,5,6. Enhancing the sexual dimorphism of human faces should raise attractiveness by enhancing sex-hormone-related cues to youth and fertility in females5,7,8,9,10,11, and to dominance and immunocompetence in males5,12,13. Here we report the results of asking subjects to choose the most attractive faces from continua that enhanced or diminished differences between the average shape of female and male faces. As predicted, subjects preferred feminized to average shapes of a female face. This preference applied across UK and Japanese populations but was stronger for within-population judgements, which indicates that attractiveness cues are learned. Subjects preferred feminized to average or masculinized shapes of a male face. Enhancing masculine facial characteristics increased both perceived dominance and negative attributions (for example, coldness or dishonesty) relevant to relationships and paternal investment. These results indicate a selection pressure that limits sexual dimorphism and encourages neoteny in humans.
Access options
Subscribe to this journal
Receive 51 print issues and online access
$199.00 per year
only $3.90 per issue
Rent or buy this article
Prices vary by article type
from$1.95
to$39.95
Prices may be subject to local taxes which are calculated during checkout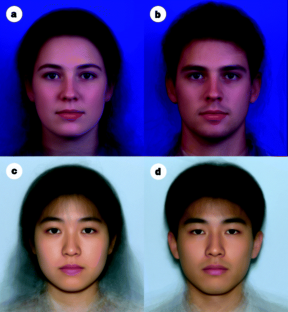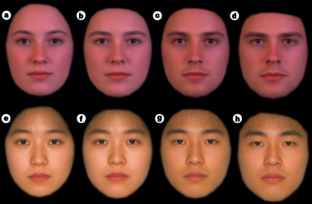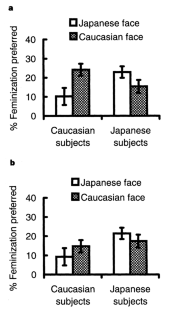 Similar content being viewed by others
References
Kirkpatrick, M. & Ryan, M. J. The evolution of mating preferences and the paradox of the lek. Nature 350, 33–88 (1991).

Andersson, M. Female choice for extreme tail length in a widowbird. Nature 299, 818–820 (1992).

Møller, A. P. Female swallow preference for symmetrical male sexual ornaments. Nature 357, 238–240 (1992).

Singh, D. Body shape and women's attractiveness—the critical role of waist-to-hip ratio. Hum. Nature 4, 297–3221 (1993).

Barber, N. The evolutionary psychology of physical attractiveness: sexual selection and human morphology. Ethol. Sociobiol. 16, 395–424 (1995).

Manning, J. T., Scutt, D., Whitehouse, G. H. & Leinster, S. J. Breast asymmetry and phenotypic quality in women. Evol. Hum. Behav. 18, 2223–236 (1997).

Symons, D. The Evolution of Human Sexuality (Oxford Univ. Press, (1979)).

Cunningham, M. R., Measuring the physical in physical attractiveness: quasi-experiments on the sociobiology of female facial beauty. J. Pers. Soc. Psychol. 50, 925–935 (1986).

Buss, D. M. Sex differences in human mate preferences: evolutionary hypotheses tested in 37 cultures. Behav. Brain Sci. 122, 1–49 (1989).

Johnston, V. S. & Franklin, M. Is beauty in the eye of the beholder? Ethol. Sociobiol. 14, 183–199 (1993).

Jones, D. Sexual selection, physical attractiveness, and facial neoteny. Curr. Anthropol. 36, 723–748 (1995).

Grammer, K. & Thornhill, R. Human (Homo sapiens) facial attractiveness and sexual selection: the role of symmetry and averageness. J. Comp. Psychol. 108, 233–242 (1994).

Thornhill, R. & Gangestad, S. The evolution of human sexuality. Trends Ecol. Evol. 11, 98–102 (1996).

Perrett, D. I., May, K. A. & Yoshikawa, S. Facial shape and judgements of female attractiveness. Nature 368, 239–242 (1994).

Rowland, D. A. & Perrett, D. I. Manipulating facial appearance through shape and color. IEEE Comput. Graph. Appl. 15, 70–76 (1995).

Langlois, J. H. & Roggman, L. A. Attractive faces are only average. Psychol. Sci. 1, 115–121 (1990).

Cunningham, M. R., Roberts, A. R., Barbee, A. P. & Druen, P. B. "Their ideas of beauty are, on the whole, the same as ours": consistency and variability in the cross-cultural perception of female attractiveness. J. Pers. Soc. Psychol. 68, 261–279 (1995).

Jackson, L. A. Physical Appearance and Gender: Sociobiology and Sociocultural Perspectives (State Univ. New York Press, Albany, (1992)).

Deutsch, F. M., Zalenski, C. M. & Clark, M. E. Is there a double standard of ageing. J. Appl. Soc. Psychol. 16, 771–785 (1986).

Berry, D. S. & Wero, J. L. F. Accuracy of face perception: a view from ecological psychology. J. Pers. 61, 497–423 (1993).

Booth, A. & Dabbs, J. Testosterone and men's marriages. Social Forces 72, 463–477 (1993).

Cunningham, M. R., Barbee, A. P. & Pike, C. L. What do women want? Facialmetric assessment of multiple motives in the perception of male facial attractiveness. J. Pers. Soc. Psychol. 59, 61–72 (1990).

Gangestad, S. W. & Thornhill, R. The evolutionary psychology of extrapair sex: the role of fluctuating symmetry. Ethol. Hum. Behav. 18, 69–88 (1997).

Martin, R. D. & May, R. M. Outward signs of breeding. Nature 293, 7–9 (1990).
Acknowledgements
This work was supported by Unilever Research and the ESRC. We thank A. Whiten, R. Byrne, R. Barton, J. Lycett, S. Reicher, D. Carey, M. Ridley, J. Graves and D. Symons for comments.
About this article
Cite this article
Perrett, D., Lee, K., Penton-Voak, I. et al. Effects of sexual dimorphism on facial attractiveness. Nature 394, 884–887 (1998). https://doi.org/10.1038/29772
Received:

Accepted:

Issue Date:

DOI: https://doi.org/10.1038/29772
Comments
By submitting a comment you agree to abide by our Terms and Community Guidelines. If you find something abusive or that does not comply with our terms or guidelines please flag it as inappropriate.