Abstract
The relative numbers of newborn stars of different masses in a galaxy (the initial mass function) determines whether the galaxy's interstellar gas goes mainly into long-lived low-mass stars, as in the disks of normal spiral galaxies, or into short-lived massive stars, as has been proposed for "starburst" galaxies1,2. The centre of the Milky Way is not a fully-fledged starburst region, but its star formation rate per unit volume of space is nevertheless roughly a thousand times that of the disk3,4. It is, however, very difficult to study the initial mass function near the centre, because the dust in the gas clouds obscures the starlight, and the relatively rare young stars are mixed with much more numerous older stars11. Here we report high-resolution infrared observations of a compact cluster of stars in the central region of our Galaxy. We find approximately 100 young, massive main-sequence stars, several of which seem to be among the most massive in the Galaxy. This cluster may be a weak analogue of the large star clusters in starburst galaxies, which opens the possibility of studying the starburst phenomenon through a local example.
Access options
Subscribe to this journal
Receive 51 print issues and online access
$199.00 per year
only $3.90 per issue
Rent or buy this article
Prices vary by article type
from$1.95
to$39.95
Prices may be subject to local taxes which are calculated during checkout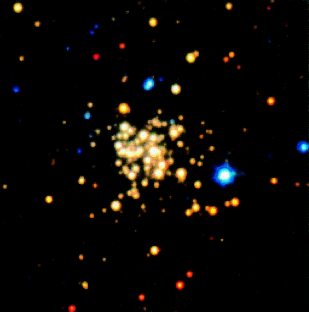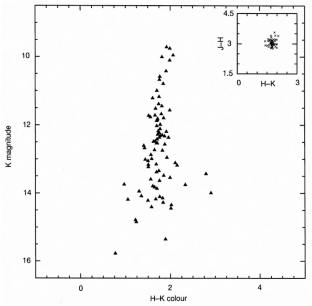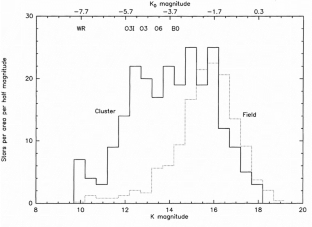 References
Scalo, J. M. in Starbursts and Galaxy Evolution (eds Thuan, T. X., Montmerle, T. & Van, J. T. T.) 445–465 (Editions Frontieres, Gif-sur-Yvette, (1987)).

Rieke, G. H., Loken, K., Rieke, M. J. & Tamblyn, P. Starburst modeling of M82: test case for a biased initial mass function. Astrophys. J. 412, 99–110 (1993).

Güsten, R. in The Center of the Galaxy (ed. Morris, M.) 89–106 (Kluwer, Dordrecht, (1989)).

Serabyn, E. & Morris, M. Sustained star formation in the central stellar cluster of the Milky Way. Nature 382, 602–604 (1996).

Nagata, T., Woodward, C. E., Shure, M. & Kobayashi, N. Object 17: another cluster of emission-line stars near the Galactic Center. Astron. J. 109, 1676–1681 (1995).

Cotera, A. S. et al. The discovery of hot stars near the Galactic Center thermal radio filaments. Astrophys. J. 461, 750–761 (1996).

Meynet, G. Wolf-Rayet population syntheses for starburst galaxies. Astron. Astrophys. 298, 767–783 (1995).

Reid, M. The distance to the center of the Galaxy. Annu. Rev. Astron. Astrophys. 31, 345–372 (1993).

Rieke, G. H. & Lebofsky, M. J. The interstellar extinction law from 1 to 13 microns. Astrophys. J. 288, 618–621 (1985).

Becklin, E. E. & Neugebauer, G. Infrared observations of the Galactic Center. Astrophys. J. 151, 145–161 (1968).

Conti, P. S., Hanson, M. M., Morris, P. W., Willis, A. J. & Fossey, S. J. Of-type stars HD 16691 and HD 190429 show WN-like spectra in infrared K band. Astrophys. J. 445, L35–L38 (1995).

Wegner, W. Intrinsic colour indices of OB supergiants, giants and dwarfs in the UBVRIJHKLM system. Mon. Not. R. Astron. Soc. 270, 229–234 (1994).

Vacca, W. D., Garmany, C. D. & Shull, J. M. The Lyman-continuum fluxes and stellar parameters of O and early B-type stars. Astrophys. J. 460, 914–931 (1996).

Massey, P. & Hunter, D. A. Star formation in R136: a cluster of O3 stars revealed by Hubble Space Telescope spectroscopy. Astrophys. J. 493, 180–194 (1998).

Mandushev, G., Spassova, N. & Staneva, A. Dynamical masses for Galactic globular clusters. Astron. Astrophys. 252, 94–99 (1991).

Melnick, J., Tapia, M. & Terlevich, R. The Galactic giant HII region NGC 3603. Astron. Astrophys. 213, 89–96 (1989).

De Pree, C. G., Mehringer, D. M. & Goss, W. M. Multifrequency, high-resolution radio recombination line observations of the massive star-forming region W49A. Astrophys. J. 482, 307–333 (1995).

Morris, M. & Serabyn, E. The Galactic Center Environment. Annu. Rev. Astron. Astrophys. 34, 645–701 (1996).

Westerlund, B. E. The Magellanic Clouds 202–220 (Cambridge Univ. Press, (1997)).

Serabyn, E. & Güsten, R. Amolecular counterpart ot the Galactic center arc. Astron. Astrophys. 184, 133–143 (1987).

Arp, H. & Sandage, A. Spectra of the two brightest objects in the amorphous galaxy NGC 1569: superluminous young star clusters — or stars in a nearby pecular galaxy? Astronom. J. 90, 1163–1171 (1985).

Wainscoat, R. J. & Cowie, L. L. Afilter for deep near-infrared imaging. Astron. J. 103, 332–337 (1992).

Stetson, P. B. DAOPHOT: a computer program for crowded-field stellar photometry. Publ. Astron. Soc. Pacif. 99, 191–222 (1987).
Acknowledgements
We thank B. Schaeffer and W. Harrison for their assistance at the telescope. Data presented here were obtained at the W.M. Keck Observatory, which is operated as a scientific partnership between the California Institute of Technology, the University of California, and NASA. The Observatory was made possible by the generous financial support of the W.M. Keck Foundation. This work was performed in part at the Jet Propulsion Laboratory, California Institute of Technology, under a contract with NASA.
About this article
Cite this article
Serabyn, E., Shupe, D. & Figer, D. An extraordinary cluster of massive stars near the centre of the Milky Way. Nature 394, 448–451 (1998). https://doi.org/10.1038/28799
Received:

Accepted:

Issue Date:

DOI: https://doi.org/10.1038/28799
Comments
By submitting a comment you agree to abide by our Terms and Community Guidelines. If you find something abusive or that does not comply with our terms or guidelines please flag it as inappropriate.