Abstract
The traditional view of cellulose digestion in animals is that they cannot produce their own cellulase, and so rely on gut microorganisms to hydrolyse cellulose. A classic example of this symbiosis is that between phylogenetically lower termites and the unicellular organisms (protists) that colonize their hindguts: cellulose fermented to acetate by the protists can be used as an energy source by the termite1. There is evidence for the production of endogenous cellulase components by termites and other wood-feeding insects2; however, an unambiguous origin for such enzymes1 has not been established, to our knowledge, until now. Here we describe the first insect cellulase-endoding gene to be identified, RsEG, which encodes an endo-β-1,4-glucanase (EC 3.2.1.4) in the termite Reticulitermes speratus.
Access options
Subscribe to Journal
Get full journal access for 1 year
$199.00
only $3.90 per issue
All prices are NET prices.
VAT will be added later in the checkout.
Tax calculation will be finalised during checkout.
Rent or Buy article
Get time limited or full article access on ReadCube.
from$8.99
All prices are NET prices.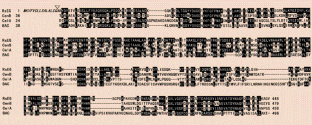 References
1

Breznak, J. A. & Brune, A. Annu. Rev. Entomol. 39, 453–487 (1994).

2

Slaytor, M. Comp. Biochem. Physiol. B 103, 775–784 (1992).

3

Watanabe, H. et al. Insect Biochem. Mol. Biol. 27, 305–313 (1997).

4

Henrissat, B. & Bairoch, A. Biochem. J. 293, 781–788 (1993).

5

Brummell, D. A., Lashbrook, C. C. & Bennett, A. B. Am. Chem. Soc. Symp. Ser. 566, 100–129 (1994).

6

Béguin, P. & Aubert, J. FEMS Microbiol. Rev. 13, 25–58 (1994).

7

Tomme, P., Warren, R. A. J. & Gilkes, N. R. Adv. Microbiol. Physiol. 37, 1–81 (1995).

8

Tomme, P., Kwan, E., Gilkes, N. R., Kilburn, D. G. & Warren, R. A. J. J. Bacteriol. 178, 4216–4223 (1996).

9

Inoue, T., Murashima, K., Azuma, J. I., Sugimoto, A. & Slaytor, M. J. Insect Physiol. 43, 235–242 (1997).

10

Scrivener, A. M., Zhao, L. & Slaytor, M. Comp. Biochem. Physiol. B 118, 837–843 (1997).

11

Bandi, C. et al. Proc. R. Soc. Lond. B 259, 293–299 (1995).
About this article
Cite this article
Watanabe, H., Noda, H., Tokuda, G. et al. A cellulase gene of termite origin. Nature 394, 330–331 (1998). https://doi.org/10.1038/28527
Comments
By submitting a comment you agree to abide by our Terms and Community Guidelines. If you find something abusive or that does not comply with our terms or guidelines please flag it as inappropriate.