0957 + 561 A, B are two QSOs of mag 17 with 5.7 arc s separation at redshift 1.405. Their spectra leave little doubt that they are associated. Difficulties arise in describing them as two distinct objects and the possibility that they are two images of the same object formed by a gravitational lens is discussed.
Access options
Subscribe to Journal
Get full journal access for 1 year
$199.00
only $3.90 per issue
All prices are NET prices.
VAT will be added later in the checkout.
Rent or Buy article
Get time limited or full article access on ReadCube.
from$8.99
All prices are NET prices.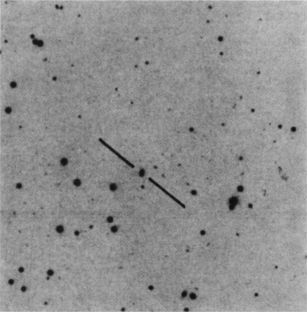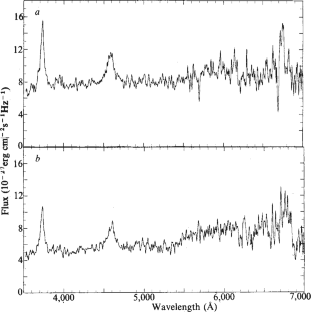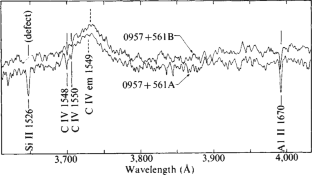 References
1

Cohen, A. M., Porcas, R. W., Browne, I. W. A., Daintree, E. J. & Walsh, D. Mem. R. astr. Soc. 84, 1 (1977).

2

Porcas, R. W. et al. Mon. Not. R. astr. Soc. (submitted).

3

Stockton, A. N. Astrophys. J. 223, 747 (1978).

4

Weymann, R. J., Williams, R. E., Peterson, B. M. & Turnshek, D. A. Astrophys. J. (submitted).

5

Wolfe, A. M., Broderick, J. J., Condon, J. J. & Johnston, K. J. Astrophys. J. Lett. 208, L47 (1976).

6

Sanitt, N. Nature 234, 199 (1971).

7

Schechter, P. Astrophys. J. 203, 297 (1976).
About this article
Cite this article
Walsh∗, D., Carswell†, R. & Weymann‡, R. 0957 + 561 A, B: twin quasistellar objects or gravitational lens?. Nature 279, 381–384 (1979). https://doi.org/10.1038/279381a0
Received:

Accepted:

Published:

Issue Date:
Comments
By submitting a comment you agree to abide by our Terms and Community Guidelines. If you find something abusive or that does not comply with our terms or guidelines please flag it as inappropriate.