Abstract
The 'spine-brush complex'1 of the extinct, mid-Palaeozoic primitive chondrichthyan shark Stethacanthus is one of the strangest vertebrate appendages known. Its structure has never been defined, but here we reveal that the 'brush' is actually an enlarged, specialized extension of the fin baseplate (basal cartilage2). It consists of an unusual type of globular calcified cartilage, a tissue that is often associated with pre-jawed primitive vertebrates3.
Access options
Subscribe to Journal
Get full journal access for 1 year
$199.00
only $3.90 per issue
All prices are NET prices.
VAT will be added later in the checkout.
Rent or Buy article
Get time limited or full article access on ReadCube.
from$8.99
All prices are NET prices.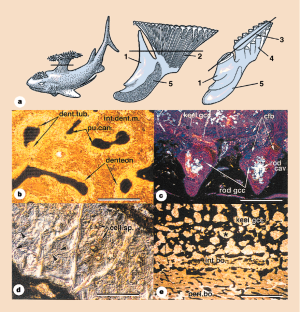 References
1

Zangerl, R. J. Vert. Paleontol. 4, 372–378 (1984).

2

Maisey, J. G. Zool. J. Linn. Soc. 66, 161–183 (1979).

3

Smith, M. M. & Hall, B. K. Biol. Rev. 65, 277–373 (1990).

4

Patterson, C. Phil. Trans. R. Soc. Lond. B 249, 101–205 (1965).

5

Lund, R. Ann. Carnegie Mus. 45, 161–178 (1974).

6

Williams, M. E. Paleontographica 190, 83–158 (1985).

7

Wood, S. P. Nature 297, 574–577 (1982).

8

Janvier, P. Early Vertebrates (Oxford Univ. Press, 1996).

9

Ørvig, T. Arkiv Zool. 2, 321–454 (1951).

10

Sansom, I. J. et al. Nature 379, 628–630 (1996).

11

Peignoux-Deville, J., Lallier, F. & Vidal, B. Cell Tissue Res. 222, 605–614 (1982).

12

Smith, M. M. et al. Proc. R. Soc. Lond. B 256, 137–145 (1994).
About this article
Cite this article
Coates, M., Sequeira, S., Sansom, I. et al. Spines and tissues of ancient sharks. Nature 396, 729–730 (1998) doi:10.1038/25467
Comments
By submitting a comment you agree to abide by our Terms and Community Guidelines. If you find something abusive or that does not comply with our terms or guidelines please flag it as inappropriate.