Abstract
Progression of the cell cycle and control of apoptosis (programmed cell death) are thought to be intimately linked processes1, acting to preserve homeostasis and developmental morphogenesis2. Although proteins that regulate apoptosis have been implicated in restraining cell-cycle entry3 and controlling ploidy (chromosome number)4, the effector molecules at the interface between cell proliferation and cell survival have remained elusive. Here we show that a new inhibitor of apoptosis (IAP) protein5,6, survivin7, is expressed in the G2/M phase of the cell cycle in a cycle-regulated manner. At the beginning of mitosis, survivin associates with microtubules of the mitotic spindle in a specific and saturable reaction that is regulated by microtubule dynamics8. Disruption of survivin–microtubule interactions results in loss of survivin's anti-apoptosis function and increased caspase-3 activity, a mechanism involved in cell death, during mitosis. These results indicate that survivin may counteract a default induction of apoptosis in G2/M phase. The overexpression of survivin in cancer7 may overcome this apoptotic checkpoint and favour aberrant progression of transformed cells through mitosis.
Your institute does not have access to this article
Relevant articles
Open Access articles citing this article.
Nada Al taweraqi

&

Ross D. King

BMC Bioinformatics Open Access 06 August 2022

Bowen Zhu

,

Megan Finch-Edmondson

…

Ramanuj DasGupta

Cell Death Discovery Open Access 29 November 2021

Abha S. Bais

,

Débora M. Cerqueira

…

Dennis Kostka

Scientific Reports Open Access 17 November 2021
Access options
Subscribe to Journal
Get full journal access for 1 year
$199.00
only $3.90 per issue
All prices are NET prices.
VAT will be added later in the checkout.
Tax calculation will be finalised during checkout.
Buy article
Get time limited or full article access on ReadCube.
$32.00
All prices are NET prices.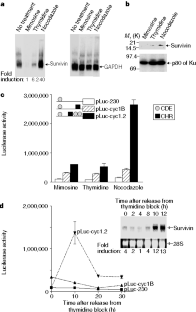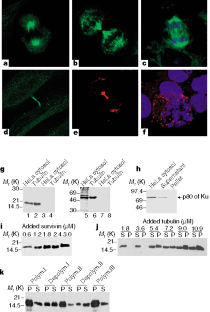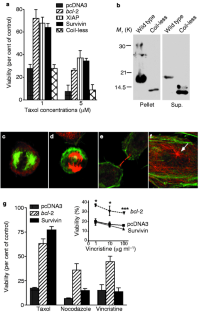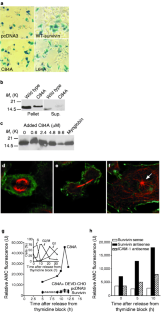 References
Evan, G. I., Brown, L., Whyte, M. & Harrington, E. Apoptosis and the cell cycle. Curr. Opin. Cell Biol. 7, 825–834 (1995).

Jacobson, M. D., Weil, M. & Raff, M. C. Programmed cell death in animal development. Cell 88, 347–354 (1997).

Huang, D. C. S., O'Reilly, L. A., Strasser, A. & Cory, S. The anti-apoptosis function of bcl-2 can be genetically separated from its inhibitory effect on cell cycle entry. EMBO J. 16, 4628–4638 (1997).

Minn, A. J., Boise, L. H. & Thompson, C. B. Expression of Bcl-XLand loss of p53 can cooperate to overcome a cell cycle checkpoint induced by mitotic spindle damage. Genes Dev. 10, 2621–2631 (1996).

Liston, P. et al. Suppression of apoptosis in mammalian cells by NAIP and a related family of IAP genes. Nature 379, 349–353 (1996).

Uren, A. G., Pakusch, M., Hawkins, C. J., Puls, K. L. & Vaux, D. L. Cloning and expression of apoptosis inhibitory protein homologs that function to inhibit apoptosis and/or bind tumor necrosis factor receptor-associated factors. Proc. Natl Acad. Sci. USA 93, 4974–4978 (1996).

Ambrosini, G., Adida, C. & Altieri, D. C. Anovel anti-apoptosis gene, survivin, expressed in cancer and lymphoma. Nature Med. 3, 917–921 (1997).

Hirokawa, N. Microtubule organization and dynamics dependent on microtubule-associated proteins. Curr. Opin. Cell Biol. 6, 74–81 (1994).

Zwicker, J. et al. Cell cycle regulation of the cyclin A, cdc25C and cdc2 genes is based on a common mechanism of transcriptional repression. EMBO J. 14, 4514–4522 (1995).

Butner, K. A. & Kirschner, M. W. Tau protein binds to microtubules through a flexible array of distributed weak sites. J. Cell Biol. 115, 717–730 (1991).

Deveraux, Q. L., Takahashi, R., Salvesen, G. S. & Reed, J. X-linked IAP is a direct inhibitor of cell-death proteases. Nature 388, 300–304 (1997).

Reed, J. C. Double identity for proteins of the Bcl-2 family. Nature 387, 773–776 (1997).

Roy, N., Deveraux, Q. L., Takahashi, R., Salvesen, G. S. & Reed, J. C. The c-IAP-1 and c-IAP-2 proteins are direct inhibitors of specific caspases. EMBO J. 16, 6914–6925 (1997).

Tamm, I. et al. IAP-family protein survivin inhibits caspase activity and apoptosis induced by Fas (CD95), Bax, and anticancer drugs. Cancer Res. (in the press).

Andrade, F. et al. Granzyme B directly and efficiently cleaves several downstream caspase substrates: implications for CTL-induced apoptosis. Immunity 8, 451–460 (1998).

Adida, C. et al. Developmentally regulated expression of the novel cancer anti-apoptosis gene survivin in human and mouse differentiation. Am. J. Pathol. 152, 43–49 (1998).

Murray, A. Cell cycle checkpoints. Curr. Opin. Cell Biol. 6, 872–876 (1994).

Cross, S. M. et al. Ap53-dependent mouse spindle checkpoint. Science 267, 1353–1356 (1995).

Cahill, D. P. et al. Mutations of mitotic checkpoint genes in human cancers. Nature 392, 300–303 (1998).

Hwang, A., Maity, A., McKenna, W. G. & Muschel, R. J. Cell cycle-dependent regulation of the cyclin B1 promoter. J. Biol. Chem. 270, 28419–28424 (1995).

Lu, C.-D., Altieri, D. C. & Tanigawa, N. Expression of a novel antiapoptosis gene, survivin, correlated with tumor cell apoptosis and p53 accumulation in gastric carcinomas. Cancer Res. 58, 1808–1812 (1998).

Osborn, M. & Weber, K. The display of microtubules in transformed cells. Cell 12, 561–571 (1977).

Borisy, G. G., Marcum, J. M., Olmsted, J. B., Murphy, D. B. & Johnson, K. A. Purification of tubulin and associated high molecular weight proteins from porcine brain and characterization of microtubule assembly in vitro. Ann. NY Acad. Sci. 253, 107–132 (1975).

Ambrosini, G., Adida, C., Sirugo, G. & Altieri, D. C. Induction of apoptosis and inhibition of cell proliferation by survivin gene targeting. J. Biol. Chem. 273, 11177–11182 (1998).
Acknowledgements
We thank A. Villa and D. Adinolfi for assistance, and M. Osborn and K. Weber for monoclonal antibody 20C6. This work was supported by the NIH/NCI and the American Heart Association (D.C.A.), the Leukemia Research Foundation (G.A.), and Telethon and Associazione Italiana Ricerca sul Cancro (P.C.M.).
About this article
Cite this article
Li, F., Ambrosini, G., Chu, E. et al. Control of apoptosis and mitotic spindle checkpoint by survivin. Nature 396, 580–584 (1998). https://doi.org/10.1038/25141
Received:

Accepted:

Issue Date:

DOI: https://doi.org/10.1038/25141
Comments
By submitting a comment you agree to abide by our Terms and Community Guidelines. If you find something abusive or that does not comply with our terms or guidelines please flag it as inappropriate.