Abstract
The Ankylosauria comprises two families of armoured dinosaurs (Nodosauridae and Ankylosauridae) that are best known from well-preserved specimens from the Cretaceous period. In their report on the skull of a new Jurassic ankylosaur, Gargoyleosaurus, Carpenter et al.1 presented a phylogenetic analysis of four terminal taxa, which yielded a tree with Gargoyleosaurus as the sister taxon of the Ankylosauridae. But the authors' claim that their tree is robust is undermined when their data and their tree are evaluated using numerical techniques.
Access options
Subscribe to Journal
Get full journal access for 1 year
$199.00
only $3.90 per issue
All prices are NET prices.
VAT will be added later in the checkout.
Rent or Buy article
Get time limited or full article access on ReadCube.
from$8.99
All prices are NET prices.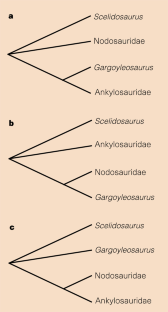 References
1

Carpenter, K., Miles, C. & Cloward, K. Nature 393, 782–783 (1998).

2

Prager, E. M. & Wilson, A. C. J. Mol. Evol. 27, 326–325 (1988).

3

Faith, D. P. & Cranston, P. S. Cladistics 7, 1–28 (1991).

4

Alroy, J. Syst. Biol. 43, 430–437 (1994).

5

Wilkinson, M. Biol. Rev. 7, 423–470 (1997).

6

Barrett, P. M., Hailu, Y., Upchurch, P. & Burton, A. C. J. Vert. Paleontol. 18, 376–384 (1998).
About this article
Cite this article
Wilkinson, M., Upchurch, P., Barrett, P. et al. Robust dinosaur phylogeny?. Nature 396, 423–424 (1998). https://doi.org/10.1038/24763
Comments
By submitting a comment you agree to abide by our Terms and Community Guidelines. If you find something abusive or that does not comply with our terms or guidelines please flag it as inappropriate.