Abstract
Constitutively activated pathways contribute to apoptosis resistance in chronic lymphocytic leukemia (CLL). Little is known about the metabolism of lipids and function of lipases in CLL cells. Performing gene expression profiling including B-cell receptor (BCR) stimulation of CLL cells in comparison to healthy donor CD5+ B cells, we found significant overexpression of lipases and phospholipases in CLL cells. In addition, we observed that the recently defined prognostic factor lipoprotein lipase (LPL) is induced by stimulation of BCR in CLL cells but not in CD5+ normal B cells. CLL cellular lysates exhibited significantly higher lipase activity compared to healthy donor controls. Incubation of primary CLL cells (n=26) with the lipase inhibitor orlistat resulted in induction of apoptosis, with a half-maximal dose (IC50) of 2.35 μM. In healthy B cells a significantly higher mean IC50 of 148.5 μM of orlistat was observed, while no apoptosis was induced in healthy peripheral blood mononuclear cells (PBMCs; P<0.001). Orlistat-mediated cytotoxicity was decreased by BCR stimulation. Finally, the cytotoxic effects of orlistat on primary CLL cells were enhanced by the simultaneous incubation with fludarabine (P=0.003). In summary, alterations of lipid metabolism are involved in CLL pathogenesis and might represent a novel therapeutic target in CLL.
This is a preview of subscription content
Access options
Subscribe to Journal
Get full journal access for 1 year
$119.00
only $9.92 per issue
All prices are NET prices.
VAT will be added later in the checkout.
Tax calculation will be finalised during checkout.
Buy article
Get time limited or full article access on ReadCube.
$32.00
All prices are NET prices.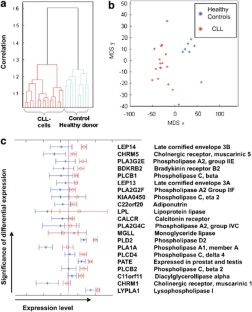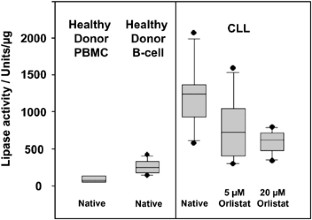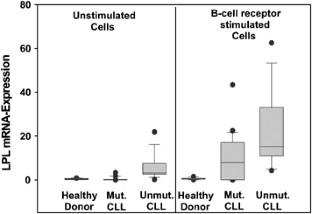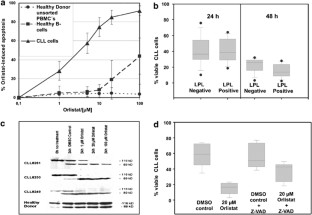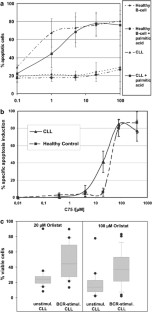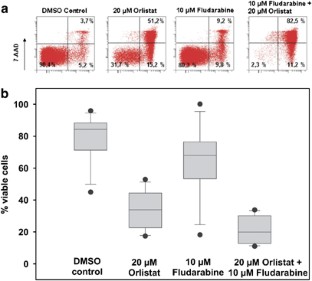 References
Caligaris-Cappio F, Hamblin TJ . B-cell chronic lymphocytic leukemia: a bird of a different feather. J Clin Oncol 1999; 17: 399–408.

Messmer BT, Messmer D, Allen SL, Kolitz JE, Kudalkar P, Cesar D et al. In vivo measurements document the dynamic cellular kinetics of chronic lymphocytic leukemia B cells. J Clin Invest 2005; 115: 755–764.

Ghia P, Granziero L, Chilosi M, Caligaris-Cappio F . Chronic B cell malignancies and bone marrow microenvironment. Semin Cancer Biol 2002; 12: 149–155.

Stevenson FK, Caligaris-Cappio F . Chronic lymphocytic leukemia: revelations from the B-cell receptor. Blood 2004; 103: 4389–4395.

Herve M, Xu K, Ng YS, Wardemann H, Albesiano E, Messmer BT et al. Unmutated and mutated chronic lymphocytic leukemias derive from self-reactive B cell precursors despite expressing different antibody reactivity. J Clin Invest 2005; 115: 1636–1643.

Damle RN, Wasil T, Fais F, Ghiotto F, Valetto A, Allen SL et al. Ig V gene mutation status and CD38 expression as novel prognostic indicators in chronic lymphocytic leukemia. Blood 1999; 94: 1840–1847.

Chen L, Widhopf G, Huynh L, Rassenti L, Rai KR, Weiss A et al. Expression of ZAP-70 is associated with increased B-cell receptor signaling in chronic lymphocytic leukemia. Blood 2002; 100: 4609–4614.

Oppezzo P, Vasconcelos Y, Settegrana C, Jeannel D, Vuillier F, Legarff-Tavernier M et al. The LPL/ADAM29 expression ratio is a novel prognosis indicator in chronic lymphocytic leukemia. Blood 2005; 106: 650–657.

Bilban M, Heintel D, Scharl T, Woelfel T, Auer MM, Porpaczy E et al. Deregulated expression of fat and muscle genes in B-cell chronic lymphocytic leukemia with high lipoprotein lipase expression. Leukemia 2006; 20: 1080–1088.

Preiss-Landl K, Zimmermann R, Hammerle G, Zechner R . Lipoprotein lipase: the regulation of tissue specific expression and its role in lipid and energy metabolism. Curr Opin Lipidol 2002; 13: 471–481.

Lookene A, Skottova N, Olivecrona G . Interactions of lipoprotein lipase with the active-site inhibitor tetrahydrolipstatin (Orlistat). Eur J Biochem 1994; 222: 395–403.

Matthews C, Catherwood M, Morris TC, Alexander HD . Routine analysis of IgVH mutational status in CLL patients using BIOMED-2 standardized primers and protocols. Leuk Lymphoma 2004; 45: 1899–1904.

Kofler DM, Buning H, Mayr C, Bund D, Baumert J, Hallek M et al. Engagement of the B-cell antigen receptor (BCR) allows efficient transduction of ZAP-70-positive primary B-CLL cells by recombinant adeno-associated virus (rAAV) vectors. Gene Therapy 2004; 11: 1416–1424.

Debey S, Zander T, Brors B, Popov A, Eils R, Schultze JL . A highly standardized, robust, and cost-effective method for genome-wide transcriptome analysis of peripheral blood applicable to large-scale clinical trials. Genomics 2006; 87: 653–664.

Underwood KW, Song C, Kriz RW, Chang XJ, Knopf JL, Lin LL . A novel calcium-independent phospholipase A2, cPLA2-gamma, that is prenylated and contains homology to cPLA2. J Biol Chem 1998; 273: 21926–21932.

Murakami M, Yoshihara K, Shimbara S, Lambeau G, Singer A, Gelb MH et al. Arachidonate release and eicosanoid generation by group IIE phospholipase A(2). Biochem Biophys Res Commun 2002; 292: 689–696.

Murakami M, Yoshihara K, Shimbara S, Lambeau G, Gelb MH, Singer AG et al. Cellular arachidonate-releasing function and inflammation-associated expression of group IIF secretory phospholipase A2. J Biol Chem 2002; 277: 19145–19155.

Marshall D, Hardman MJ, Nield KM, Byrne C . Differentially expressed late constituents of the epidermal cornified envelope. Proc Natl Acad Sci USA 2001; 98: 13031–13036.

Bera TK, Maitra R, Iavarone C, Salvatore G, Kumar V, Vincent JJ et al. PATE, a gene expressed in prostate cancer, normal prostate, and testis, identified by a functional genomic approach. Proc Natl Acad Sci USA 2002; 99: 3058–3063.

Jenkins CM, Mancuso DJ, Yan W, Sims HF, Gibson B, Gross RW . Identification, cloning, expression, and purification of three novel human calcium-independent phospholipase A2 family members possessing triacylglycerol lipase and acylglycerol transacylase activities. J Biol Chem 2004; 279: 48968–48975.

Caricasole A, Sala C, Roncarati R, Formenti E, Terstappen GC . Cloning and characterization of the human phosphoinositide-specific phospholipase C-beta 1 (PLC beta 1). Biochim Biophys Acta 2000; 1517: 63–72.

Park D, Jhon DY, Kriz R, Knopf J, Rhee SG . Cloning, sequencing, expression, and Gq-independent activation of phospholipase C-beta 2. J Biol Chem 1992; 267: 16048–16055.

Greco S, Muscella A, Elia MG, Romano S, Storelli C, Marsigliante S . Mitogenic signalling by B2 bradykinin receptor in epithelial breast cells. J Cell Physiol 2004; 201: 84–96.

Hess JF, Borkowski JA, Macneil T, Stonesifer GY, Fraher J, Strader CD et al. Differential pharmacology of cloned human and mouse B2 bradykinin receptors. Mol Pharmacol 1994; 45: 1–8.

Yamada M, Banno Y, Takuwa Y, Koda M, Hara A, Nozawa Y . Overexpression of phospholipase D prevents actinomycin D-induced apoptosis through potentiation of phosphoinositide 3-kinase signalling pathways in Chinese-hamster ovary cells. Biochem J 2004; 378: 649–656.

Zhong M, Shen Y, Zheng Y, Joseph T, Jackson D, Foster DA . Phospholipase D prevents apoptosis in v-Src-transformed rat fibroblasts and MDA-MB-231 breast cancer cells. Biochem Biophys Res Commun 2003; 302: 615–619.

Lee JH, Kim YM, Kim NW, Kim JW, Her E, Kim BK et al. Phospholipase D2 acts as an essential adaptor protein in the activation of Syk in antigen-stimulated mast cells. Blood 2006; 108: 956–964.

Heintel D, Kienle D, Shehata M, Kröber A, Kroemer E, Schwarzinger I et al. High expression of lipoprotein lipase in poor risk B-cell chronic lymphocytic leukemia. Leukemia 2005; 19: 1216–1223.

Ashburner M, Ball CA, Blake JA, Botstein D, Butler H, Cherry JM et al. Gene ontology: tool for the unification of biology. The Gene Ontology Consortium. Nat Genet 2000; 25: 25–29.

Dong M, Johnson M, Rezaie A, Ilsley JN, Nakanishi M, Sanders MM et al. Cytoplasmic phospholipase A2 levels correlate with apoptosis in human colon tumorigenesis. Clin Cancer Res 2005; 11: 2265–2271.

Asai K, Hirabayashi T, Houjou T, Uozumi N, Taguchi R, Shimizu T . Human group IVC phospholipase A2 (cPLA2gamma). Roles in the membrane remodeling and activation induced by oxidative stress. J Biol Chem 2003; 278: 8809–8814.

Petlickovski A, Laurenti L, Li X, Marietti S, Chiusolo P, Sica S et al. Sustained signaling through the B-cell receptor induces Mcl-1 and promotes survival of chronic lymphocytic leukemia B cells. Blood 2005; 105: 4820–4827.

Nuckel H, Huttmann A, Klein-Hitpass L, Schroers R, Führer A, Sellmann L et al. Lipoprotein lipase expression is a novel prognostic factor in B-cell chronic lymphocytic leukemia. Leuk Lymphoma 2006; 47: 1053–1061.

van't Veer MB, Brooijmans AM, Langerak AW, Verhaaf B, Goudswaard CS, Graveland WJ et al. The predictive value of lipoprotein lipase for survival in chronic lymphocytic leukemia. Haematologica 2006; 91: 56–63.

Hvizdos KM, Markham A . Orlistat: a review of its use in the management of obesity. Drugs 1999; 58: 743–760.

Migas I, Severson DL . Diacylglycerols derived from membrane phospholipids are metabolized by lipases in A10 smooth muscle cells. Am J Physiol 1996; 271: C1194–C1202.

Filippatos TD, Gazi IF, Liberopoulos EN, Athyros VG, Elisaf MS, Tselepis AD et al. The effect of orlistat and fenofibrate, alone or in combination, on small dense LDL and lipoprotein-associated phospholipase A(2) in obese patients with metabolic syndrome. Atherosclerosis 2006; 193: 428–437.

Kridel SJ, Axelrod F, Rozenkrantz N, Smith JW . Orlistat is a novel inhibitor of fatty acid synthase with antitumor activity. Cancer Res 2004; 64: 2070–2075.

Menendez JA, Vellon L, Lupu R . Antitumoral actions of the anti-obesity drug orlistat (XenicalTM) in breast cancer cells: blockade of cell cycle progression, promotion of apoptotic cell death and PEA3-mediated transcriptional repression of Her2/neu (erbB-2) oncogene. Ann Oncol 2005; 16: 1253–1267.

Menendez JA, Vellon L, Mehmi I, Oza BP, Ropero S, Colomer R et al. Inhibition of fatty acid synthase (FAS) suppresses HER2/neu (erbB-2) oncogene overexpression in cancer cells. Proc Natl Acad Sci USA 2004; 101: 10715–10720.

Elter T, Borchmann P, Schulz H, Reiser M, Trelle S, Schnell R et al. Fludarabine in combination with alemtuzumab is effective and feasible in patients with relapsed or refractory B-cell chronic lymphocytic leukemia: results of a phase II trial. J Clin Oncol 2005; 23: 7024–7031.

Wendtner CM, Eichhorst BF, Hallek MJ . Advances in chemotherapy for chronic lymphocytic leukemia. Semin Hematol 2004; 41: 224–233.

Zhi J, Melia AT, Eggers H, Joly R, Patel IH . Review of limited systemic absorption of orlistat, a lipase inhibitor, in healthy human volunteers. J Clin Pharmacol 1995; 35: 1103–1108.
Acknowledgements
We thank Reinhild Brinker for excellent technical support. CPP, DMK and CMW were supported by a grant from Else-Kröner-Fresenius-Stiftung (P17/06//A62/05), Köln Fortune (050808) and the 'Deutsche José Carreras Leukämie Stiftung' (DJCLS R06/16).
About this article
Cite this article
Pallasch, C., Schwamb, J., Königs, S. et al. Targeting lipid metabolism by the lipoprotein lipase inhibitor orlistat results in apoptosis of B-cell chronic lymphocytic leukemia cells. Leukemia 22, 585–592 (2008). https://doi.org/10.1038/sj.leu.2405058
Received:

Revised:

Accepted:

Published:

Issue Date:

DOI: https://doi.org/10.1038/sj.leu.2405058
Keywords
lipoprotein lipase

chronic lymphocytic leukemia

orlistat

apoptosis