Abstract
Chronic lymphocytic leukemia (CLL), the most frequent form of adult leukemia in Western countries, is characterized by a highly variable clinical course. Expression profiling of a series of 160 CLL patients allowed interrogating the genes presumably playing a role in pathogenesis, relating the expression of functionally relevant signatures with the time to treatment. First, we identified genes relevant to the biology and prognosis of CLL to build a CLL disease-specific oligonucleotide microarray. Second, we hybridized a training series on the CLL-specific chip, generating a biology-based predictive model. Finally, this model was validated in a new CLL series. Clinical variability in CLL is related with the expression of two gene clusters, associated with B-cell receptor (BCR) signaling and mitogen-activated protein kinase (MAPK) activation, including nuclear factor-κB1 (NF-κB1). The expression of these clusters identifies three risk-score groups with treatment-free survival probabilities at 5 years of 83, 50 and 17%. This molecular predictor can be applied to early clinical stages of CLL. This signature is related to immunoglobulin variable region somatic hypermutation and surrogate markers. There is a molecular heterogeneity in CLL, dependent on the expression of genes defining BCR and MAPK/NF-κB clusters, which can be used to predict time to treatment in early clinical stages.
Relevant articles
Open Access articles citing this article.
Mohand-Akli Boukhiar

,

Claudine Roger

…

Fanny Baran-Marszak

Experimental Hematology & Oncology Open Access 19 February 2013
Access options
Subscribe to this journal
Receive 12 print issues and online access
$259.00 per year
only $21.58 per issue
Rent or buy this article
Prices vary by article type
from$1.95
to$39.95
Prices may be subject to local taxes which are calculated during checkout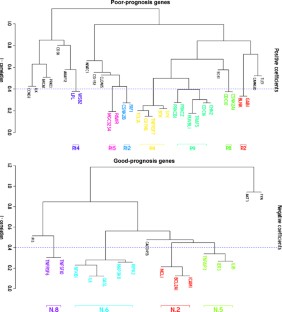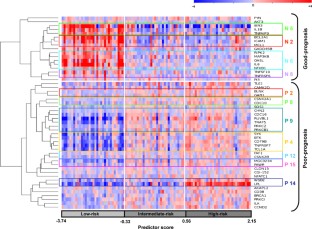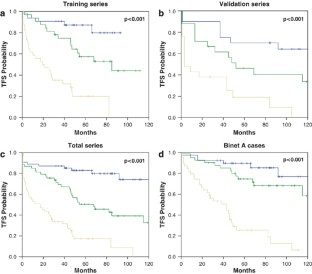 Accession codes
Accessions
GenBank/EMBL/DDBJ
References
Dighiero G . CLL biology and prognosis. Hematology (Am Soc Hematol Educ Program) 2005; 1: 278–284.

Chiorazzi N, Rai KR, Ferrarini M . Chronic lymphocytic leukemia. N Engl J Med 2005; 352: 804–815.

Binet JL, Lepoprier M, Dighiero G, Charron D, D'Athis P, Vaugier G et al. A clinical staging system for chronic lymphocytic leukemia: prognostic significance. Cancer 1977; 40: 855–864.

Rai KR, Montserrat E . Prognostic factors in chronic lymphocytic leukemia. Semin Hematol 1987; 24: 252–256.

Rai KR, Sawitsky A, Cronkite EP, Chanana AD, Levy RN, Pasternack BS . Clinical staging of chronic lymphocytic leukemia. Blood 1975; 46: 219–234.

Dohner H, Stilgenbauer S, Benner A, Leupolt E, Krober A, Bullinger L et al. Genomic aberrations and survival in chronic lymphocytic leukemia. N Engl J Med 2000; 343: 1910–1916.

Hamblin TJ, Davis Z, Gardiner A, Oscier DG, Stevenson FK . Unmutated Ig V(H) genes are associated with a more aggressive form of chronic lymphocytic leukemia. Blood 1999; 94: 1848–1854.

Damle RN, Wasil T, Fais F, Ghiotto F, Valetto A, Allen SL et al. Ig V gene mutation status and CD38 expression as novel prognostic indicators in chronic lymphocytic leukemia. Blood 1999; 94: 1840–1847.

Crespo M, Bosch F, Villamor N, Bellosillo B, Colomer D, Rozman M et al. ZAP-70 expression as a surrogate for immunoglobulin-variable-region mutations in chronic lymphocytic leukemia. N Engl J Med 2003; 348: 1764–1775.

Durig J, Naschar M, Schmucker U, Renzing-Kohler K, Holter T, Huttmann A et al. CD38 expression is an important prognostic marker in chronic lymphocytic leukaemia. Leukemia 2002; 16: 30–35.

Durig J, Nuckel H, Cremer M, Fuhrer A, Halfmeyer K, Fandrey J et al. ZAP-70 expression is a prognostic factor in chronic lymphocytic leukemia. Leukemia 2003; 17: 2426–2434.

Ibrahim S, Keating M, Do KA, O'Brien S, Huh YO, Jilani I et al. CD38 expression as an important prognostic factor in B-cell chronic lymphocytic leukemia. Blood 2001; 98: 181–186.

Wiestner A, Rosenwald A, Barry TS, Wright G, Davis RE, Henrickson SE et al. ZAP-70 expression identifies a chronic lymphocytic leukemia subtype with unmutated immunoglobulin genes, inferior clinical outcome, and distinct gene expression profile. Blood 2003; 101: 4944–4951.

Van't Veer MB, Brooijmans AM, Langerak AW, Verhaaf B, Goudswaard CS, Graveland WJ et al. The predictive value of lipoprotein lipase for survival in chronic lymphocytic leukemia. Haematologica 2006; 91: 56–63.

Oppezzo P, Vasconcelos Y, Settegrana C, Jeannel D, Vuillier F, Legarff-Tavernier M et al. The LPL/ADAM29 expression ratio is a novel prognosis indicator in chronic lymphocytic leukemia. Blood 2005; 106: 650–657.

Heintel D, Kienle D, Shehata M, Krober A, Kroemer E, Schwarzinger I et al. High expression of lipoprotein lipase in poor risk B-cell chronic lymphocytic leukemia. Leukemia 2005; 19: 1216–1223.

Klein U, Tu Y, Stolovitzky GA, Mattioli M, Cattoretti G, Husson H et al. Gene expression profiling of B cell chronic lymphocytic leukemia reveals a homogeneous phenotype related to memory B cells. J Exp Med 2001; 194: 1625–1638.

Rosenwald A, Alizadeh AA, Widhopf G, Simon R, Davis RE, Yu X et al. Relation of gene expression phenotype to immunoglobulin mutation genotype in B cell chronic lymphocytic leukemia. J Exp Med 2001; 194: 1639–1647.

Cheson BD, Bennett JM, Grever M, Kay N, Keating MJ, O'Brien S et al. National Cancer Institute-sponsored Working Group guidelines for chronic lymphocytic leukemia: revised guidelines for diagnosis and treatment. Blood 1996; 87: 4990–4997.

Tracey L, Villuendas R, Ortiz P, Dopazo A, Spiteri I, Lombardia L et al. Identification of genes involved in resistance to interferon-alpha in cutaneous T-cell lymphoma. Am J Pathol 2002; 161: 1825–1837.

Rodriguez A, Martinez N, Camacho FI, Ruiz-Ballesteros E, Algara P, Garcia JF et al. Variability in the degree of expression of phosphorylated IkappaBalpha in chronic lymphocytic leukemia cases with nodal involvement. Clin Cancer Res 2004; 10: 6796–6806.

Dave SS, Wright G, Tan B, Rosenwald A, Gascoyne RD, Chan WC et al. Prediction of survival in follicular lymphoma based on molecular features of tumor-infiltrating immune cells. N Engl J Med 2004; 351: 2159–2169.

Stevenson FK, Caligaris-Cappio F . Chronic lymphocytic leukemia: revelations from the B-cell receptor. Blood 2004; 103: 4389–4395.

Ingham RJ, Santos L, Dang-Lawson M, Holgado-Madruga M, Dudek P, Maroun CR et al. The Gab1 docking protein links the b cell antigen receptor to the phosphatidylinositol 3-kinase/Akt signaling pathway and to the SHP2 tyrosine phosphatase. J Biol Chem 2001; 276: 12257–12265.

Raman C, Kuo A, Deshane J, Litchfield DW, Kimberly RP . Regulation of casein kinase 2 by direct interaction with cell surface receptor CD5. J Biol Chem 1998; 273: 19183–19189.

Su TT, Guo B, Kawakami Y, Sommer K, Chae K, Humphries LA et al. PKC-beta controls I kappa B kinase lipid raft recruitment and activation in response to BCR signaling. Nat Immunol 2002; 3: 780–786.

Leitges M, Sanz L, Martin P, Duran A, Braun U, Garcia JF et al. Targeted disruption of the zetaPKC gene results in the impairment of the NF-kappaB pathway. Mol Cell 2001; 8: 771–780.

Nakano H, Oshima H, Chung W, Williams-Abbott L, Ware CF, Yagita H et al. TRAF5, an activator of NF-kappaB and putative signal transducer for the lymphotoxin-beta receptor. J Biol Chem 1996; 271: 14661–14664.

Nishiu M, Yanagawa R, Nakatsuka S, Yao M, Tsunoda T, Nakamura Y et al. Microarray analysis of gene-expression profiles in diffuse large B-cell lymphoma: identification of genes related to disease progression. Jpn J Cancer Res 2002; 93: 894–901.

Garcia-Cao I, Lafuente MJ, Criado LM, Diaz-Meco MT, Serrano M, Moscat J . Genetic inactivation of Par4 results in hyperactivation of NF-kappaB and impairment of JNK and p38. EMBO Rep 2003; 4: 307–312.

Park MY, Jang HD, Lee SY, Lee KJ, Kim E . Fas-associated factor-1 inhibits nuclear factor-kappaB (NF-kappaB) activity by interfering with nuclear translocation of the RelA (p65) subunit of NF-kappaB. J Biol Chem 2004; 279: 2544–2549.

Calin GA, Ferracin M, Cimmino A, Di Leva G, Shimizu M, Wojcik SE et al. A MicroRNA signature associated with prognosis and progression in chronic lymphocytic leukemia. N Engl J Med 2005; 353: 1793–1801.

Huttmann A, Klein-Hitpass L, Thomale J, Deenen R, Carpinteiro A, Nuckel H et al. Gene expression signatures separate B-cell chronic lymphocytic leukaemia prognostic subgroups defined by ZAP-70 and CD38 expression status. Leukemia 2006; 20: 1774–1782.

Chen L, Widhopf G, Huynh L, Rassenti L, Rai KR, Weiss A et al. Expression of ZAP-70 is associated with increased B-cell receptor signaling in chronic lymphocytic leukemia. Blood 2002; 100: 4609–4614.
Acknowledgements
We thank the Tumour Bank Network of the CNIO for the coordination of shipment of samples. Francisco Cifuentes is a full-time employee of the company Agilent Technologies, whose custom product '8-pack microarray' platform was used in the present study.
Additional information
Financial support: This study was supported by grants from the Ministerio de Sanidad y Consumo (G03/179, PI051623) and the Ministerio de Ciencia y Tecnología (SAF2005-00221, SAF2004-04286), Spain. Antonia Rodríguez was supported by a grant from the Asociación Española Contra el Cáncer (AECC).
Supplementary Information accompanies the paper on the Leukemia web site (http://www.nature.com/leu)
Supplementary information
About this article
Cite this article
Rodríguez, A., Villuendas, R., Yáñez, L. et al. Molecular heterogeneity in chronic lymphocytic leukemia is dependent on BCR signaling: clinical correlation. Leukemia 21, 1984–1991 (2007). https://doi.org/10.1038/sj.leu.2404831
Received:

Revised:

Accepted:

Published:

Issue Date:

DOI: https://doi.org/10.1038/sj.leu.2404831
Keywords