Abstract
Glucocorticoids induce apoptosis in chronic lymphocytic leukemia (CLL) cells through a caspase-dependent mechanism. However, their mechanism of action remains unknown. We have studied the regulation of the proapoptotic BH3-only Bcl-2 interacting mediator of cell death (BIM) in CLL cells. We demonstrate that glucocorticoids upregulate BIM at protein and mRNA levels. We have investigated the ability of different survival signals, such as 12-O-tetradecanoylphorbol 13-acetate (TPA), stromal cell-derived factor-1α (SDF-1α), interleukin 4 (IL-4) and B-cell receptor (BCR) activation, to influence the levels of BIM and its induction by glucocorticoids. TPA downregulates BIMEL by extracellular signal-regulated kinase (ERK)-mediated BIM phosphorylation and further proteasome-mediated degradation. However, SDF-1α and BCR activation induce transient BIM phosphorylation, without protein degradation. Proteasome inhibitors do not modify the levels of BIM with respect to untreated cells. However, they induce apoptosis and inhibit TPA-induced BIMEL degradation, leading to its accumulation. In conclusion, the results implicate BIM in glucocorticoid-induced apoptosis in CLL cells. BIMEL phosphorylation through the ERK pathway targets the protein for proteasomal degradation.
Relevant articles
Open Access articles citing this article.
T Melarangi

,

J Zhuang

…

A R Pettitt

Cell Death & Disease Open Access 16 August 2012

Aybike Birerdinc

,

Elizabeth Nohelty

…

Ancha Baranova

Tumor Biology Open Access 18 December 2009
Access options
Subscribe to this journal
Receive 12 print issues and online access
$259.00 per year
only $21.58 per issue
Rent or buy this article
Prices vary by article type
from$1.95
to$39.95
Prices may be subject to local taxes which are calculated during checkout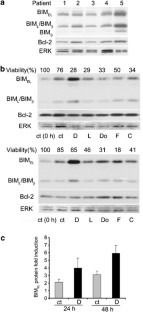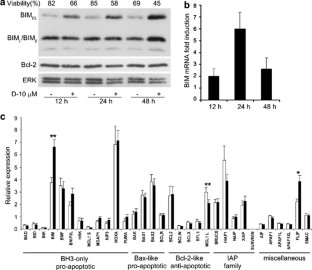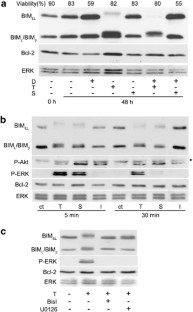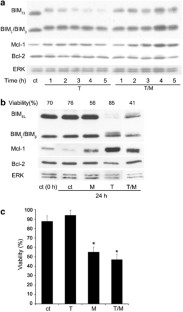 References
Chiorazzi N, Rai KR, Ferrarini M . Chronic lymphocytic leukemia. N Engl J Med 2005; 352: 804–815.

McConkey DJ, Aguilar-Santelises M, Hartzell P, Eriksson I, Mellstedt H, Orrenius S et al. Induction of DNA fragmentation in chronic B-lymphocytic leukemia cells. J Immunol 1991; 146: 1072–1076.

Bellosillo B, Dalmau M, Colomer D, Gil J . Involvement of CED-3/ICE proteases in the apoptosis of B-chronic lymphocytic leukemia cells. Blood 1997; 89: 3378–3384.

Chandra J, Gilbreath J, Freireich EJ, Kliche KO, Andreeff M, Keating M et al. Protease activation is required for glucocorticoid-induced apoptosis in chronic lymphocytic leukemic lymphocytes. Blood 1997; 90: 3673–3681.

Barragan M, Bellosillo B, Campas C, Colomer D, Pons G, Gil J . Involvement of protein kinase C and phosphatidylinositol 3-kinase pathways in the survival of B-cell chronic lymphocytic leukemia cells. Blood 2002; 99: 2969–2976.

Mariano MT, Moretti L, Donelli A, Grantini M, Montagnani G, Di Prisco AU et al. bcl-2 gene expression in hematopoietic cell differentiation. Blood 1992; 80: 768–775.

Hanada M, Delia D, Aiello A, Stadtmauer E, Reed JC . bcl-2 gene hypomethylation and high-level expression in B-cell chronic lymphocytic leukemia. Blood 1993; 82: 1820–1828.

Kitada S, Andersen J, Akar S, Zapata JM, Takayama S, Krajewski S et al. Expression of apoptosis-regulating proteins in chronic lymphocytic leukemia: correlations with In vitro and In vivo chemoresponses. Blood 1998; 91: 3379–3389.

Bellosillo B, Villamor N, Colomer D, Pons G, Montserrat E, Gil J . In vitro evaluation of fludarabine in combination with cyclophosphamide and/or mitoxantrone in B-cell chronic lymphocytic leukemia. Blood 1999; 94: 2836–2843.

Kitada S, Zapata JM, Andreeff M, Reed JC . Bryostatin and CD40-ligand enhance apoptosis resistance and induce expression of cell survival genes in B-cell chronic lymphocytic leukaemia. Br J Haematol 1999; 106: 995–1004.

Kater AP, Evers LM, Remmerswaal EB, Jaspers A, Oosterwijk MF, van Lier RA et al. CD40 stimulation of B-cell chronic lymphocytic leukaemia cells enhances the anti-apoptotic profile, but also Bid expression and cells remain susceptible to autologous cytotoxic T-lymphocyte attack. Br J Haematol 2004; 127: 404–415.

Bellosillo B, Villamor N, Lopez-Guillermo A, Marce S, Bosch F, Campo E et al. Spontaneous and drug-induced apoptosis is mediated by conformational changes of Bax and Bak in B-cell chronic lymphocytic leukemia. Blood 2002; 100: 1810–1816.

Mackus WJ, Kater AP, Grummels A, Evers LM, Hooijbrink B, Kramer MH et al. Chronic lymphocytic leukemia cells display p53-dependent drug-induced Puma upregulation. Leukemia 2005; 19: 427–434.

Coll-Mulet L, Iglesias-Serret D, Santidrian AF, Cosialls AM, de Frias M, Castaño E et al. MDM2 antagonists activate p53 and synergize with genotoxic drugs in B-cell chronic lymphocytic leukemia cells. Blood 2006; 107: 4109–4114.

Morales AA, Olsson A, Celsing F, Osterborg A, Jondal M, Osorio LM . Expression and transcriptional regulation of functionally distinct Bmf isoforms in B-chronic lymphocytic leukemia cells. Leukemia 2004; 18: 41–47.

O'Connor L, Strasser A, O'Reilly LA, Hausmann G, Adams JM, Cory S et al. Bim: a novel member of the Bcl-2 family that promotes apoptosis. EMBO J 1998; 17: 384–395.

Chen L, Willis SN, Wei A, Smith BJ, Fletcher JI, Hinds MG et al. Differential targeting of prosurvival Bcl-2 proteins by their BH3-only ligands allows complementary apoptotic function. Mol Cell 2005; 17: 393–403.

Certo M, Del Gaizo Moore V, Nishino M, Wei G, Korsmeyer S, Armstrong SA et al. Mitochondria primed by death signals determine cellular addiction to antiapoptotic BCL-2 family members. Cancer Cell 2006; 9: 351–365.

Adachi M, Zhao X, Imai K . Nomenclature of dynein light chain-linked BH3-only protein Bim isoforms. Cell Death Differ 2005; 12: 192–193.

Bouillet P, Metcalf D, Huang DC, Tarlinton DM, Kay TW, Kontgen F et al. Proapoptotic Bcl-2 relative Bim required for certain apoptotic responses, leukocyte homeostasis, and to preclude autoimmunity. Science 1999; 286: 1735–1738.

Bouillet P, Purton JF, Godfrey DI, Zhang LC, Coultas L, Puthalakath H et al. BH3-only Bcl-2 family member Bim is required for apoptosis of autoreactive thymocytes. Nature 2002; 415: 922–926.

Enders A, Bouillet P, Puthalakath H, Xu Y, Tarlinton DM, Strasser A . Loss of the pro-apoptotic BH3-only Bcl-2 family member Bim inhibits BCR stimulation-induced apoptosis and deletion of autoreactive B cells. J Exp Med 2003; 198: 1119–1126.

Villunger A, Marsden VS, Zhan Y, Erlacher M, Lew AM, Bouillet P et al. Negative selection of semimature CD4(+)8(−)HSA+ thymocytes requires the BH3-only protein Bim but is independent of death receptor signaling. Proc Natl Acad Sci USA 2004; 101: 7052–7057.

Hutcheson J, Scatizzi JC, Bickel E, Brown NJ, Bouillet P, Strasser A et al. Combined loss of proapoptotic genes Bak or Bax with Bim synergizes to cause defects in hematopoiesis and in thymocyte apoptosis. J Exp Med 2005; 201: 1949–1960.

Wang Z, Malone MH, He H, McColl KS, Distelhorst CW . Microarray analysis uncovers the induction of the proapoptotic BH3-only protein Bim in multiple models of glucocorticoid-induced apoptosis. J Biol Chem 2003; 278: 23861–23867.

Zhang L, Insel PA . The pro-apoptotic protein Bim is a convergence point for cAMP/protein kinase A- and glucocorticoid-promoted apoptosis of lymphoid cells. J Biol Chem 2004; 279: 20858–20865.

Erlacher M, Michalak EM, Kelly PN, Labi V, Niederegger H, Coultas L et al. BH3-only proteins Puma and Bim are rate-limiting for gamma-radiation- and glucocorticoid-induced apoptosis of lymphoid cells in vivo. Blood 2005; 106: 4131–4138.

Abrams MT, Robertson NM, Yoon K, Wickstrom E . Inhibition of glucocorticoid-induced apoptosis by targeting the major splice variants of BIM mRNA with small interfering RNA and short hairpin RNA. J Biol Chem 2004; 279: 55809–55817.

Bachmann PS, Gorman R, Mackenzie KL, Lutze-Mann L, Lock RB . Dexamethasone resistance in B-cell precursor childhood acute lymphoblastic leukemia occurs downstream of ligand-induced nuclear translocation of the glucocorticoid receptor. Blood 2005; 105: 2519–2526.

Tagawa H, Karnan S, Suzuki R, Matsuo K, Zhang X, Ota A et al. Genome-wide array-based CGH for mantle cell lymphoma: identification of homozygous deletions of the proapoptotic gene BIM. Oncogene 2005; 24: 1348–1358.

Bellosillo B, Pique M, Barragan M, Castaño E, Villamor N, Colomer D et al. Aspirin and salicylate induce apoptosis and activation of caspases in B-cell chronic lymphocytic leukemia cells. Blood 1998; 92: 1406–1414.

McKenzie FR, Pouyssegur J . cAMP-mediated growth inhibition in fibroblasts is not mediated via mitogen-activated protein (MAP) kinase (ERK) inhibition. cAMP-dependent protein kinase induces a temporal shift in growth factor-stimulated MAP kinases. J Biol Chem 1996; 271: 13476–13483.

Eldering E, Spek CA, Aberson HL, Grummels A, Derks IA, de Vos AF et al. Expression profiling via novel multiplex assay allows rapid assessment of gene regulation in defined signalling pathways. Nucleic Acids Res 2003; 31: e153.

Ley R, Ewings KE, Hadfield K, Cook SJ . Regulatory phosphorylation of Bim: sorting out the ERK from the JNK. Cell Death Differ 2005; 12: 1008–1014.

Alves NL, Derks IA, Berk E, Spijker R, van Lier RA, Eldering E . The Noxa/Mcl-1 axis regulates susceptibility to apoptosis under glucose limitation in dividing T cells. Immunity 2006; 24: 703–716.

Burger JA, Tsukada N, Burger M, Zvaifler NJ, Dell'Aquila M, Kipps TJ . Blood-derived nurse-like cells protect chronic lymphocytic leukemia B cells from spontaneous apoptosis through stromal cell-derived factor-1. Blood 2000; 96: 2655–2663.

Egle A, Harris AW, Bouillet P, Cory S . Bim is a suppressor of Myc-induced mouse B cell leukemia. Proc Natl Acad Sci USA 2004; 101: 6164–6169.

Kuribara R, Honda H, Matsui H, Shinjyo T, Inukai T, Sugita K et al. Roles of Bim in apoptosis of normal and Bcr-Abl-expressing hematopoietic progenitors. Mol Cell Biol 2004; 24: 6172–6183.

Aichberger KJ, Mayerhofer M, Krauth MT, Vales A, Kondo R, Derdak S et al. Low-level expression of proapoptotic Bcl-2-interacting mediator in leukemic cells in patients with chronic myeloid leukemia: role of BCR/ABL, characterization of underlying signaling pathways, and reexpression by novel pharmacologic compounds. Cancer Res 2005; 65: 9436–9444.

Herr I, Ucur E, Herzer K, Okouoyo S, Ridder R, Krammer PH et al. Glucocorticoid cotreatment induces apoptosis resistance toward cancer therapy in carcinomas. Cancer Res 2003; 63: 3112–3120.

Iglesias-Serret D, Pique M, Gil J, Pons G, Lopez JM . Transcriptional and translational control of Mcl-1 during apoptosis. Arch Biochem Biophys 2003; 417: 141–152.

Shinjyo T, Kuribara R, Inukai T, Hosoi H, Kinoshita T, Miyajima A et al. Downregulation of Bim, a proapoptotic relative of Bcl-2, is a pivotal step in cytokine-initiated survival signaling in murine hematopoietic progenitors. Mol Cell Biol 2001; 21: 854–864.

Harada H, Quearry B, Ruiz-Vela A, Korsmeyer SJ . Survival factor-induced extracellular signal-regulated kinase phosphorylates BIM, inhibiting its association with BAX and proapoptotic activity. Proc Natl Acad Sci USA 2004; 101: 15313–15317.

Dijkers PF, Medema RH, Lammers JW, Koenderman L, Coffer PJ . Expression of the pro-apoptotic Bcl-2 family member Bim is regulated by the forkhead transcription factor FKHR-L1. Curr Biol 2000; 10: 1201–1204.

Weston CR, Balmanno K, Chalmers C, Hadfield K, Molton SA, Ley R et al. Activation of ERK1/2 by deltaRaf-1:ER* represses Bim expression independently of the JNK or PI3K pathways. Oncogene 2003; 22: 1281–1293.

Biswas SC, Greene LA . Nerve growth factor (NGF) down-regulates the Bcl-2 homology 3 (BH3) domain-only protein Bim and suppresses its proapoptotic activity by phosphorylation. J Biol Chem 2002; 277: 49511–49516.

Ley R, Balmanno K, Hadfield K, Weston C, Cook SJ . Activation of the ERK1/2 signaling pathway promotes phosphorylation and proteasome-dependent degradation of the BH3-only protein, Bim. J Biol Chem 2003; 278: 18811–18816.

Luciano F, Jacquel A, Colosetti P, Herrant M, Cagnol S, Pages G et al. Phosphorylation of Bim-EL by Erk1/2 on serine 69 promotes its degradation via the proteasome pathway and regulates its proapoptotic function. Oncogene 2003; 22: 6785–6793.

Bernal A, Pastore RD, Asgary Z, Keller SA, Cesarman E, Liou HC et al. Survival of leukemic B cells promoted by engagement of the antigen receptor. Blood 2001; 98: 3050–3057.

Petlickovski A, Laurenti L, Li X, Marietti S, Chiusolo P, Sica S et al. Sustained signaling through the B-cell receptor induces Mcl-1 and promotes survival of chronic lymphocytic leukemia B cells. Blood 2005; 105: 4820–4827.

Marani M, Hancock D, Lopes R, Tenev T, Downward J, Lemoine NR . Role of Bim in the survival pathway induced by Raf in epithelial cells. Oncogene 2004; 23: 2431–2441.

Ley R, Hadfield K, Howes E, Cook SJ . Identification of a DEF-type docking domain for extracellular signal-regulated kinases 1/2 that directs phosphorylation and turnover of the BH3-only protein BimEL. J Biol Chem 2005; 280: 17657–17663.

O'Connor OA, Wright J, Moskowitz C, Muzzy J, MacGregor-Cortelli B, Stubblefield M et al. Phase II clinical experience with the novel proteasome inhibitor bortezomib in patients with indolent non-Hodgkin's lymphoma and mantle cell lymphoma. J Clin Oncol 2005; 23: 676–684.
Acknowledgements
We thank Dr Clara Campás and Dr Esther Castaño for helpful discussions and suggestions, Dr Francesc Viñals for kindly providing the anti-ERK-1/2 antibody and Robin Rycroft and Lucille Banham for language assistance. We also thank the Unitat de Biologia and the Unitat de Genòmica from the Serveis Cientificotècnics at the Universitat de Barcelona for their technical support. DIS, AFS and AMC were recipients of a research fellowship from the Ministerio de Educación y Ciencia, MdF was the recipient of a fellowship from the AGAUR-Generalitat de Catalunya and LCM was the recipient of a fellowship from the José Carreras International Leukemia Foundation. This study was supported by a grant from the Ministerio de Educación y Ciencia and FEDER (SAF2004-00265) to JG.
Supplementary information
About this article
Cite this article
Iglesias-Serret, D., de Frias, M., Santidrián, A. et al. Regulation of the proapoptotic BH3-only protein BIM by glucocorticoids, survival signals and proteasome in chronic lymphocytic leukemia cells. Leukemia 21, 281–287 (2007). https://doi.org/10.1038/sj.leu.2404483
Received:

Revised:

Accepted:

Published:

Issue Date:

DOI: https://doi.org/10.1038/sj.leu.2404483
Keywords
BIM

chronic lymphocytic leukemia

apoptosis

glucocorticoids

proteasome