Abstract
Chromosomal translocations that target HMGA2 at chromosome band 12q14 are seen in a variety of malignancies, notably lipoma, pleomorphic salivary adenoma and uterine leiomyoma. Although some HMGA2 fusion genes have been reported, several lines of evidence suggest that the critical pathogenic event is the expression of truncated HMGA2 isoforms. We report here the involvement of HMGA2 in six patients with myeloid neoplasia, dysplastic features and translocations or an inversion involving chromosome bands 12q13–15 and either 7p12, 8q22, 11q23, 12p11, 14q31 or 20q11. Breaks within or very close to HMGA2 were found in all six cases by molecular cytogenetic analysis, leading to overexpression of this gene as assessed by RT-PCR. Truncated transcripts consisting of HMGA2 exons 1–2 or exons 1–3 spliced to intron-derived sequences were identified in two patients, but were not seen in controls. These findings suggest that abnormalities of HMGA2 play an important and previously unsuspected role in myelodysplasia.
Relevant articles
Open Access articles citing this article.
Li Tan

,

Hongfa Xu

…

Huo Tan

British Journal of Cancer Open Access 02 January 2018

Feng Xu

,

Yang Zhu

…

Xiao Li

Scientific Reports Open Access 30 August 2016

Ryosuke Fujikane

,

Kayoko Komori

…

Masumi Hidaka

Scientific Reports Open Access 19 August 2016
Access options
Subscribe to this journal
Receive 12 print issues and online access
$259.00 per year
only $21.58 per issue
Rent or buy this article
Get just this article for as long as you need it
$39.95
Prices may be subject to local taxes which are calculated during checkout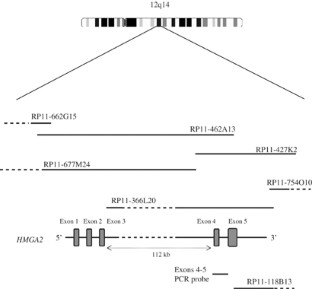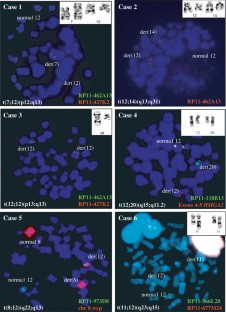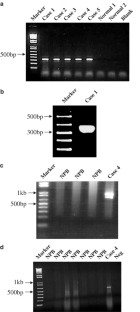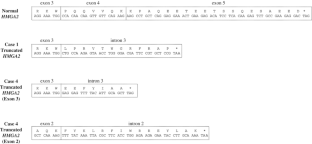 References
Grosschedl R, Giese K, Pagel J . HMG domain proteins: architectural elements in the assembly of nucleoprotein structures. Trends Genet 1994; 10: 94–100.

Reeves R . Molecular biology of HMGA proteins: hubs of nuclear function. Gene 2001; 277: 63–81.

Grasser KD . Chromatin-associated HMGA and HMGB proteins: verstaile co-regulators of DNA-dependent processes. Plant Mol Biol 2003; 53: 281–295.

Reeves R, Nissen MS . The A.T-DNA-binding domain of mammalian high mobility group I chromosomal proteins. A novel peptide motif for recognizing DNA structure. J Biol Chem 1990; 265: 8573–8582.

Thanos D, Maniatis T . In vitro assembly of enhancer complexes. Methods Enzymol 1996; 274: 162–173.

John S, Reeves RB, Lin JX, Child R, Leiden JM, Thompson CB et al. Regulation of cell-type-specific interleukin-2 receptor alpha-chain gene expression: potential role of physical interactions between Elf-1, HMG-I(Y), and NF-kappa B family proteins. Mol Cell Biol 1995; 15: 1786–1796.

Leger H, Sock E, Renner K, Grummt F, Wegner M . Functional interaction between the POU domain protein Tst-1/Oct-6 and the high-mobility-group protein HMG-I/Y. Mol Cell Biol 1995; 15: 3738–3747.

Schoenmakers EF, Wanschura S, Mols R, Bullerdiek J, Van den Berghe H, Van de Ven WJ . Recurrent rearrangements in the high mobility group protein gene, HMGI-C, in benign mesenchymal tumours. Nat Genet 1995; 10: 436–444.

Chiappetta G, Bandiera A, Berlingieri MT, Visconti R, Manfioletti G, Battista S et al. The expression of the high mobility group HMGI (Y) proteins correlates with the malignant phenotype of human thyroid neoplasias. Oncogene 1995; 10: 1307–1314.

Giancotti V, Buratti E, Perissin L, Zorzet S, Balmain A, Portella G et al. Analysis of the HMGI nuclear proteins in mouse neoplastic cells induced by different procedures. Exp Cell Res 1989; 184: 538–545.

Vallone D, Battista S, Pierantoni GM, Fedele M, Casalino L, Santoro M et al. Neoplastic transformation of rat thyroid cells requires the junB and fra-1 gene induction which is dependent on the HMGI-C gene product. EMBO J 1997; 16: 5310–5321.

Zhou X, Benson KF, Ashar HR, Chada K . Mutation responsible for the mouse pygmy phenotype in the developmentally regulated factor HMGI-C. Nature 1995; 376: 771–774.

Zhou X, Benson KF, Przybysz K, Liu J, Hou Y, Cherath L et al. Genomic structure and expression of the murine HMGI-C gene. Nucleic Acids Res 1996; 24: 4071–4077.

Hirning-Folz U, Wilda M, Rippe V, Bullerdiek J, Hameister H . The expression pattern of the Hmgic gene during development. Genes Chromosomes Cancer 1998; 23: 350–357.

Petit MM, Mols R, Schoenmakers EF, Mandahl N, Van de Ven WJ . LPP, the preferred fusion partner gene of HMGIC in lipomas, is a novel member of the LIM protein gene family. Genomics 1996; 36: 118–129.

Petit MM, Schoenmakers EF, Huysmans C, Geurts JM, Mandahl N, Van de Ven WJ . LHFP, a novel translocation partner gene of HMGIC in a lipoma, is a member of a new family of LHFP-like genes. Genomics 1999; 57: 438–441.

Broberg K, Zhang M, Strombeck B, Isaksson M, Nilsson M, Mertens F et al. Fusion of RDC1 with HMGA2 in lipomas as the result of chromosome aberrations involving 2q35–37 and 12q13–15. Int J Oncol 2002; 21: 321–326.

Ashar HR, Fejzo MS, Tkachenko A, Zhou X, Fletcher JA, Weremowicz S et al. Disruption of the architectural factor HMGI-C: DNA-binding AT hook motifs fused in lipomas to distinct transcriptional regulatory domains. Cell 1995; 82: 57–65.

Geurts JM, Schoenmakers EF, Van de Ven WJ . Molecular characterization of a complex chromosomal rearrangement in a pleomorphic salivary gland adenoma involving the 3′-UTR of HMGIC. Cancer Genet Cytogenet 1997; 95: 198–205.

Geurts JM, Schoenmakers EF, Roijer E, Stenman G, Van de Ven WJ . Expression of reciprocal hybrid transcripts of HMGIC and FHIT in a pleomorphic adenoma of the parotid gland. Cancer Res 1997; 57: 13–17.

Geurts JM, Schoenmakers EF, Roijer E, Astrom AK, Stenman G, van de Ven WJ . Identification of NFIB as recurrent translocation partner gene of HMGIC in pleomorphic adenomas. Oncogene 1998; 16: 865–872.

Kools PF, Van de Ven WJ . Amplification of a rearranged form of the high-mobility group protein gene HMGIC in OsA-CI osteosarcoma cells. Cancer Genet Cytogenet 1996; 91: 1–7.

Kazmierczak B, Hennig Y, Wanschura S, Rogalla P, Bartnitzke S, Van de Ven W et al. Description of a novel fusion transcript between HMGI-C, a gene encoding for a member of the high mobility group proteins, and the mitochondrial aldehyde dehydrogenase gene. Cancer Res 1995; 55: 6038–6039.

Schoenmakers EF, Huysmans C, Van de Ven WJ . Allelic knockout of novel splice variants of human recombination repair gene RAD51B in t(12;14) uterine leiomyomas. Cancer Res 1999; 59: 19–23.

Kurose K, Mine N, Doi D, Ota Y, Yoneyama K, Konishi H et al. Novel gene fusion of COX6C at 8q22–23 to HMGIC at 12q15 in a uterine leiomyoma. Genes Chromosomes Cancer 2000; 27: 303–307.

Mine N, Kurose K, Konishi H, Araki T, Nagai H, Emi M . Fusion of a sequence from HEI10 (14q11) to the HMGIC gene at 12q15 in a uterine leiomyoma. Jpn J Cancer Res 2001; 92: 135–139.

Pierantoni GM, Santulli B, Caliendo I, Pentimalli F, Chiappetta G, Zanesi N et al. HMGA2 locus rearrangement in a case of acute lymphoblastic leukemia. Int J Oncol 2003; 23: 363–367.

Andrieux J, Demory JL, Dupriez B, Quief S, Plantier I, Roumier C et al. Dysregulation and overexpression of HMGA2 in myelofibrosis with myeloid metaplasia. Genes Chromosomes Cancer 2004; 39: 82–87.

Quade BJ, Weremowicz S, Neskey DM, Vanni R, Ladd C, Dal Cin P et al. Fusion transcripts involving HMGA2 are not a common molecular mechanism in uterine leiomyomata with rearrangements in 12q15. Cancer Res 2003; 63: 1351–1358.

Arlotta P, Tai AK, Manfioletti G, Clifford C, Jay G, Ono SJ . Transgenic mice expressing a truncated form of the high mobility group I-C protein develop adiposity and an abnormally high prevalence of lipomas. J Biol Chem 2000; 275: 14394–14400.

Battista S, Fidanza V, Fedele M, Klein-Szanto AJ, Outwater E, Brunner H et al. The expression of a truncated HMGI-C gene induces gigantism associated with lipomatosis. Cancer Res 1999; 59: 4793–4797.

Fedele M, Berlingieri MT, Scala S, Chiariotti L, Viglietto G, Rippel V et al. Truncated and chimeric HMGI-C genes induce neoplastic transformation of NIH3T3 murine fibroblasts. Oncogene 1998; 17: 413–418.

Fedele M, Battista S, Kenyon L, Baldassarre G, Fidanza V, Klein-Szanto AJ et al. Overexpression of the HMGA2 gene in transgenic mice leads to the onset of pituitary adenomas. Oncogene 2002; 21: 3190–3198.

Ashar HR, Tkachenko A, Shah P, Chada K . HMGA2 is expressed in an allele-specific manner in human lipomas. Cancer Genet Cytogenet 2003; 143: 160–168.

Santulli B, Kazmierczak B, Napolitano R, Caliendo I, Chiappetta G, Rippe V et al. A 12q13 translocation involving the HMGI-C gene in Richter transformation of a chronic lymphocytic leukemia. Cancer Genet Cytogenet 2000; 119: 70–73.

Borrmann L, Wilkening S, Bullerdiek J . The expression of HMGA genes is regulated by their 3′UTR. Oncogene 2001; 20: 4537–4541.

Noro B, Licheri B, Sgarra R, Rustighi A, Tessari MA, Chau KY et al. Molecular dissection of the architectural transcription factor HMGA2. Biochemistry 2003; 42: 4569–4577.

Ingraham SE, Lynch RA, Kathiresan S, Buckler AJ, Menon AG . hREC2, a RAD51-like gene, is disrupted by t(12;14)(q15;q24.1) in a uterine leiomyoma. Cancer Genet Cytogenet 1999; 115: 56–61.

Takahashi T, Nagai N, Oda H, Ohama K, Kamada N, Miyagawa K . Evidence for RAD51L1/HMGIC fusion in the pathogenesis of uterine leiomyoma. Genes Chromosomes Cancer 2001; 30: 196–201.

Gross KL, Neskey DM, Manchanda N, Weremowicz S, Kleinman MS, Nowak RA et al. HMGA2 expression in uterine leiomyomata and myometrium: quantitative analysis and tissue culture studies. Genes Chromosomes Cancer 2003; 38: 68–79.

Tessari MA, Gostissa M, Altamura S, Sgarra R, Rustighi A, Salvagno C et al. Transcriptional activation of the cyclin A gene by the architectural transcription factor HMGA2. Mol Cell Biol 2003; 23: 9104–9116.

Borrmann L, Schwanbeck R, Heyduk T, Seebeck B, Rogalla P, Bullerdiek J et al. High mobility group A2 protein and its derivatives bind a specific region of the promoter of DNA repair gene ERCC1 and modulate its activity. Nucleic Acids Res 2003; 31: 6841–6851.
About this article
Cite this article
Odero, M., Grand, F., Iqbal, S. et al. Disruption and aberrant expression of HMGA2 as a consequence of diverse chromosomal translocations in myeloid malignancies. Leukemia 19, 245–252 (2005). https://doi.org/10.1038/sj.leu.2403605
Received:

Accepted:

Published:

Issue Date:

DOI: https://doi.org/10.1038/sj.leu.2403605
Keywords