Abstract
An increasing number of risk-stratifying genetic lesions in acute leukemia are being discovered and characterized. To translate this important and increasing volume of information from the research laboratory into effective clinical care, however, new, fast and comprehensive assays are needed. Toward this end, we have developed a two-stage multiplexing assay of broad applicability, which combines multiplex polymerase chain reaction with multiplex detection on spectrally addressable liquid bead microarrays. Using pediatric lymphoblastic leukemia as a model system, we demonstrate that all seven of the fusion transcripts resulting from risk-stratifying chromosomal translocations can be assayed in a single well of a 96-well multiplate with 100% specificity and sensitivity, within 6 h of specimen collection. The assay is automatic and high throughput and represents a significant improvement over previously available assays targeting the same genetic changes. We conclude that user-defined assays that multiplex both target selection and detection may have broad applicability in the management of hematological malignancies.
Relevant articles
Open Access articles citing this article.
C D Gocke

,

J Mason

…

E Labourier

Blood Cancer Journal Open Access 13 July 2012
Access options
Subscribe to Journal
Get full journal access for 1 year
$119.00
only $9.92 per issue
All prices are NET prices.
VAT will be added later in the checkout.
Tax calculation will be finalised during checkout.
Buy article
Get time limited or full article access on ReadCube.
$32.00
All prices are NET prices.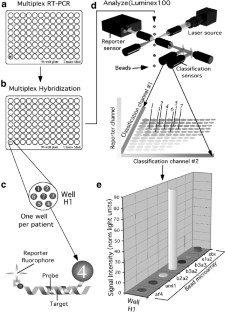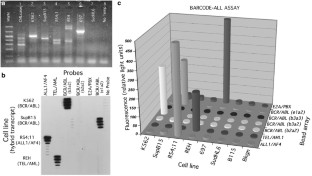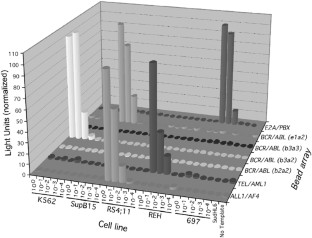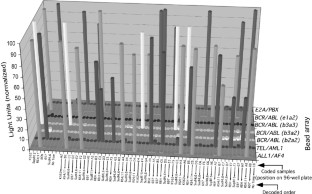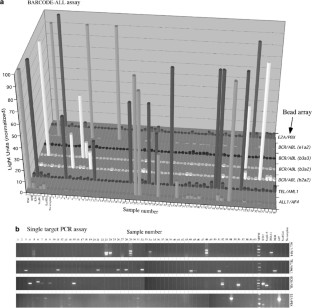 References
Rabbitts TH . Chromosomal translocations in human cancer. Nature 1994; 372: 143–149.

Solomon E, Borrow J, Goddard AD . Chromosome aberrations and cancer. Science 1991; 254: 1153–1160.

Smith M, Arthur D, Camitta B, Carroll AJ, Crist W, Gaynon P et al. Uniform approach to risk classification and treatment assignment for children with acute lymphoblastic leukemia. J Clin Oncol 1996; 14: 18–24.

Scurto P, Hsu Rocha M, Kane JR, Williams WK, Haney DM, Conn WP et al. A multiplex RT-PCR assay for the detection of chimeric transcripts encoded by the risk-stratifying translocations of pediatric acute lymphoblastic leukemia. Leukemia 1998; 12: 1994–2005.

Moravcova J, Nadvornikova-Muchova S, Brezinova J . Overproduction of BCR-ABL transcripts in human leukemic cell lines K562 and BV173. Eur J Haematol 2000; 64: 135–136.

Wood WI, Gitschier J, Lasky LA, Lawn RM . Base composition-independent hybridization in tetramethylammonium chloride: a method for oligonucleotide screening of highly complex gene libraries. Proc Natl Acad Sci USA 1985; 82: 1585–1588.

Chamberlain JS, Gibbs RA, Ranier JE, Nguyen PN, Caskey CT . Deletion screening of the Duchenne muscular dystrophy locus via multiplex DNA amplification. Nucleic Acids Res 1988; 16: 11141–11156.

Pallisgaard N, Hokland P, Riishoj DC, Pedersen B, Jorgensen P . Multiplex reverse transcription-polymerase chain reaction for simultaneous screening of 29 translocations and chromosomal aberrations in acute leukemia. Blood 1998; 92: 574–588.

Ferrando AA, Look AT . Clinical implications of recurring chromosomal and associated molecular abnormalities in acute lymphoblastic leukemia. Semin Hematol 2000; 37: 381–395.

Edwards MC, Gibbs RA . Multiplex PCR: advantages, development, and applications. PCR Methods Appl 1994; 3: S65–S75.

Henegariu O, Heerema NA, Dlouhy SR, Vance GH, Vogt PH . Multiplex PCR: critical parameters and step-by-step protocol. Biotechniques 1997; 23: 504–511.

Viehmann S, Borkhardt A, Lampert F, Harbott J . Multiplex PCR – a rapid screening method for detection of gene rearrangements in childhood acute lymphoblastic leukemia. Ann Hematol 1999; 78: 157–162.

Zhang QY, Garner K, Viswanatha DS . Rapid detection of leukemia-associated translocation fusion genes using a novel combined RT-PCR and flow cytometric method. Leukemia 2002; 16: 144–149.

Dash A, Gilliland DG . Molecular genetics of acute myeloid leukaemia. Baillieres Best Pract Res Clin Haematol 2001; 14: 49–64.

Abu-Duhier FM, Goodeve AC, Wilson GA, Gari MA, Peake IR, Rees DC et al. FLT3 internal tandem duplication mutations in adult acute myeloid leukaemia define a high-risk group. Br J Haematol 2000; 111: 190–195.

Griffin JD . Point mutations in the FLT3 gene in AML. Blood 2001; 97: 2193A.

Alizadeh AA, Eisen MB, Davis RE, Ma C, Lossos IS, Rosenwald A et al. Distinct types of diffuse large B-cell lymphoma identified by gene expression profiling. Nature 2000; 403: 503–511.

Golub TR, Slonim DK, Tamayo P, Huard C, Gaasenbeek M, Mesirov JP et al. Molecular classification of cancer: class discovery and class prediction by gene expression monitoring. Science 1999; 286: 531–537.

Khan J, Wei JS, Ringner M, Saal LH, Ladanyi M, Westermann F et al. Classification and diagnostic prediction of cancers using gene expression profiling and artificial neural networks. Nat Med 2001; 7: 673–679.

Perou CM, Sorlie T, Eisen MB, van de Rijn M, Jeffrey SS, Rees CA et al. Molecular portraits of human breast tumours. Nature 2000; 406: 747–752.

Virtaneva K, Wright FA, Tanner SM, Yuan B, Lemon WJ, Caligiuri MA et al. Expression profiling reveals fundamental biological differences in acute myeloid leukemia with isolated trisomy 8 and normal cytogenetics. Proc Natl Acad Sci U S A 2001; 98: 1124–1129.

Yeoh EJ, Ross ME, Shurtleff SA, Williams WK, Patel D, Mahfouz R et al. Classification, subtype discovery, and prediction of outcome in pediatric acute lymphoblastic leukemia by gene expression profiling. Cancer Cell 2002; 1: 133–143.
About this article
Cite this article
Wallace, J., Zhou, Y., Usmani, G. et al. BARCODE-ALL: accelerated and cost-effective genetic risk stratification in acute leukemia using spectrally addressable liquid bead microarrays. Leukemia 17, 1404–1410 (2003). https://doi.org/10.1038/sj.leu.2402985
Received:

Accepted:

Published:

Issue Date:

DOI: https://doi.org/10.1038/sj.leu.2402985
Keywords
microarray

lymphoblastic leukemia

risk stratification

RT-PCR