Abstract
Employing the natural product quassinoid brusatol, we currently report cellular and molecular events leading to cell death or terminal differentiation in a panel of leukemic cells. Brusatol and bruceantin exerted significant cytotoxic effects with several leukemic cell lines, but not with K562 or normal lymphocytic cells. Cell lines that were less sensitive to the cytotoxic effects of brusatol responded primarily through induction of terminal differentiation. The differentiated phenotype in cell lines derived from acute or chronic myeloid leukemias (HL-60, K562, Kasumi-1, NB4, U937, BV173) was characterized for producing superoxide and non-specific esterase, and some with up-regulation of CD13 (cluster of differentiation) and down-regulation of CD15. Chronic myeloid leukemic cell lines, K562 and BV173, and acute lymphoblastic cell lines, SUPB13 and RS4;11, were induced to differentiate along the erythrocytic pathway. Withdrawal studies showed that brusatol treatment for 48 h was sufficient to induce commitment towards terminal differentiation in HL-60, K562 and SUPB13. Reh cells did not undergo maturation. Analysis of c-MYC protein expression revealed that brusatol or bruceantin down-regulated expression to undetectable levels in cell lines that were most sensitive, based on cell death or terminal differentiation. Generally, c-myc RNA was reduced, but to a lower extent than c-MYC protein levels, indicating c-myc expression was regulated by quassinoids at the post-transcriptional level. Thus, regulation of c-myc expression may represent a critical event that leads to terminal differentiation. Since these responses are facilitated at clinically achievable concentrations, quassinoids may be of value for the management of hematological malignancies.
Relevant articles
Open Access articles citing this article.
Yonggang Pei

,

Nicky Hwang

…

Erle S. Robertson

Communications Biology Open Access 27 May 2020

Sabrina J. Cai

,

Yang Liu

…

Chunzhang Yang

Cell & Bioscience Open Access 06 June 2019

André O von Bueren

,

Tarek Shalaby

…

Michael A Grotzer

BMC Cancer Open Access 25 January 2007
Access options
Subscribe to this journal
Receive 12 print issues and online access
$259.00 per year
only $21.58 per issue
Rent or buy this article
Get just this article for as long as you need it
$39.95
Prices may be subject to local taxes which are calculated during checkout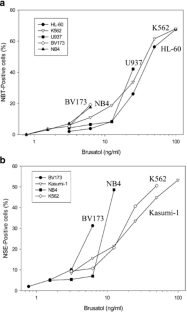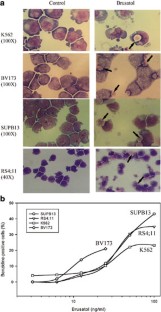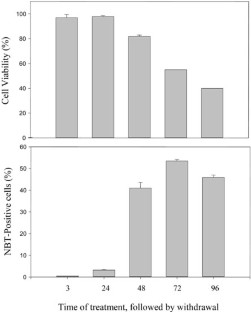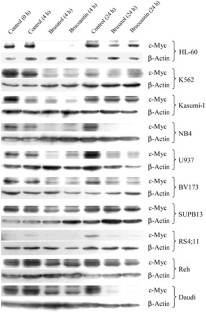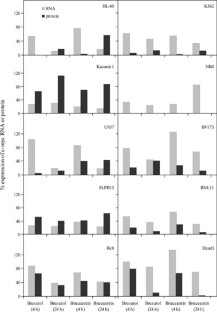 References
Sachs L . Constitutive uncoupling of pathways of gene expression that control growth and differentiation in myeloid leukemia: a model for the origin and progression of malignancy Proc Natl Acad Sci USA 1980 77: 6152–6156

Huang M-E, Ye Y-C, Chen S-R, Chai J-R, Lu J-X, Lin Z, Gu L-J, Wang Z-Y . Use of all-trans retinoic acid in the treatment of acute promyelocytic leukemia Blood 1988 72: 567–572

Warrell RP, de Thé H, Wang Z-Y, Degos L . Acute promyelocytic leukemia N Engl J Med 1993 329: 177–189

Weis K, Rambaud S, Lavau C, Jansen J, Carvalho T, Carmo-Fonseca M, Lamond A, Dejean A . Retinoic acid regulates aberrant nuclear localization of PML-RARα in acute promyelocytic leukemia cells Cell 1994 76: 345–356

Daniel MT, Koken M, Romagné O, Barbey S, Bazarbachi A, Stadler M, Guilemin MC, Degos L, Chomienne C, de Thé H . PML protein expression in hematopoietic and acute promyelocytic leukemia cells Blood 1993 82: 1858–1867

Dyck JA, Maul GG, Miller WH Jr, Chen JD, Kakizuka A, Evans RM . A novel macromolecular structure is a target of the promyelocyte-retinoic acid receptor oncoprotein Cell 1994 76: 333–343

Dan S, Naito M, Tsuruo T . Selective induction of apoptosis in Philadelphia chromosome-positive chronic myelogenous leukemia cells by an inhibitor of BCR-ABL tyrosine kinase, CGP 57148 Cell Death Differ 1998 5: 710–715

Dalla Favera R, Bregni M, Erikson J, Patterson D, Gallo RC, Croce CM . Assignment of the human c-myc oncogene to the region of chromosome 8 which is translocated in Burkitt lymphoma cells Proc Natl Acad Sci USA 1982 79: 7824–7827

Ar-Rushdi A, Nishikura K, Erikson J, Watt R, Rovera G, Croce CM . Differential expression of the translocated and of the untranslocated c-myc oncogene in Burkitt lymphoma Science 1983 222: 390–393

Ryan KM, Birnie GD . Myc oncogenes: the enigmatic family Biochem J 1996 314: 713–721

Collins JF, Herman P, Schuch C, Bagby GC Jr . c-Myc antisense oligonucleotides inhibit the colony-forming capacity of Colo320 colonic carcinoma cells J Clin Invest 1992 9: 1523–1527

Negroni A, Scarpa S, Romeo A, Ferrari S, Modesti A, Raschella G . Decrease of proliferation rate and induction of differentiation by a MYCN antisense DNA oligomer in a human neuroblastoma cell line Cell Growth Differ 1991 2: 511–518

Nguyen HQ, Selvakumaran M, Liebermann DA, Hoffman B . Blocking c-Myc and Max expression inhibits proliferation and induces differentiation of normal and leukemic myeloid cells Oncogene 1995 11: 2439–2444

Stöcker U, Schaefer A, Marquardt H . DMSO-like rapid decrease in c-myc and c-myb mRNA levels and induction of differentiation in HL-60 cells by the anthracycline antitumor antibiotic aclarubicin Leukemia 1995 9: 146–154

Kharbanda SM, Sherman ML, Spriggs DR, Kufe DW . Effects of tiazofurin on protooncogene expression during HL-60 cell differentiation Cancer Res 1988 48: 5965–5968

Baker SJ, Pawlita M, Leutz A, Hoelzer D . Essential role of c-myc in ara-C induced differentiation of human erythroleukemia cells Leukemia 1994 8: 1309–1317

Linevsky J, Cohen MB, Hartman KD, Knode MC, Glazer RI . Effect of neplanocin A on differentiation, nucleic acid methylation, and c-myc mRNA expression in human promyelocytic leukemia cells Mol Pharmacol 1985 28: 45–50

Rabbits A, Watson JV, Lamond A, Forster A, Stinson A, Evan G, Fischer W, Atherton E, Sheppard E, Rabbitts TH . Metabolism of c-myc gene products: c-myc mRNA and protein expression in the cell cycle EMBO J 1985 4: 2009–2015

Spotts GD, Hann SR . Enhanced translation and increased turnover of c-myc proteins occur during differentiation of murine erythroleukemia cells Mol Cell Biol 1990 8: 3952–3964

Tang W, Eisenbrand G . Brucea javanica (L.) Merr. In: W Tang, Eisenbrand G (eds) Chinese Drugs of Plant Origin: Chemistry, Pharmacology, and Use in Traditional and Modern Medicine Springer-Verlag: Berlin 1992 207–222

Liao LL, Kupchan SM, Horwitz SB . Mode of action of the antitumor compound bruceantin, an inhibitor of protein synthesis Mol Pharmacol 1976 12: 167–176

Fresno M, Gonzales A, Vazquez D, Jimenez A . Bruceantin, a novel inhibitor of peptide bond formation Biochim Biophys Acta 1978 518: 104–112

Hall IH, Lee KH, Eigebaly SA, Imakura Y, Sumida Y, Wu RY . Antitumor agents XXXIV: mechanism of action of bruceoside A and brusatol on nucleic acid metabolism of P-388 lymphocytic leukemia cells J Pharm Sci 1979 68: 883–887

Liesmann J, Belt RJ, Haas CD, Hoogstraten B . Phase I study on bruceantin administered on a weekly schedule Cancer Treat Rep 1981 65: 883–885

Bedikian AY, Valdivieso M, Bodey GP, Murphy WK, Freireich EJ . Initial clinical studies with bruceantin Cancer Treat Rep 1979 63: 1843–1847

Wiseman CL, Yap HY, Bedikian AY, Bodey GP, Blumenschein GR . Phase II trial of bruceantin in metastatic breast carcinoma Am J Clin Oncol 1982 5: 389–391

Arsenau JC, Wolter JM, Kuperminc M, Ruckdeschel JC . A Phase II study of bruceantin (NSC 165563) in advanced malignant melanoma Invest New Drugs 1983 1: 239–242

Suh N, Luyengi L, Fong HHS, Kinghorn AD, Pezzuto JM . Discovery of natural product chemopreventive agents utilizing HL-60 cell differentiation as a model Anticancer Res 1995 15: 233–240

Luyengi L, Suh N, Fong HHS, Pezzuto JM, Kinghorn AD . A lignan and four terpenoids from Brucea javanica that induce differentiation with cultured HL-60 promyelocytic leukemia cells Phytochemistry 1996 43: 409–412

Trayner ID, Bustorff T, Etches AE, Mufti GJ, Foss Y, Farzaneh F . Changes in antigen expression on differentiating HL-60 cells treated with dimethylsulfoxide, all-trans retinoic acid, 1α,25-dihydroxyvitamin D3 or 12-O-tetradecanoyl phorbol 13-acetate Leuk Res 1998 22: 537–547

Vindeløv LL, Christensen IJ, Nissen NI . A detergent-trypsin method for the preparation of nuclei for flow cytometric DNA analysis Cytometry 1983 3: 323–327

Richon VM, Webb Y, Merger R, Sheppard T, Jursic B, Ngo L, Civoli F, Breslow R, Rifkind RA, Marks PA . Second generation hybrid polar compounds are potent inducers of transformed cell differentiation Proc Natl Acad Sci USA 1996 93: 5705–5708

Collins SJ . The HL-60 promyelocytic leukemia cell line: proliferation, differentiation, and cellular oncogene expression Blood 1987 70: 1233–1244

Lozzio CB, Lozzio BB . Human chronic myelogenous leukemia cell-line with positive Philadelphia chromosome Blood 1975 45: 321–334

Asou H, Tashiro S, Hamamoto K, Otsuji A, Kita K, Kamada N . Establishment of a human acute myeloid leukemia cell line (Kasumi-1) with 8;21 chromosome translocation Blood 1991 77: 2031–2036

Lanotte M, Martin-Thouvenin V, Najman S, Balerini P, Valensi F, Berger R . NB4, a maturation inducible cell line with t(15;17) marker isolated from a human acute promyelocytic leukemia (M3) Blood 1992 77: 1080–1085

Sundström C, Nilsson K . Establishment and characterization of a human histiocytic lymphoma cell line (U-937) Int J Cancer 1976 17: 565–577

Pegoraro L, Matera L, Ritz J, Levis A, Palumbo A, Biagini G . Establishment of a Ph1-positive human cell line (BV173) J Natl Cancer Inst 1983 70: 447–453

Naumovski L, Morgan R, Hecht F, Link MP, Glader BE, Smith SD . Philadelphia chromosome-positive acute lymphoblastic leukemia cell lines without classical breakpoint cluster region rearrangement Cancer Res 1988 48: 2876–2879

Abe R, Sandberg A . Significance of abnormalities involving chromosomal segment 11q23–25 in acute leukemia Cancer Genet Cytogenet 1984 13: 121–126

Shurtleff SA, Buijs A, Behm FG, Rubnitz JE, Raimondi SC, Hancock ML, Chan G-F, Pui C-H, Grosveld G, Downing JR . TEL/AML1 fusion resulting from a cryptic t(12;21) is the most common genetic lesion in pediatric ALL and defines a subgroup of patients with an excellent prognosis Leukemia 1995 9: 1985–1989

Epstein AL, Levy R, Kim H, Henle W, Henle G, Kaplan HS . Biology of the human malignant lymphomas Cancer 1978 42: 2379–2391

Bocchia M, Xu Q, Wesley U, Xu Y, Korontsvit T, Loganzo F, Albino AP, Scheinberg DA . Modulation of p53, WAF1/p21 and BCL-2 expression during retinoic acid-induced differentiation of NB4 promyelocytic cells Leuk Res 1997 21: 439–447

Lbbert M, Miller CW, Crawford L, Koeffler HP . p53 in chronic myelogenous leukemia J Exp Med 1988 167: 873–886

Hendrikse AS, Hunter AJ, Keraan M, Blekkenhorst GH . Effects of low dose irradiation on TK6 and U937 cells: induction of p53 and its role in cell-cycle delay and the adaptive response Int J Radiat Biol 2000 76: 11–21

Furuwatari C, Yagi A, Yamagami O, Ishikawa M, Hidaka E, Ueno I, Furihata K, Ogiso Y, Katsuyama T . A comprehensive system to explore p53 mutations Am J Clin Pathol 1998 110: 368–373

Aldridge DR, Radford IR . Explaining differences in sensitivity to killing by ionizing radiation between human lymphoid cell lines Cancer Res 1998 58: 2817–2824

Boxer LM, Dang CV . Translocations involving c-myc and c-myc function Oncogene 2001 20: 5595–5610

Adams JM, Cory S . The Bcl-2 protein family: arbiters of cell survival Science 1991 254: 1161–1167

de Alboran IM, O'Hagan RC, Gaertner F, Malynn B, Davidson L, Rickert R, Rajewsky K, DePinho RA, Alt FW . Analysis of c-MYC function in normal cells via conditional gene-targeted mutation Immunity 2001 14: 45–55

Trumpp A, Refaeli Y, Oskarsson T, Gasser S, Murphy M, Matin GR, Bishop JM . C-Myc regulated mammalian body size by controlling cell number but not cell size Nature 2001 414: 768–773

Adachi S, Obaya AJ, Han Z, Ramos-Desimone N, Wyche JH, Sedivy JM . C-Myc is necessary for DNA damage-induced apoptosis in the G2 phase of the cells cycle Mol Cell Biol 2001 21: 4929–4937

Hollingshead MG, Alley MC, Camalier RF, Abbott BJ, Mayo JG, Malspeis L, Grever MR . In vivo cultivation of tumor cells in hollow fibers Life Sci 1995 57: 131–141
Acknowledgements
Some of the data described in this manuscript were presented at the 91st Annual AACR Meeting, San Francisco, CA, April 1–5, 2000. The authors are grateful to the Drug Synthesis and Chemistry Branch, Developmental Therapeutics Program, Division of Treatment, National Cancer Institute, for the provision of bruceantin and to Dr K Hagen of the Research Resources Center (UIC) for analysis of samples by flow cytometry. Support for this work was provided by grant P01 CA48112 awarded by the National Cancer Institute.
About this article
Cite this article
Mata-Greenwood, E., Cuendet, M., Sher, D. et al. Brusatol-mediated induction of leukemic cell differentiation and G1 arrest is associated with down-regulation of c-myc. Leukemia 16, 2275–2284 (2002). https://doi.org/10.1038/sj.leu.2402696
Received:

Accepted:

Published:

Issue Date:

DOI: https://doi.org/10.1038/sj.leu.2402696
Keywords
quassinoids

brusatol

cell differentiation

cytotoxicity

c-MYC