Abstract
Cellular stressors induce various outcomes including inhibition of cell proliferation and cell death. Sodium salicylate (SA), a plant stress hormone, can suppress the proliferation or cause apoptosis in certain mammalian cancer cells. Plant stress hormones are activators of cellular responses, including cell death, to diverse stress situations in plants. Thus, we hypothesized that plant stress hormones share the ability to adversely affect cancer cells. We found that the plant stress hormone SA suppressed proliferation of lymphoblastic leukemia, prostate, breast and melanoma human cancer cells. Jasmonic acid (JA), a plant stress hormone belonging to the Jasmonate family, induced death in lymphoblastic leukemia cells and caused suppression of cell proliferation in the other human cancer cells mentioned above. Another member of the Jasmonate family, methyl jasmonate (MJ), induced death in each of the cell lines. Plant stress hormones did not affect normal human lymphocytes, in contrast to their strong effect on lymphoblastic leukemia cells. JA and MJ caused apoptotic death, as determined by characteristic nuclear morphology, flow cytometric DNA profile and elevation of caspase-3 activity. Finally, mice bearing EL-4 lymphoma and treated with MJ, survived for significantly (P = 0.00953) longer periods of time than untreated mice. These findings suggest that plant stress hormones may potentially be a novel class of anti-cancer drugs.
Relevant articles
Open Access articles citing this article.
Hye-Youn Kim

,

Hanyong Jin

…

Hyung-Kyoon Choi

Scientific Reports Open Access 28 February 2019

Fei Xie

,

Yawei Li

…

Guosong Jiang

Molecular Cancer Open Access 03 October 2018

Vera Leite

,

Alexandre Santos

…

Miriam Lourenço

BMC Proceedings Open Access 01 October 2014
Access options
Subscribe to Journal
Get full journal access for 1 year
$119.00
only $9.92 per issue
All prices are NET prices.
VAT will be added later in the checkout.
Tax calculation will be finalised during checkout.
Buy article
Get time limited or full article access on ReadCube.
$32.00
All prices are NET prices.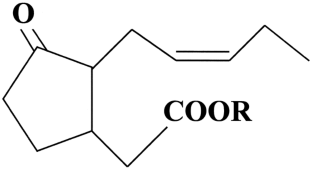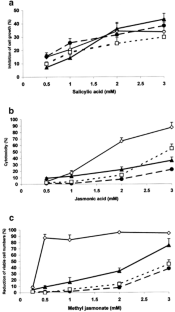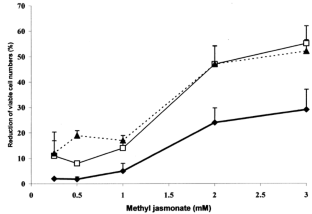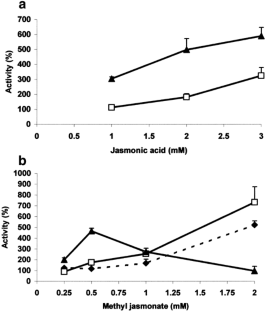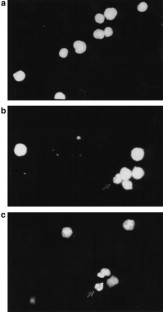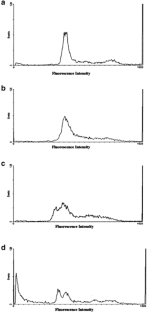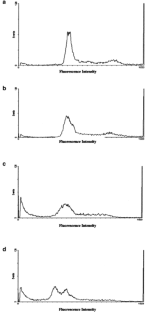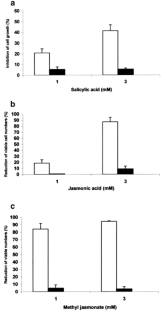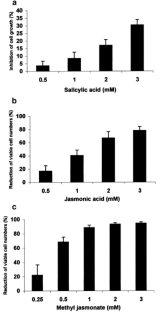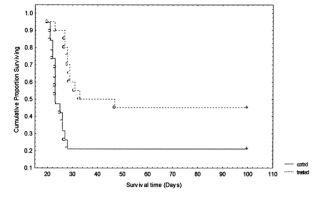 References
Somozy Z . Radiation response of cell organelles Micron 2000 31: 165–181

Janssen YM, Van Houten B, Borm PJ, Mossman BT . Cell and tissue responses to oxidative damage Lab Invest 1993 69: 261–274

Fujita J . Cold shock response in mammalian cells J Mol Microbiol Biotechnol 1999 1: 243–255

Guzzo J, Jobin MP, Delmas F, Fortier LC, Garmyn D, Tourdot-Marechal R, Lee B, Divies C . Regulation of stress response in Oenococcus oeni as a function of environmental changes and growth phase Int J Food Microbiol 2000 55: 27–31

Davies KJ . The broad spectrum of responses to oxidants in proliferating cells: a new paradigm for oxidative stress IUBMB Life 1999 48: 41–47

Willingham MC . Cytochemical methods for the detection of apoptosis J Histochem Cytochem 1999 47: 1101–1109

Stewart BW . Mechanisms of apoptosis: integration of genetic, biochemical, and cellular indicators J Cancer Inst 1994 86: 1286–1295

Arends MJ, Moris RG, Wyllie AH . Apoptosis: the role of the endonuclease Am J Pathol 1990 136: 593–608

Nicholson DW, Thomberry A . Caspases: killer proteases Trends Biochem Sci 1997 22: 299–306

Porter AG, Janicke RU . Emerging roles of caspases-3 in apoptosis Cell Death Differ 1999 6: 99–104

Bailly JD, Skladanowski A, Bettaieb A, Mansat V, Larsen AK, Laurent G . Natural resistance of acute myeloid leukemia cells lines to mitoxantrone is associated with lack of apoptosis Leukemia 1997 11: 1523–1532

Klampfer L, Cammenga J, Wisniewski HG, Nimer SD . Sodium salicylate activates caspases and induces apoptosis of myeloid leukemia cell lines Blood 1999 93: 2386–2394

Schwenger P, Bellosta P, Vietor I, Basilico C, Skolnik EY, Vilček J . Sodium salicylate induces apoptosis via p38 mitogen-activated protein kinase but inhibits tumor necrosis factor-induced c-Jun N-terminal kinase/stress-activated protein kinase activation Proc Natl Acad Sci USA 1997 94: 2869–2873

Sotiriou C, Lacroix M, Lagneaux L, Berchem G, Body JJ . The aspirin metabolite salicylate inhibits breast cancer cells growth and their synthesis of the osteolytic cytokines interleukins-6 and-11 Anticancer Res 1999 19: 2997–3006

Sembdner G, Parthier B . The biochemistry and the physiological and molecular actions of jasmonates Annu Rev Physiol Plant Mol Biol 1993 44: 569–589

Farmer EE, Ryan CA . Interplant communication: air-borne methyl jasmonate induces synthesis of proteinase inhibitors in plant leaves Proc Natl Acad Sci USA 1990 87: 7713–7716

Mitler R, Lam E . Sacrifice in the face of foes: pathogen-induced programmed cell death in higher plants Trends Microbiol 1996 4: 10–15

Dangl JL, Dietrich RA, Richberg MH . Death don't have no mercy: cell death programs in plant–microbe interactions Plant Cell 1996 8: 1793–1807

Goodman RN, Novacky AJ . The hypersensitive response reaction in plants to pathogens: a resistance phenomenon American Phytopathological Society: St Paul, MN 1994 (Abstr.)

Schwenger P, Alpert D, Skolnik EY, Vilček J . Cell-type-specific activation of c-Jun N-terminal kinase by salicylates J Cell Physiol 1999 179: 109–114

Flescher E, Fingrut O . Suppression of interleukin-2 biosynthesis by three modes of oxidative cellular stress: selective prevention by N-acetyl cysteine Cytokine 2000 12: 495–498

Katzung BG . Nonsteroidal anti-inflammatory drugs; disease-modifying antirheumatic drugs; nonopioid analgesics; drugs used in gout In: Katzung BG (ed.) Basic and Clinical Pharmacology, 7th edn Appleton & Lange: Stamford 1998 p 583

Kopp E, Ghosh S . Inhibition of NF-κB by sodium salicylate and aspirin Science 1994 265: 956–959

Jurivich DA, Sistonen L, Kroes RA, Morimoto I . Effect of sodium salicylate on the human heat shock response Science 1992 255: 1243–1245

Ryals JA, Neuenschwander UH, Willits MG, Molina A, Steiner H-Y, Hunt MD . Systemic acquired resistance Plant Cell 1996 8: 1809–1819

Abramson SB, Weissmann G . The mechanisms of action of nonsteroidal antiinflammatory drugs Arthritis Rheum 1989 32: 1–9

Morgan G . Non-steroidal anti-inflammatory drugs and the chemoprevention of colorectal and oesophageal cancers Gut 1996 38: 646–648

Peleg II, Lubin MF, Cotsonis GA, Clark WS, Wilcox CM . Long-term use of non-steroidal antiinflammatory drugs and other chemopreventors and risk of subsequent colorectal neoplasia Dig Dis Sci 1996 41: 1319–1326

Vainio H, Morgan G, Kleihues P . An international evaluation of the cancer-preventive potential of nonsteroidal anti-inflammatory drugs Cancer Epidemiol Biomarkers Prev 1997 6: 749–753

Shiff SJ, Qiao L, Tsai LL, Rigas B . Sulindac sulfide, an aspirin-like compound, inhibits proliferation, causes cell cycle quiescence, and induces apoptosis in HT-29 colon adenocarcinoma cells J Clin Invest 1995 96: 491–503

Bunce CM, Mountford JC, French PJ, Mole DJ, Durham J, Michell RH, Brown G . Potentiation of myeloid differentiation by anti-inflammatory agents, by steroids and by retinoic acid involves a single intracellular target, probably an enzyme of the aldoketoreductase family Biochem Biophys Acta 1996 1311: 189–198

Shiff SJ, Koutsos MI, Qiao L, Rigas B . Nonsteroidal antiinflammatory drugs inhibit the proliferation of colon adenocarcinoma cells: effects on cell cycle and apoptosis Exp Cell Res 1996 222: 179–188

Hial V, De Mello MC, Horakova Z, Beaven MA . Antiproliferative activity of anti-inflammatory drugs in two mammalian cell culture lines J Pharmacol Exp Ther 1977 202: 446–454

Wyllie AH . Apoptosis: an overview Br Med Bull 1997 53: 451–465

Bellosillo B, Pique M, Barragan M, Castano E, Villamor N, Colomer D, Montserrat E, Pons G, Gil J . Aspirin and salicylate induce apoptosis and activation of caspases in B-cell chronic lymphocytic leukemia cells Blood 1998 92: 1406–1414

McDade TP, Perugini RA, Vittimberga FJ Jr, Carrigan RC, Callery MP . Salicylates inhibit NF-kappaB activation and enhance TNF-alpha-induced apoptosis in human pancreatic cancer J Surg Res 1999 83: 56–61

Conconi A, Smerdon MJ, Howe GA, Ryan CA . The octadecanoid signalling pathway in plants mediates a response to ultraviolet radiation Nature 1996 383: 826–829

Needleman P, Turk J, Jakschik BA, Morrison AR, Lefkowith JB . Arachidonic acid metabolism Ann Rev Biochem 1986 55: 69–102

D'Onofrio C, Amici C, Puglianiello A, Faraoni I, Lanzilli G, Santoro MG, Bonmassar E . Comparative anti-viral and anti-proliferative activity of PGA1 and PGJ2 against HTLV-I-infected MT-2 cells Int J Cancer 1992 51: 481–488

Gorospe M, Liu Y, Xu Q, Cherst FJ, Holbrook NJ . Inhibition of G1 cyclin-dependent kinase activity during growth arrest of human breast carcinoma cells by prostaglandin A2 Mol Cell Biol 1996 16: 762–770

Sasaki H, Fukushima M . Prostaglandins in the treatment of cancer Anti-Cancer Drugs 1994 5: 131–138

Herskowitz I . MAP kinase pathways in yeast: for mating and more Cell 1995 80: 187–197

Hirt H . Multiple roles of MAP kinases in plant signal transduction Trends Plant Sci 1997 2: 11–15

Zhang S, Klessig DF . Salicylic acid activates a 48-kD MAP kinase in tobacco Plant Cell 1997 9: 809–824

Halliwell B . Free radicals and antioxidants: a personal view Nutr Rev 1994 52: 253–265

Buttke TM, Sandstrom PA . Oxidative stress as a mediator of apoptosis Immunol Today 1994 15: 7–10

Mittler R, Shulaev V, Seskar M, Lam E . Inhibition of programmed cell death in tobacco plants during a pathogen-induced hypersensitive response at low oxygen pressure Plant Cell 1996 8: 1991–2001

Yang Y, Shah J, Klessig DF . Signal perception and transduction in plant defense responses Genes Dev 1997 11: 1621–1639

Mittler R, Feng X, Cohen M . Post-transcriptional suppression of cytosolic ascorbate peroxidase expression during pathogen-induced programmed cell death in tobacco Plant Cell 1998 10: 461–473
Acknowledgements
We thank Prof Daniel Gold for his help with fluorescence microscopy. This work was supported by the Singer and Finghurt Foundations, Israel.
About this article
Cite this article
Fingrut, O., Flescher, E. Plant stress hormones suppress the proliferation and induce apoptosis in human cancer cells. Leukemia 16, 608–616 (2002). https://doi.org/10.1038/sj.leu.2402419
Received:

Accepted:

Published:

Issue Date:

DOI: https://doi.org/10.1038/sj.leu.2402419
Keywords
salicylic acid

jasmonic acid

methyl jasmonate

lymphoblastic leukemia

caspase-3

lymphoma