Abstract
The relative levels of the deoxycytidine kinase (dCK), deoxyguanosine kinase (dGK), and the 5′-nucleotidase (5′-NT) are of importance for the effect of many nucleoside analogues used in the treatment of hematological malignancies. To elucidate dCK, dGK and 5′-NT gene expressions in cell lines and in samples from patients with leukemia, we have established a real-time quantitative PCR (RQ-PCR) method. From the available dCK, dGK and 5′-NT cDNA sequences we designed specific primers and fluorogenic probes for the respective genes. The mRNA of dCK, dGK and 5′-NT was also measured by semi-quantitative RT-PCR, the enzyme activities by a radioactive substrate-based technique and Western blot was used to measure the amount of dCK and dGK protein. A MOLT-4 wild-type and its 9-β-D-arabinofuranosylguanine (Ara-G)-resistant subline was used for the methods comparisons and the RQ-PCR assay was used in 35 samples from pediatric patients with ALL and AML. The results from RQ-PCR for the cell lines were in agreement with the semi-quantitative RT-PCR. The mRNA expression for dCK, dGK and 5′-NT (expressed as the ratio of the respective gene and the reference gene) in pediatric ALL and AML patients showed a large interindividual variability from 0.06 to 2.34, non-detectable to 0.06 and 0.04 to 0.30, respectively. These results show that the quantitative evaluation by RQ-PCR is a valuable tool in the determination of dCK, dGK and 5'-NT mRNA levels in cell lines and in clinical samples which were expressed at various levels. This rapid, convenient and specific method is suitable for further studies of these genes in clinical samples.
Access options
Subscribe to this journal
Receive 12 print issues and online access
$259.00 per year
only $21.58 per issue
Rent or buy this article
Get just this article for as long as you need it
$39.95
Prices may be subject to local taxes which are calculated during checkout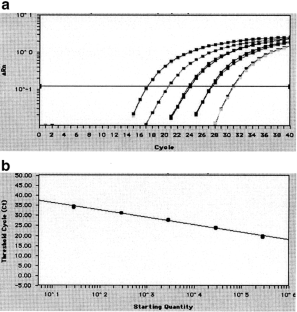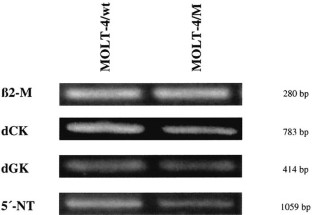 References
Sjoberg AH, Wang L, Eriksson S . Substrate specificity of human recombinant mitochondrial deoxyguanosine kinase with cytostatic and antiviral purine and pyrimidine analogs Mol Pharmacol 1998 53: 270–273

Schirmer M, Stegmann AP, Geisen F, Konwalinka G . Lack of cross-resistance with gemcitabine and cytarabine in cladribine-resistant HL60 cells with elevated 5′-nucleotidase activity Exp Hematol 1998 26: 1223–1228

Santana VM, Mirro J Jr, Harwood FC, Cherrie J, Schell M, Kalwinsky D, Blakley RL . A phase I clinical trial of 2-chlorodeoxyadenosine in pediatric patients with acute leukemia J Clin Oncol 1991 9: 416–422

Bhalla K, Nayak R, Grant S . Isolation and characterization of a deoxycytidine kinase-deficient human promyelocytic leukemic cell line highly resistant to 1-beta-D-arabinofuranosylcytosine Cancer Res 1984 44: 5029–5037

Kakihara T, Fukuda T, Tanaka A, Emura I, Kishi K, Asami K, Uchiyama M . Expression of deoxycytidine kinase (dCK) gene in leukemic cells in childhood: decreased expression of dCK gene in relapsed leukemia Leuk Lymphoma 1998 31: 405–409

Arner ES, Spasokoukotskaja T, Juliusson G, Liliemark J, Eriksson S . Phosphorylation of 2-chlorodeoxyadenosine (CdA) in extracts of peripheral blood mononuclear cells of leukaemic patients Br J Haematol 1994 87: 715–718

Hershfield MS, Fetter JE, Small WC, Bagnara AS, Williams SR, Ullman B, Martin DW Jr, Wasson DB, Carson DA . Effects of mutational loss of adenosine kinase and deoxycytidine kinase on deoxyATP accumulation and deoxyadenosine toxicity in cultured CEM human T-lymphoblastoid cells J Biol Chem 1982 257: 6380–6386

Ullman B, Coons T, Rockwell S, McCartan K . Genetic analysis of 2′,3′-dideoxycytidine incorporation into cultured human T lymphoblasts J Biol Chem 1988 263: 12391–12396

Dumontet C, Fabianowska-Majewska K, Mantincic D, Callet Bauchu E, Tigaud I, Gandhi V, Lepoivre M, Peters GJ, Rolland MO, Wyczechowska D, Fang X, Gazzo S, Voorn DA, Vanier-Viornery A, MacKey J . Common resistance mechanisms to deoxynucleoside analogues in variants of the human erythroleukaemic line K562 Br J Haematol 1999 106: 78–85

Mansson E, Spasokoukotskaja T, Sallstrom J, Eriksson S, Albertioni F . Molecular and biochemical mechanisms of fludarabine and cladribine resistance in a human promyelocytic cell line Cancer Res 1999 59: 5956–5963

Arner ES, Eriksson S . Mammalian deoxyribonucleoside kinases Pharmacol Ther 1995 67: 155–186

Gilliland G, Perrin S, Blanchard K, Bunn HF . Analysis of cytokine mRNA and DNA: detection and quantitation by competitive polymerase chain reaction Proc Natl Acad Sci USA 1990 87: 2725–2729

Heid CA, Stevens J, Livak KJ, Williams PM . Real time quantitative PCR Genome Res 1996 6: 986–994

Pallisgaard N, Clausen N, Schroder H, Hokland P . Rapid and sensitive minimal residual disease detection in acute leukemia by quantitative real-time RT-PCR exemplified by t(12;21) TEL- AML1 fusion transcript Genes Chromosom Cancer 1999 26: 355–365

Borovkov AY, Rivkin MI . XcmI-containing vector for direct cloning of PCR products Biotechniques 1997 22: 812–814

Gibson UE, Heid CA, Williams PM . A novel method for real time quantitative RT-PCR Genome Res 1996 6: 995–1001

Spasokoukotskaja T, Arner ES, Brosjo O, Gunven P, Juliusson G, Liliemark J, Eriksson S . Expression of deoxycytidine kinase and phosphorylation of 2-chlorodeoxyadenosine in human normal and tumour cells and tissues Eur J Cancer 1995 2: 202–208

Spychala J, Mitchell BS . Regulation of low Km (ecto-) 5′-nucleotidase gene expression in leukemic cells Adv Exp Med Biol 1994 370: 683–687

Hatzis P, Al-Madhoon AS, Jullig M, Petrakis TG, Eriksson S, Talianidis I . The intracellular localization of deoxycytidine kinase J Biol Chem 1998 273: 30239–30243

Jullig M, Eriksson S . Mitochondrial and submitochondrial localization of human deoxyguanosine kinase Eur J Biochem 2000 267: 5466–5472

Mansson E, Jonsson K, Albertioni F . Identification and characterization of human deoxyguanosine kinase cDNA fragments Cancer Lett 2001 170: 147–152

Arner ES . On the phosphorylation of 2-chlorodeoxyadenosine (CdA) and its correlation with clinical response in leukemia treatment Leuk Lymphoma 1996 21: 225–231

Kawasaki H, Shindou K, Higashigawa M, Cao DC, Hori H, Ido M, Sakurai M . Deoxycytidine kinase mRNA levels in leukemia cells with competitive polymerase chain reaction assay Leuk Res 1996 20: 677–682

Kawasaki H, Carrera CJ, Piro LD, Saven A, Kipps TJ, Carson DA . Relationship of deoxycytidine kinase and cytoplasmic 5′-nucleotidase to the chemotherapeutic efficacy of 2-chlorodeoxyadenosine Blood 1993 81: 597–601

Galmarini CM, Graham K, Thomas X, Calvo F, Rousselot P, El Jafaari A, Cros E, Mackey JR, Dumontet C . Expression of high Km 5′-nucleotidase in leukemic blasts is an independent prognostic factor in adults with acute myeloid leukemia Blood 2001 98: 1922–1926

Pieters R, Veerman AJ . The role of 5′-nucleotidase in therapy resistance of childhood leukemia Med Hypotheses 1988 27: 77–80

Rampazzo C, Gazziola C, Ferraro P, Gallinaro L, Johansson M, Reichard P, Bianchi V . Human high-Km 5′-nucleotidase effects of overexpression of the cloned cDNA in cultured human cells Eur J Biochem 1999 261: 689–697

Rampazzo C, Johansson M, Gallinaro L, Ferraro P, Hellman U, Karlsson A, Reichard P, Bianchi V . Mammalian 5′(3′)-deoxyribonucleotidase, cDNA cloning, and overexpression of the enzyme in Escherichia coli and mammalian cells J Biol Chem 2000 275: 5409–5415

Rampazzo C, Gallinaro L, Milanesi E, Frigimelica E, Reichard P, Bianchi V . A deoxyribonucleotidase in mitochondria: involvement in regulation of dNTP pools and possible link to genetic disease Proc Natl Acad Sci USA 2000 97: 8239–8244

Stammler G, Zintl F, Sauerbrey A, Volm M . Deoxycytidine kinase mRNA expression in childhood acute lymphoblastic leukemia Anticancer Drugs 1997 8: 517–521

Yang LY, Li L, Keating MJ, Plunkett W . Arabinosyl-2-fluoroadenine augments cisplatin cytotoxicity and inhibits cisplatin-DNA cross-link repair Mol Pharmacol 1995 47: 1072–1079
Acknowledgements
This study was supported by grants from the Swedish Children Cancer Foundation, the Swedish Medical Council and the Swedish Cancer Foundation.
About this article
Cite this article
Månsson, E., Liliemark, E., Söderhäll, S. et al. Real-time quantitative PCR assays for deoxycytidine kinase, deoxyguanosine kinase and 5'-nucleotidase mRNA measurement in cell lines and in patients with leukemia. Leukemia 16, 386–392 (2002). https://doi.org/10.1038/sj.leu.2402388
Received:

Accepted:

Published:

Issue Date:

DOI: https://doi.org/10.1038/sj.leu.2402388
Keywords
leukemia

deoxycytidine kinase

deoxyguanosine kinase

5′-nucleotidase

mRNA

RQ-PCR
This article is cited by
Emma K Baker
Ricky W Johnstone
Assam El-Osta

Oncogene (2005)