Abstract
Myelopoietins comprise a class of chimeric cytokine receptor agonists consisting of an hIL-3 (human interleukin-3) receptor agonist and an hG-CSF (human granulocyte colony-stimulating factor) receptor agonist linked head-to-tail at their respective carboxy and amino termini. The combination of an early acting cytokine (hIL-3) with a late acting one (hG-CSF) allows efficient hematopoeitic reconstruction following myeloablative insult, and drives differentiation of non-myelocytic lineages (ie thrombocytic lineages) that are inaccessible using hG-CSF alone, in both preclinical models and clinical settings. A myelopoietin species was displayed and mutagenized on filamentous bacteriophage: both component agonists of myelopoietin were presented in biologically functional conformations as each recognized its corresponding receptor. Five amino acid positions in a short region of the hG-CSF receptor agonist module of myelopoietin that had been identified as important for proliferative activity were mutagenized. Display was used because it allows very 'deep' mutagenesis at selected residues: >105 substitution variants were affinity-screened using the hG-CSF receptor and 130 new, active variants of myelopoietin were identified and characterized. None of the selected variants were significantly more active than the parental myelopoietin species in a hG-CSF-dependent cell proliferation assay, though many were as active. Many of these relatively high-activity variants contained parental amino acids at several positions, suggesting the parental sequence may already be optimal at these positions for the assays used, and potentially accounting for the failure to identify enhanced bioactivity variants. Analysis of substitutions of high-activity variants complements and extends previous alanine scanning, and other genetic and biochemical data for hG-CSF variants.
Relevant articles
Open Access articles citing this article.
Katarzyna Hodyra

&

Krystyna Dąbrowska

Archivum Immunologiae et Therapiae Experimentalis Open Access 22 July 2014
Access options
Subscribe to this journal
Receive 12 print issues and online access
$259.00 per year
only $21.58 per issue
Rent or buy this article
Get just this article for as long as you need it
$39.95
Prices may be subject to local taxes which are calculated during checkout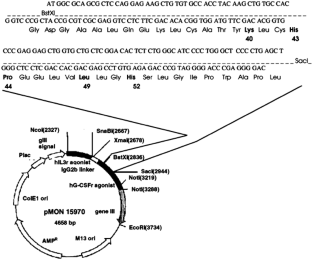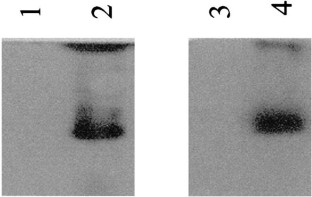 References
McWherter CA, Feng Y, Zurfluh LL, Klein BK, Baganoff MP, Polazzi JO, Hood WF, Paik K, Abegg AL, Grabbe ES, Shieh JJ, Donnelly AM, McKearn JP . Circular permutation of the granulocyte colony-stimulating factor receptor agonist domain of myelopoietin Biochemistry 1999 38: 4564–4571

Bazan JF . Haemopoietic receptors and helical cytokines Immunol Today 1990 11: 350–354

Nagata S, Fukunaga R . Granulocyte colony-stimulating factor and its receptor Prog Growth Factor Res 1991 3: 131–141

Metcalf D . Hematopoietic regulators: redundancy or subtlety? Blood 1993 82: 3515–3523

Mertlesmann R . Hematopoietic cytokines: from biology and pathophysiology to clinical application Leukemia 1993 7: (Suppl. 2) S168–S177

Budel LM, Dong F, Lowenberg B, Tuow IP . Hematopoeitic growth receptors: structure variation and alternatives formation in normal hematopoiesis and hematopoietic disorders Leukemia 1995 9: 553–561

Tohda S, Kurokawa H, Nara H . Diversity and similarity in signalling pathways of hematopoietic growth factors Leukemia 1995 9: 879–883

Miyajima A . Cytokine regulation: an overview Leukemia 1997 11: (Suppl. 3) S413–S415

Pebusque MJ, Fay C, Lafarge M, Sempere C, Saeland S, Caux C, Mannoni P . Recombinant human IL-3 and G-CSF act synergistically in stimulating the growth of leukemia cells Leukemia 1989 3: 200–205

MacVittie TJ, Farese AM, Smith WG, Baum CM, Burton E, McKearn JP . Myelopoeitin, an engineered chimeric IL-3 and G-CSF receptor agonist, stimulates multilineage hematopoietic recovery in a nonhuman primate model of radiation-induced myelosuppression Blood 2000 95: 837–845

Clackson T, Wells JA . In vitro selection from protein and peptide libraries Trends Biotechnol 1994 12: 173–184

Winter J . Bacteriophage display: peptide libraries and drug discovery Drug Dev Res 1994 33: 71–89

Parmley SF, Smith GP . Antibody-selectable filamentous fd phage vectors: affinity purification of target genes Gene 1988 73: 305–318

Merlin S, Rowold E, Abegg A, Berglund C, Klover J, Staten N, McKearn JP, Lee SC . Phage presentation and affinity selection of a deletion mutant of human interleukin-3 Appl Biochem Biotechnol 1997 67: 199–214

Gram H, Strittmatter U, Lorenz M, Gluck D, Zenke G . Phage display as a rapid gene expression system: production of bioactive cytokine-phage and generation of neutralizing monoclonal antibodies J Immunol Meth 1993 161: 169–176

Bass S, Greene R, Wells JA . Hormone phage: an enrichment method for variant proteins with altered binding properties Proteins 1995 8: 309–314

Saggio I, Gloaguen I, Laufer R . Functional phage display of ciliary neurotrophic factor Gene 1995 152: 35–39

Buchli PJ, Wu Z, Ciardelli TL . The functional display of interleukin-2 on filamentous phage Arch Biochem Biophys 1997 339: 79–84

Toniatti C, Cabibbo A, Sporena E, Salvati AL, Cerretani M, Serafini S, Lahm A, Cortese R, Ciliberto G . Engineering human interleukin-6 to obtain variants with strongly enhanced bioactivity EMBO J 1996 15: 2726–2737

Hill CP, Osslund TD, Eisenberg D . The structure of granulocyte colony-stimulating factor and its relationship to other growth factors Proc Natl Acad Sci USA 1993 90: 5167–5171

de Vos AM, Ultsch M, Kossiakoff AA . Human growth hormone and extracellular domain of its receptor: crystal structure of the complex Science 1992 255: 306–312

Reidhaar-Olson JF, De Souza-Hart JA, Selick HE . Identification of residues critical to the activity of human granulocyte colony-stimulating factor Biochemistry 1996 35: 9034–9041

Young DC, Zhan H, Cheng Q-L, Hou J, Matthews DG . Characterization of receptor binding determinants of granulocyte colony-stimulating factor Protein Sci 1997 6: 1228–1236

Layton JE, Shimamoto G, Osslund T, Hammacher A, Smith DK, Truitlein HR, Boone T . Interaction of granulocyte colony-stimulating factor (G-CSF) with its receptor J Biol Chem 1999 274: 17445–17451

Layton JE, Morstyn G, Fabri LJ, Reid GE, Burgess AW, Simpson RJ, Nice EC . Identification of a functional domain of human granulocyte colony-stimulating factor using neutralizing monoclonal antibodies J Biol Chem 1991 266: 23815–23823

Bashford D, Chothia C, Lesk AM . Determinants of a protein fold. Unique features of the globin amino acid sequences J Mol Biol 1987 196: 199–216

Reidhaar-Olson JF, Sauer RT . Combinatorial cassette mutagenesis as a probe of the informational content of protein sequences Science 1988 241: 53–57

Pearce K, Cunningham B, Fuh G, Teeri T, Wells JA . Growth hormone binding affinity for its receptor surpasses the requirements for cellular activity Biochemistry 1999 38: 81–89

Sambrook J, Fritsch EF, Maniatis T . Molecular Cloning: A Laboratory Manual 2nd edn Cold Spring Harbor Laboratory Press: New York 1989

Caparon MH, De Ciechi PA, Devine CS, Olins PO, Lee SC . Analysis of novel streptavidin-binding peptides, identified using a phage display library, shows that amino acids external to a perfectly conserved consensus sequence and to the presented peptides contribute to binding Mol Divers 1996 1: 241–246

Prober JM, Trainor GL, Dam RJ, Hobbs FW, Robertson CW, Zagursky RJ, Cocuzza AJ, Jensen MA, Baumeister K . A system for rapid DNA sequencing with fluorescent chain-terminating dideoxynucleotides Science 1987 238: 336–341

Olins PO, Bauer SC, Braford-Goldberg S, Sterbenz K, Polazzi JO, Caparon MH, Klein BK, Easton AM, Paik K, Klover JA, Thiele BR, McKearn JP . Saturation mutagenesis of human interleukin-3 J Biol Chem 1995 270: 23754–23760

Roberts D, Guegler K, Winter J . Antibody as a surrogate receptor in the screening of a phage display library Gene 1993 128: 67–69

Huston JS, Levinson D, Mudgett-Hunter M, Tai M-S, Novotny J, Margolies MN, Ridge RJ, Bruccoleri RE, Haber E, Crea R, Oppermann H . Protein engineering of antibody binding sites: recovery of specific activity in an anti-digoxin single-chain Fv analogue produced in Escherichia coli Proc Natl Acad Sci USA 1988 85: 5879–5833

McCafferty J, Griffiths AD, Winter G, Chiswell DJ . Phage antibodies: filamentous phage displaying antibody variable fragments Nature 1990 348: 552–554

Willems PM, Hoet RM, Huys EL, Raats JM, Mensink EJ, Raymakers RA . Specific detection of myeloma plasma cells using anti-idiotypic single chain selected from a phage display library Leukemia 1998 12: 1295–1302

Kingsbury GA, Waldmann TA, Junghans RP . Examination of the role for idiotypy in the disease remission of a long-term survivor of adult T cell leukemia treated with anti-Tac antibody Leukemia 1998 12: 982–991

Ciardelli TL . Reengineering growth factors 'through the looking glass' Nat Biotechnol 1996 14: 1652

Saggio I, Gloaguen I, Poiana G, Laufer R . CNTF variants with increased potency and receptor selectivity define a functional site of receptor interaction EMBO J 1996 14: 3045–3054

Thomas JW, Baum CM, Hood WF, Klein B, Monahan JB, Paik K, Staten N, Abrams M, McKearn JP . Potent interleukin-3 receptor agonist with selectively enhancedhematopoeitic activity relative to rhIL-3 Proc Natl Acad Sci USA 1995 92: 3779–3783

Wrighton NC, Farrell FX, Chang R, Kashyap AK, Barbone FP, Mulcahy LS, Johnson DL, Barrett RW, Joliffe LK, Dower WJ . Small peptides as potent mimetics of the protein hormone erythropoietin Science 1996 273: 458–464

Cwirla SE, Balasubramanian P, Duffin DJ, Wagstrom CR, Gates CM, Singer SC, Davis AM, Tansik RL, Mattheakis LC, Boytos CM, Schatz PJ, Baccanari DP, Wrighton NC, Barrett RX, Dower WJ . Peptide agonist of the thrombopoeitin receptor as potent as the natural cytokine Science 1997 276: 1696–1699

Ballinger MD, Shymala V, Forest LD, Deuter-Reinhard M, Doyle LV, Wang J-X, Panganiban-Lustan L, Stratton JR, Apell G, Winter JA, Doyle MA, Rosenberg S, Kavanaugh WM . Semirational design of a potent, artificial agonist of fibroblast growth factor receptor Nat Biotechnol 1999 17: 1199–1204

Kreitman RJ, Puri RK, McPhie P, Pastan I . Circularly permuted interleukin 4 retains proliferative and binding activity Cytokine 1995 7: 311–318

Kreitman RJ, Puri RK, Pastan I . Increased antitumor activity of a circularly permuted interleukin 4-toxin in mice with interleukin 4 receptor-bearing human carcinoma Cancer Res 1995 55: 3357–3363

Kreitman RJ, Puri RK, Pastan I . A circularly permuted recombinant interleukin 4 toxin with increased activity Proc Natl Acad Sci USA 1994 91: 6889–6893

Shaw A, Bott R . Engineering enzymes for stability Curr Opin Struct Biol 1996 6: 546–550

O'Fagain C . Understanding and increasing protein stability Biochim Biophys Acta 1995 1252: 125–130

Arnold FH . Protein engineering for unusual environments Curr Opin Biotechnol 1993 4: 450–455

Kuchner O, Arnold FH . Directed evolution of enzyme catalysts Trends Biotechnol 1997 15: 523–530
Acknowledgements
The authors acknowledge Joe Monahan, Joe Welply, Dave Wood, Keats Nelms, Paul Hippenmeyer, Bernie Violand, Walter Smith, Chuck McWherter, Judy Giri and Maire Caparon for helpful discussions and critical review of the manuscript.
About this article
Cite this article
Lee, S., Ibdah, R., Van Valkenburgh, C. et al. Phage display mutagenesis of the chimeric dual cytokine receptor agonist myelopoietin. Leukemia 15, 1277–1285 (2001). https://doi.org/10.1038/sj.leu.2402163
Received:

Accepted:

Published:

Issue Date:

DOI: https://doi.org/10.1038/sj.leu.2402163
Keywords
chimeric

cytokine

display

hG-CSF

hIL-3

mutagenesis

myelopoietin
This article is cited by
Katarzyna Hodyra
Krystyna Dąbrowska

Archivum Immunologiae et Therapiae Experimentalis (2015)

Cellular and Molecular Life Sciences (2010)

Biomedical Microdevices (2010)