Abstract
In the randomized trial AML-BFM 93 we compared 60 mg/m2/day daunorubicin with 12 mg/m2/day idarubicin for 3 days each, combined with cytarabine and etoposide during induction. Results showed a significant better blast cell reduction in the bone marrow on day 15 in patients of the idarubicin arm (25 of 144 = 17% of patients with ⩾5% blasts compared to 46 of 149 = 31% of patients after daunorubicin, Pχ2 = 0.01). This was, however, mainly seen in high risk patients treated with idarubicin (19% vs 38%, Pχ2 = 0.007). Cardiotoxicity, WHO grade 1–3 shortening fraction reduction after induction occurred in 6% patients in both arms. Bone marrow toxicity differed slightly with a median recovery time of neutrophils >500/μl of 25 days (daunorubicin) compared to 27 days (idarubicin), P = 0.05. In the total group of patients probabilities of 5 years event-free survival and disease-free survival were similar for patients treated with daunorubicin or idarubicin (49% ± 4% vs 55% ± 4% and 57% ± 4% vs 64% ± 4%, P logrank 0.29 and 0.15, respectively). However, in patients presenting with more than 5% blasts on day 15 there was a trend for a better outcome after treatment with idarubicin (P logrank 0.06). Together with the early effect seen for high risk patients these results indicate a better efficacy of idarubicin than of daunorubicin during induction with a similar rate of toxicity.
Access options
Subscribe to Journal
Get full journal access for 1 year
$1,224.00
only $102.00 per issue
All prices are NET prices.
VAT will be added later in the checkout.
Rent or Buy article
Get time limited or full article access on ReadCube.
from$8.99
All prices are NET prices.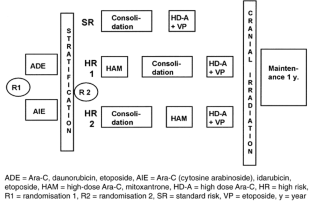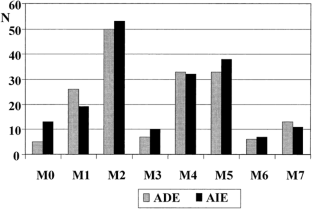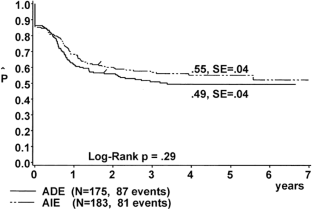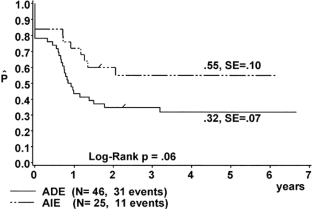 References
1

Berman E, Heller G, Santorsa J, McKenzie S, Gee T, Kempin S, Gulati S, Andreeff M, Kolitz J, Gabrilove J, Reich L, Mayer K, Keefe D, Trainor K, Schluger A, Penenberg D, Raymond V, O'Reilly R, Jhanwar S, Young C, Clarkson B . Results of a randomized trial comparing idarubicin and cytosine arabinoside with daunorubicin and cytosine arabinoside in adult patients with newly diagnosed acute myelogenous leukemia Blood 1991 77: 1666–1674

2

Vogler WR, Velez-Garcia E, Weiner RS, Flaum MA, Bartolucci AA, Omura GA, Gerber MC, Banks PLC . A phase III trial comparing idarubicin and daunorubicin in combination with cytarabine in acute myelogenous leukemia: a Southeastern Cancer Study Group J Clin Oncol 1992 10: 1103–1111

3

Wiernik PH, Banks PLC, Case DC Jr, Arlin ZA, Perlman PO, Todd MB, Ritch PS, Enck RE, Weitberg AB . Cytarabine plus idarubicin or daunorubicin as induction and consolidation therapy for previously untreated adult patients with acute myeloid leukemia Blood 1992 79: 313–319

4

Carella AM, Berman E, Maraone MP, Ganzina F . Idarubicin in the treatment of acute leukemias. An overview of preclinical and clinical studies Haematologica 1990 75: 159–169

5

Berman E, McBride M . Comparative cellular pharmacology of daunorubicin and idarubicin in human multidrug-resistant leukemia cells Blood 1992 79: 3267–3273

6

Hollingshead LM, Faulds D . Idarubicin. A review of its pharmacodynamic and pharmacokinetic properties, and therapeutic potential in the chemotherapy of cancer Drugs 1991 42: 690–719

7

Kesavan S, Lincoff AM, Young JB . Anthracycline-induced cardiotoxicity Ann Intern Med 1996 125: 47–58

8

Bennett JM, Catovsky D, Daniel MT, Flandrin G, Galton DAG, Gralnick HR, Sultan C . Proposed revised criteria for the classification of acute myeloid leukemia Ann Intern Med 1985 103: 626–629

9

Bennett JM, Catovsky D, Daniel MT, Flandrin G, Galton DAG, Gralnick HR, Sultan C . Criteria for the diagnosis of acute leukemia of megakaryocyte lineage (M7). A report of the French–American–British Cooperative Group Ann Intern Med 1985 103: 460–462

10

Bennett JM, Catovsky D, Daniel MT, Flandrin G, Galton DA, Gralnick HR, Sultan C . Proposal for the recognition of minimally differentiated acute myeloid leukaemia (AML-M0) Br J Haematol 1991 78: 325–329

11

Creutzig U, Ritter J, Zimmermann M, Schellong G, for the AML-BFM Study Group . Does cranial irradiation reduce the risk for bone marrow relapse in acute myelogenous leukemia (AML): unexpected results of the childhood AML Study BFM-87 J Clin Oncol 1993 11: 279–286

12

Creutzig U, Zimmermann M, Ritter J, Henze G, Graf N, Löffler H, Schellong G . Definition of a standard-risk group in children with AML Br J Haematol 1999 104: 630–639

13

Cheson BD, Cassileth PA, Head DR, Schiffer CA, Bennett JM, Bloomfield CD, Brunning R, Gale RP, Grever MR, Keating MJ, Sawitsky A, Stass S, Weinstein H, Woods WG . Report of the National Cancer Institute-sponsored workshop on definitions and response in acute myeloid leukemia J Clin Oncol 1990 8: 813–819

14

The National Cancer Institute. Investigators Handbook, a manual for participants in clinical trials of investigational agents sponsored by the Division of Cancer Treatment. The National Cancer Institute, Washington 1986

15

The AML Collaborative Group . A systemic collaborative overview of randomized trials comparing idarubicin with daunorubicn (or other anthracyclines) as induction therapy for acute myeloid leukaemia Br J Haematol 1998 103: 100–109

16

Berman E . A review of idarubicin in acute leukemia Oncol Huntingt 1993 7: 91–98

17

Panzer-Grümayer ER, Schneider M, Panzer S, Fasching K, Gadner H . Rapid molecular response during early induction chemotherapy predicts a good outcome in childhood acute lymphoblastic leukemia Blood 2000 95: 790–794

18

Gaynon PS, Desai AA, Bostrom BC, Hutchinson RJ, Lange BJ, Nachman JB, Reaman GH, Sather HN, Steinherz PG, Trigg ME, Tubergen DG, Uckun FM . Early response to therapy and outcome in childhood acute lymphoblastic leukemia: a review Cancer 1997 80: 1717–1726

19

Daghestani AN, Arlin Z, Leyland-Jones B, Gee TS, Empin S, Mertelsmann R, Budmann D, Schulman P, Baratz R, Williams L, Clarkson BDYCW . Phase I and II clinical and pharmacological study of 4-demethoxydaunorubicin (idarubicin) in adult patients with acute leukemia Cancer Res 1985 45: 1408–1412
Acknowledgements
We thank P Stappert, E Kurzknabe and J Meltzer for excellent technical assistance and Christa Lausch for her valuable assistance in the management of the AML studies. This study was supported by the Deutsche Krebshilfe.
Principal investigators of Study AML-BFM 93 in Germany
Principal investigators of Study AML-BFM 93 in Germany
R Mertens, Kinderklinik RWTH, Aachen; A Gnekow, I. Kinderklinik des Klinikums, Augsburg; GF Wündisch, Universitäts-Kinderklinik, Bayreuth; G Henze, CCVK-Kinderklinik Berlin; E Hilgenfeld, Charité-Kinderklinik; W Dörffel, II. Kinderklinik Berlin-Buch; N Jorch Kinderklinik Gilead Bielefeld, U Bode, Universitäts-Kinderklinik, Bonn; H-J Spaar/Th Lieber Prof Hess-Kinderklinik, Bremen; W Eberl, Städtische Kinderklinik, Braunschweig; I Krause, Städtische Kinderklinik Chemnitz; E Holfeld, Kinderklinik d Carl-Thiem-Klinikums Cottbus; W Andler/Th Wiesel, Vestische Kinderklinik, Datteln; I Lauterbach, Kinderklinik d TU Dresden; V Scharfe, Städtische Kinderklinik Dresden-Neustadt; G Weinmann, Universitäts-Kinderklinik Erfurt; JD Beck, Universitäts-Kinderklinik, Erlangen; W Havers Universitäts-Kinderklinik, Essen; B Kornhuber, Universitäts-Kinderklinik, Frankfurt; CM Niemeyer, Universitäts-Kinderklinik Freiburg; A Reiter/R Blütters-Sawatzki, Universitäts-Kinderklinik, Gieβen; M Lakomek/A Pekrun, Universitäts-Kinderklinik, Göttingen; JF Beck/H Weigel, Universitäts-Kinderklinik Greifswald; V Gerein Kinderklinik Gummersbach, S Burdach/T Rieβ, Universitäts-Kinderklinik Halle; H Kabisch/R Schneppenheim, Universitäts-Kinderklinik Hamburg; B Selle, Universitäts-Kinderklinik, Heidelberg; N Graf, Universitäts-Kinderklinik Homburg/Saar; J Hermann, Universitäts-Kinderklinik Jena; G Nessler, Städtische Kinderklinik, Karlsruhe; Th Wehinger, Städt Kinderklinik, Kassel; M Rister, Kinderklinik Kemperhof, Koblenz; F Berthold, Universitäts-Kinderklinik, Köln; W Sternschulte, Städtisches Kinderkrankenhaus, Köln; M Suttorp, Universitäts-Kinderklinik, Kiel; D Körholz/K Rieske, Universitäts-Kinderklinik Leipzig; P Bucsky, Universitäts-Kinderklinik, Lübeck; HCh Dominick Kinderklinik St Annastift Ludwigshafen, U Kluba, Universitäts-Kinderklinik Magdeburg; W Scheurlen, Städt Kinderklinik, Mannheim; P Gutjahr, Universitäts-Kinderklinik, Mainz; H Christiansen, Universitäts-Kinderklinik, Marburg; RJ Haas, v Haunersches Kinderspital, München; St Müller-Weihrich/L Stengel-Rutkowski, Kinderklinik der Technischen Universität, München-Schwabing; Ch Bender-Götze/M Führer, Universitäts-Kinderpoliklinik, München; H Jürgens, Universitäts-Kinderklinik, Münster; A Jobke, Cnopfsche Kinderklinik, Nürnberg; U Schwarzer, Städtische Kinderklinik, Nürnberg; G Eggers/M Hagen, Universitäts-Kinderklinik Rostock; R Schumacher, Kinderklinik Schwerin; R Dickerhoff, Johanniter Kinderklinik, St Augustin; J Treuner, Olgahospital, Stuttgart; D Niethammer/T Klingebiel, Universitäts-Kinderklinik Tübingen; W Behnisch, Universitäts-Kinderklinik, Ulm; J Kühl, Universitäts-Kinderklinik, Würzburg.
Principal investigators of Austria
C Urban, Universitäts-Kinderklinik d Landeskrankenhauses Graz; FM Fink, Universitäts-Kinderklinik d Aö Landeskrankenhauses Innsbruck; K Schmitt/G Ebetsberger Landes-Kinderkrankenhaus Linz; I Slavc AKH-Universitäts-Kinderklinik Wien; H Gadner St Anna-Kinderspital Wien
Principal investigators of Switzerland
P Imbach, Kinderklinik d Kantonsspital Aarau; PA Avoledo Universitäts-Kinderspital Basel; A Feldges Ostschweizerisches Kinderspital St Gallen; M Nenadov-Beck/C Desseng CHUV-Kinderklinik Lausanne; U Caflisch Kinderspital Luzern; L Nobile Buetti Kinderklinik Hospital La Carita Locarno; F Niggli/Universitäts-Kinderklinik Zürich
The coordinators of study AML-BFM 93
J Ritter, U Creutzig, J Hermann, H Gadner, Universitäts-Kinderklinik, Münster, Jena und St Anna Kinderspital Wien
About this article
Cite this article
Creutzig, U., Ritter, J., Zimmermann, M. et al. Idarubicin improves blast cell clearance during induction therapy in children with AML: results of study AML-BFM 93. Leukemia 15, 348–354 (2001) doi:10.1038/sj.leu.2402046
Received

Accepted

Issue Date
Keywords
AML in children

idarubicin

daunorubicin