Abstract
Peripheral T cell lymphomas are a heterogeneous group of post-thymic, mature lymphoid malignancies, accounting for approximately 10–15% of all non-Hodgkin's lymphomas. A rare entity within this group is represented by hepatosplenic γδ T cell lymphoma, which is characterized by primary extranodal disease with typical sinusoidal or sinusal infiltration of the liver and the spleen, respectively, by expression of the T cell receptor γδ chain, and by a number of other frequent clinicopathological features including aggressive course of disease. In contrast to these common attributes some biologic characteristics such as expression of cytotoxic proteins and cytotoxic activity have been controversial. In this review, clinicopathological, immunophenotypical, molecular biological, cytogenetical and biological findings, and diagnostic and therapeutic difficulties in hepatosplenic γδ T cell lymphoma are discussed.
Relevant articles
Open Access articles citing this article.
Wei Song

,

Haixi Zhang

…

Ruoyu Zhang

Cellular Oncology Open Access 22 November 2022
Access options
Subscribe to Journal
Get full journal access for 1 year
$119.00
only $9.92 per issue
All prices are NET prices.
VAT will be added later in the checkout.
Tax calculation will be finalised during checkout.
Buy article
Get time limited or full article access on ReadCube.
$32.00
All prices are NET prices.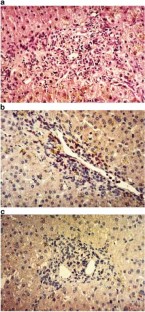 References
Farcet J-P, Gaulard P, Marolleau J-P, Le Couedic J-P, Henni T, Gourdin M-F, Divine M, Haioun C, Zafrani S, Goossens M, Hercend T, Reyes F . Hepatosplenic T-cell lymphoma: sinusal/sinusoidal localization of malignant cells expressing the T-cell receptor γδ Blood 1990 75: 2213–2219

Gaulard P, Zafrani ES, Mavier P, Rocha FD, Farcet J-P, Devine M, Haioun C, Pinaudeau Y . Peripheral T-cell lymphoma presenting as predominant liver disease: a report of three cases Hepatology 1986 6: 864–868

Gaulard P, Bourquelot P, Kanavaros P, Haioun C, Le Couedic JP, Divine M, Goossens M, Zafrani ES, Farcet JP, Reyes F . Expression of the alpha/beta and gamma/delta T-cell receptors in 57 cases of peripheral T-cell lymphomas. Identification of a subset of γ/δ T-cell lymphomas Am J Pathol 1990 137: 617–628

Falcao RP, Voltarelli JC, Simoes BP, Pestana DNR, Zago MA, Figueiredo MS . Malignant T γ/δ lymphoproliferative disease with natural killer lytic activity Am J Hematol 1992 41: 128–131

Ohno T, Komada F, Yamaguchi M, Oka K, Nishii K, Tsuda M, Katsuta K, Yamaguchi T, Kita K, Shirakawa S . Gamma/delta T-cell lymphoma with hepatosplenomegaly: report of a case Int J Hematol 1993 57: 269–276

Mastovic S, Ratech H, Ware RE, Moore JO, Borowitz MJ . Hepatosplenic T-cell lymphoma: an unusual case of γδ T-cell lymphoma with a blast-like terminal transformation Hum Pathol 1994 25: 102–108

Ross CW, Schnitzer B, Sheldon S, Braun DK, Hanson CA . Gamma/delta T-cell post-transplantation lymphoproliferative disorder primarily in the spleen Am J Clin Pathol 1994 102: 310–315

Dommann-Scherrer CC, Kurer SB, Zimmermann DR, Odermatt BF, Dours-Zimmermann MT, Briner J, Heitz PU . Occult hepatosplenic T-γδ lymphoma. Value of genotypic analysis in the differential diagnosis Virchows Arch 1995 426: 629–634

Wang CC, Tien HF, Lin MT, Su IJ, Wang CH, Shuang SM, Shen MC, Liu CH . Consistent presence of isochromosome 7q in hepatosplenic T γ/δ lymphoma: a new cytogenetic-clinicopathologic entity Genes Chromos Cancer 1995 12: 161–164

Wong KF, Chan JK, Matutes E, McCarthy K, Ng CS, Chan CH, Ma SK . Hepatosplenic γδ T-cell lymphoma. A distinctive aggressive lymphoma type Am J Surg Pathol 1995 19: 718–726

Garcia-Sanchez F, Menarguez J, Cristobal E, Cantalejo A, Gil J, Algara P, Vicario JL . Hepatosplenic gamma-delta T-cell malignant lymphoma: report of the first case in childhood, including molecular minimal residual disease follow-up Br J Haematol 1995 90: 943–946

Garcia-Sanchez F, Menarguez J, Algara P . Hepatosplenic γδ T-cell lymphoma Am J Surg Pathol 1996 20: 641 (letter)

Jonveaux P, Daniel MT, Martel V, Maarek O, Berger R . Isochromosome 7q and trisomy 8 are consistent primary, non-random chromosomal abnormalities associated with hepatosplenic T γ/δ lymphoma Leukemia 1996 10: 1453–1455

Yao M, Tien HF, Lin MT, Su IJ, Wang CT, Chen YC, Shen MC, Wang CH . Clinical and hematological characteristics of hepatosplenic T γ/δ lymphoma with isochromosome for long arm of chromosome 7 Leuk Lymphoma 1996 22: 495–500

Cooke CB, Krenacs L, Stetler-Stevenson M, Greiner TC, Raffeld M, Kingma DW, Abruzzo L, Frantz C, Kaviani M, Jaffe ES . Hepatosplenic T-cell lymphoma: a distinct clinicopathological entity of cytotoxic γδ T-cell origin Blood 1996 88: 4265–4274

Alonsozana ELC, Stamberg J, Kumar D, Jaffe ES, Medeiros LJ, Frantz C, Schiffer CA, O'Connell BA, Kerman S, Stass SA, Abruzzo LV . Isochromosome 7q, the primary cytogenetic abnormality in hepatosplenic γδ T-cell lymphoma Leukemia 1997 11: 1367–1372

Sallah S, Smith SV, Lony LC, Woodard P, Schmitz JL, Folds JD . Gamma/delta T cell hepatosplenic lymphoma: review of the literature, diagnosis by flow cytometry and concomitant autoimmune hemolytic anemia Ann Hematol 1997 74: 139–142

Salhany KE, Feldman M, Kahn MJ, Peritt D, Schretzenmair RD, Wilson DM, DiPaola RS, Glick AD, Kant JA, Nowell PC, Kamoun M . Hepatosplenic γδ T cell lymphoma: ultrastructural, immunophenotypic, and functional evidence for cytotoxic T lymphocyte differentiation Hum Pathol 1997 28: 674–685

Salhany KE, Feldman M, Peritt D, Nowell PC . Cytotoxic T-lymphocyte differentiation and cytogenetic alterations in γδ hepatosplenic T cell lymphoma and post-transplant lymphoproliferative disorders Blood 1997 89: 3490–3491 (letter)

Francois A, Lesesve JF, Stamatoullas A, Comoz F, Lenormand B, Etienne I, Mendel I, Hemet J, Bastard C, Tilly H . Hepatosplenic gamma/delta T-cell lymphoma: a report of two cases in immunocompromised patients, associated with isochromosome 7q Am J Surg Pathol 1997 21: 781–790

Pouderoux P, Gris J-C, Pignodel C, Joujoux J-M, Schved J-P, Balmes J-L . Primary sinusoidal lymphoma of the liver revealed by autoimmune hemolytic anemia Gastroenterol Clin Biol 1997 21: 514–518

Kraus MD, Crawford DF, Kaleem Z, Shenoy S, MacArthur CA, Longtine JA . T γ/δ hepatosplenic lymphoma in a heart transplant patient after an Epstein-Barr virus positive lymphoproliferative disorder: a case report Cancer 1998 82: 983–992

Ruiz P, Mailhot S, Delgado P, Amador A, Viciana AL, Ferrer L, Zacharievich N . CD26 expression and dipeptidyl peptidase IV activity in an aggressive hepatosplenic T-cell lymphoma Cytometry 1998 34: 30–35

Ozaki S, Ogasahara K, Kosaka M, Inoshita T, Wakatsuki S, Uehara H, Matsumoto T . Hepatosplenic γδ T-cell lymphoma associated with hepatitis B virus infection J Med Invest 1998 44: 215–217

Weirich G, Sandherr M, Fellbaum C, Richter T, Schmidt L, Kinjerski T, Dietzfelbinger H, Rastetter J, Hofler H . Molecular evidence of bone marrow involvement in advanced case of T γδ lymphoma with secondary myelofibrosis Hum Pathol 1998 29: 761–765

Nosari A, Oreste PL, Biondi A, Costantini MC, Santoleri L, Intropido L, Muti G, Pungolino E, Gargantini L, Morra E . Hepatosplenic γδ T-cell lymphoma: a rare entity mimicking the hemophagocytic syndrome Am J Hematol 1999 60: 61–65

Dincol G, Nalcaci M, Yavuz AS, Keskin H, Aktan M, Dogan O, Agan M, Ozbek U, Dincol K . Case of hepatosplenic γδ T-cell lymphoma presenting with severe hypersplenism Am J Hematol 1999 60: 313–314 (letter)

Yamaguchi M, Ohno T, Nakamine H, Oka K, Matsuzuka F, Miwa H, Shiku H, Kimura N, Nanba K, Kita K . γδ T-cell lymphoma: a clinicopathologic study of six cases including extrahepatosplenic type Int J Hematol 1999 69: 186–195

Lin W-C, Moore JO, Mann KP, Traweek T, Smith C . Post-transplant CD8+ γδ T-cell lymphoma associated with human herpes virus-6 infection Leuk Lymphoma 1999 33: 377–384

Kadin ME, Kamoun M, Lamberg J . Erythrophagocytic T γ lymphoma. A clinicopathologic entity resembling malignant histiocytosis New Engl J Med 1981 304: 648–653

Kruskall MS, Weitzmann SA, Stossel TP, Harris N, Robinson SH . Lymphoma with autoimmune neutropenia and hepatic sinusoidal infiltration: a syndrome Ann Intern Med 1982 97: 202–205

Jaffe ES, Costa J, Fauci AS, Cossman J, Tsokos M . Malignant lymphoma and erythrophagocytosis simulating malignant histiocytosis Am J Med 1983 75: 741–749

Sun T, Brody J, Susin M, Lichtman S, Boss E, Moskowitz L . Extranodal T-cell lymphoma mimicking malignant histiocytosis Am J Hematol 1990 35: 269–274

Warzynski MJ, Rosen MH, Golightly MG, Steingard RH, Otto RN, Rezuke WN, Johnson ML . An acute form of T γ lymphoproliferative disease presenting with massive splenomegaly – importance of immunophenotyping for diagnosis Clin Immunol Immunopathol 1993 67: 100–108

Lei KI-K, Chow JH-S, Johnson PJ . Aggressive primary hepatic lymphoma in Chinese patients. Presentation, pathologic features and outcome Cancer 1995 76: 1336–1343

Macon WR, Williams ME, Greer JP, Hammer RD, Glick AD, Collins RD, Cousar JB . Natural killer-like T-cell lymphomas: aggressive lymphomas of T-large granular lymphocytes Blood 1996 87: 1474–1483

Boulland ML, Kanavaros P, Wechsler J, Casiraghi O, Gaulard P . Cytotoxic protein expression in natural killer cell lymphomas and in αβ and γδ peripheral T-cell lymphomas J Pathol 1997 183: 432–439

Lopez-Guillerm A, Cid J, Salar A, Lopez A, Montalban C, Castrillo JM, Gonzalez M, Ribera JM, Brunet S, Garcia-Cone J, Fernandez de Sevilla A, Bosch F, Monserat E . Peripheral T-cell lymphomas: initial features, natural history, and prognostic factors in a series of 174 patients diagnosed according to the REAL classification Ann Oncol 1998 9: 849–855

Gaulard P, Kanavaros P, Farcet JP, Rocha FD, Haioun C, Divine M, Reyes F, Zafrani ES . Bone marrow histologic and immunohistochemical findings in peripheral T-cell lymphoma: a study of 38 cases Hum Pathol 1991 22: 331–338

Harris NL, Jaffe ES, Stein H, Banks PM, Chan JKC, Cleary ML, Delsol G, Wolf-Peters CD, Falini B, Gatter KC, Grogan TM, Isaacson PG, Knowles DM, Mason DJ, Müller-Hermelink HK, Pileri SA, Piris MA, Ralfkiaer E, Warnke RA . A revised European–American classification of lymphoid neoplasms. A proposal from the International Lymphoma Study Group Blood 1994 84: 1361–1392

Chang KL, Arber DA . Hepatosplenic γδ T-cell lymphoma – not just alphabet soup Adv Anat Pathol 1998 5: 21–29

Bucy R, Chen C, Cooper M . Tissue localization and CD8 accessory molecule expression of Tγδ cells in humans J Immunol 1989 142: 3045–3049

Su IJ, Wang CH, Cheng AL, Chen RL . Hematophagocytic lymphohistiocytosis in Epstein–Barr virus-associated T-lymphoproliferative disorders: disease spectrum, pathogenesis, and management Leuk Lymphoma 1995 19: 401–406

Rabinowich H, Pricop L, Herberman RB, Whiteside TL . Expression and function of CD7 molecule on human natural killer cells J Immunol 1994 152: 517–526

Carrel S, Salvi S, Rafti F, Favrot M, Rapin C, Sekaly RP . Direct involvement of CD7 (gp40) in activation of TCR γδ T+ T cells Eur J Immunol 1991 21: 1195–1200

Lowin B, Peitsch MC, Tschopp J . Perforin and granzymes: crucial effector molecules in cytotoxic T lymphocyte and natural killer cell-mediated cytotoxicity Curr Top Microbiol Immunol 1995 198: 1–24

Mertens F, Johansson B, Mitelman F . Isochromosomes in neoplasia Genes Chromos Cancer 1994 10: 221–230

Weidmann E, Trucco M, Whiteside TL . Relevance of the T cell receptor for immunotherapy of cancer Cancer Immunol Immunother 1994 39: 1–14

Falini B, Flenghi L, Fagioli M, Martelli MF, Pileri S, Grignani F, Beltrami A, Novero D, Pelicci P-G . T-lymphoblastic lymphomas expressing the non-disulfide-linked form of the T-cell receptor γ/δ: characterization with monoclonal antibodies and genotypic analysis Blood 1989 74: 2501–2507

Jaffe ES, Krenacs L, Kumar S, Kingma DW, Raffeld M . Extranodal T cell and NK cell neoplasms Am J Clin Pathol 1999 111: (Suppl.1) 46–55

Kinney MC . The role of morphologic features, phenotype, genotype, and anatomic site in defining extranodal T-cell or NK-cell neoplasms Am J Clin Pathol 1999 111: (Suppl.1) 104–118

Hui PK, Feller AC, Pileri S, Gobbi M, Lennert K . New aggressive variant of suppressor/cytotoxic T-CLL Am J Clin Pathol 1987 87: 55–59

Hansen CA, Bockenstedt PL, Schnitzer B, Fox DA, Kueck B, Braun DK . S100-positive, T-cell chronic lymphoproliferative disease: an aggressive disorder of an uncommon T-cell subset Blood 1991 78: 1803–1813

Ascani S, Leoni P, Fraternali Orcioni G, Bearzi I, Piccioli M, Materazzi M, Zinzani PL, Gherlinzoni F, Falini B, Pileri SA . T-cell prolymphocytic leukemia: does the expression of CD8+ phenotype justify the identification of a new subtype Ann Oncol 1999 10: 649–653
Acknowledgements
Figure 1 was kindly provided by Prof ML Hansmann, Department of Pathology, JW Goethe University, Frankfurt am Main, Germany
About this article
Cite this article
Weidmann, E. Hepatosplenic T cell lymphoma. A review on 45 cases since the first report describing the disease as a distinct lymphoma entity in 1990. Leukemia 14, 991–997 (2000). https://doi.org/10.1038/sj.leu.2401784
Received:

Accepted:

Published:

Issue Date:

DOI: https://doi.org/10.1038/sj.leu.2401784
Keywords
hepatosplenic γδ

T cell lymphoma

clinicopathology

biology and molecular biology

aggressive course of disease

treatment
This article is cited by
Wei Song
Haixi Zhang
Ruoyu Zhang

Cellular Oncology (2022)

Qian Wang
Yibin Jiang
Haiwen Huang

Journal of Cancer Research and Clinical Oncology (2021)

Mary Theresa Sylvia
Sajini Elizabeth Jacob
Tarun Kumar Dutta

Indian Journal of Hematology and Blood Transfusion (2016)