Abstract
We present the establishment of a natural killer (NK) leukemia cell line, designated KHYG-1, from the blood of a patient with aggressive NK leukemia, which both possessed the same p53 point mutation. The immunophenotype of the primary leukemia cells was CD2+, surface CD3−, cytoplasmic CD3ε+, CD7+, CD8αα+, CD16+, CD56+, CD57+ and HLA-DR+. A new cell line (KHYG-1) was established by culturing peripheral leukemia cells with 100 units of recombinant interleukin (IL)-2. The KHYG-1 cells showed LGL morphology with a large nucleus, coarse chromatin, conspicuous nucleoli, and abundant basophilic cytoplasm with many azurophilic granules. The immunophenotype of KHYG-1 cells was CD1−, CD2+, surface CD3−, cytoplasmic CD3ε+, CD7+, CD8αα+, CD16−, CD25−, CD33+, CD34−, CD56+, CD57−, CD122+, CD132+, and TdT−. Southern blot analysis of these cells revealed a normal germline configuration for the β, δ, and γ chains of the T cell receptor and the immunoglobulin heavy-chain genes. Moreover, the KHYG-1 cells displayed NK cell activity and IL-2-dependent proliferation in vitro, suggesting that they are of NK cell origin. Epstein–Barr virus (EBV) DNA was not detected in KHYG-1 cells by Southern blot analysis with a terminal repeat probe from an EBV genome. A point mutation in exon 7 of the p53 gene was detected in the KHYG-1 cells by PCR/SSCP analysis, and direct sequencing revealed the conversion of C to T at nucleotide 877 in codon 248. The primary leukemia cells also carried the same point mutation. Although the precise role of the p53 point mutation in leukemogenesis remains to be clarified, the establishment of an NK leukemia cell line with a p53 point mutation could be valuable in the study of leukemogenesis.
This is a preview of subscription content
Access options
Subscribe to Journal
Get full journal access for 1 year
$119.00
only $9.92 per issue
All prices are NET prices.
VAT will be added later in the checkout.
Tax calculation will be finalised during checkout.
Buy article
Get time limited or full article access on ReadCube.
$32.00
All prices are NET prices.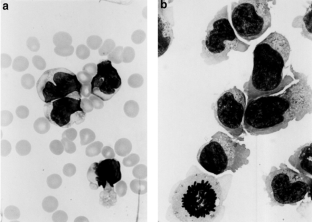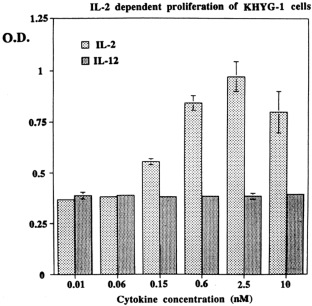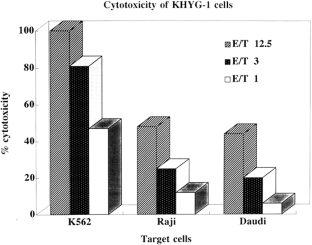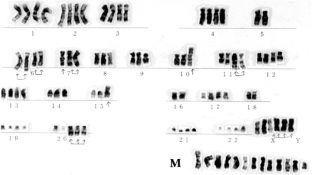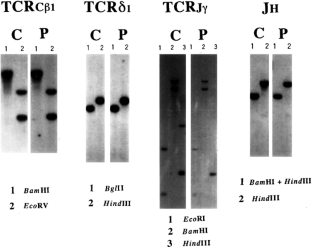 References
Loughran TP . Clonal diseases of large granular lymphocytes Blood 1993 82: 1–14

Loughran TP, Starkebaum G . Large granular lymphocyte leukemia Medicine 1987 66: 397–405

Semenzato G, Pandolfi F, Chisesi T, DeRossi G, Pizzolo G, Zambello R, Trentin L, Agostini C, Dini E, Vespignani M, Cafaro A, Pasqualetti D, Giubellono C, Migone N, Foa R . The lympho-proliferative disease of granular lymphocytes Cancer 1987 60: 2971–2978

Fernandez LA, Pope B, Lee C, Zayed E . Aggressive natural killer cell leukemia in an adult and establishment of an NK cell line Blood 1986 67: 925–930

Koizumi S, Seki H, Tachinami T, Taniguchi M, Matsuda A, Taga K, Nakarai T, Kato E, Taniguchi N, Nakamura H . Malignant clonal expansion of large granular lymphocytes with a Leu-11+, Leu-7− surface phenotype: in vitro responsiveness of malignant cells to recombinant human interleukin 2 Blood 1986 68: 1065–1073

Sheridan W, Winton EF, Chan WC, Gordon DS, Vogler WR, Phillips C, Bongiovanni KF, Waldmann TA . Leukemia of non-T lineage natural killer cells Blood 1988 72: 1701–1707

Kawa-Ha K, Ishihara S, Ninomiya T, Yagi K, Hara J, Murayama F, Tawa A, Hirai K . CD3-negative lymphoproliferative disease of granular lymphocytes containing Epstein–Barr viral DNA J Clin Invest 1989 84: 51–55

Imamura N, Kusunoki Y, Kawa-Ha K, Yunuma K, Hara J, Oda K, Abe K, Dohy H, Inada T, Kajihara H, Kuramoto A . Aggressive natural killer cell leukemia/lymphoma: report of four cases and review of the literature Br J Haematol 1990 75: 49–59

Hart DNJ, Baker BW, Ingkis MJ, Nimmo JC, Starling GC, Deacon E, Rowe M, Beard MEJ . Epstein-Barr viral DNA in acute large granular lymphocytes (natural killer) leukemic cells Blood 1992 79: 2116–2123

Jaffe ES . Classification of natural killer (NK) cell and NK-like T-cell malignancies Blood 1996 87: 1207–1210

Gentile TC, Uner AH, Hutchinson RE, Wright J, Ben-Ezre J, Russel EC, Loughran TP . CD3+, CD56+ aggressive variant of large granular lymphocyte leukemia Blood 1994 84: 2315–2321

Macon WR, Williams ME, Greer JP, Hammer RD, Glick AD, Collins RD, Cousar JP . Natural killer-like T-cell lymphomas: aggressive lymphomas of T-large granular lymphocytes Blood 1996 87: 1474–1483

Sanchez MJ, Muench MO, Roncarolo MG, Lanier LL, Phillips JH . Identification of a common T/natural killer cell progenitor in human fetal thymus J Exp Med 1994 180: 569–576

Ichinohasama R, Endoh K, Ishizawa K, Okuda M, Kameoka J, Meguro K, Myers J, Kadin ME, Mori S, Sawai T . Thymic lymphoblastic lymphoma of committed natural killer cell precursor origin Cancer 1996 77: 2592–2603

Suzuki R, Yamamoto K, Seto M, Kagami Y, Ogura M, Yatabe Y, Suchi T, Kodera Y, Morishima Y, Takahashi T, Saito H, Ueda R, Nakamura S . CD7+ and CD56+ myeloid/natural killer cell precursor acute leukemia: a distinct hematolymphoid disease entity Blood 1997 90: 2417–2428

Hartwell L . Defects in a cell cycle checkpoint may be responsible for the genomic instability of cancer cells Cell 1992 71: 543–546

Preudhomme C, Fenaux P . The clinical significance of mutations of the p53 tumor suppressor gene in haematological malignancies Br J Haematol 1997 98: 502–511

Lai JL, Preudhomme C, Zandecki M, Flactif M, Vanrumbeke M, Wattel E, Fenaux P . Myelodysplastic syndromes and acute myeloid leukemia with 17p deletion. An entity characterized by specific dysgranulopoiesis and a high incidence of p53 mutations Leukemia 1995 9: 370–381

Ichikawa A, Kinoshita T, Watanabe T, Kato H, Nagai H, Tsushita K, Saito H, Hotta T . Mutations of the p53 gene as a prognostic factor in aggressive B-cell lymphoma New Engl J Med 1997 337: 529–534

Wada M, Bartram CR, Nakamura H, Hachiya M, Chen D, Borenstein J, Miller CW, Ludwig L, Hansen-Hagge TE, Ludwig WD, Reiter A, Mizoguchi H, Koeffler HP . Analysis of p53 mutations in a large series of lymphoid hematologic malignancies of childhood Blood 1993 82: 3163–3169

Sakashita A, Hattori T, Miller CW, Suzushima H, Asou N, Takatsuki K, Koeffler HP . Mutations of the p53 gene in adult T-cell leukemia Blood 1992 79: 477–480

Neri A, Baldini L, Trecca D, Cro L, Polli E, Maiolo AT . p53 gene mutations in multiple myeloma are associated with advanced forms of malignancy Blood 1993 81: 128–135

Homma T, Suzuki K, Kudo Y, Inagawa M, Mizuno S, Yamaguchi K, Tagawa M . Preparation and characterization of monoclonal antibodies against human myeloperoxidase Arch Biochem Biophys 1989 273: 189–196

Almasri NM, Iturraspe JA, Benson NA, Chen MG, Braylan RC . Flow cytometric analysis of terminal deoxynucleotidyl transferase Am J Clin Pathol 1991 95: 376–380

Gudelj L, Deniz G, Rukavina D, Johnson PM, Christmas SE . Expression of functional molecules by human CD3-decidual granular leucocyte clones Immunology 1996 87: 609–615

Lichtenfels R, Biddison WE, Schultz H, Vogt AB, Martin R . CARE-LASS (calcein-release-assay), an improved fluorescence-based test system to measure cytotoxic T lymphocyte activity J Immunol Meth 1994 172: 227–239

Neri A, Fracchiolla NS, Roscetti E, Garatti S, Trecca D, Bolentini A, Perletti L, Baldini L, Maiolo AT, Berti E . Molecular analysis of cutaneous B- and T-cell lymphomas Blood 1995 86: 3160–3172

Huang C, Taki T, Adachi M, Konishi T, Higashiyama M, Miyake M . Mutations in exon 7 and 8 of p53 as poor prognostic factors in patients with non-small cell lung cancer Oncogene 1998 15: 2469–2477

Kobayashi S, Iwata T, Saito M, Iwasaki R, Matsumoto H, Naritaka S, Kono Y, Hayashi Y . Mutations of the Btk gene in 12 unrelated families with X-linked agammaglobulinemia in Japan Hum Genet 1996 97: 424–430

Prussin C, Foster B . TCR Vα24 and Vβ11 coexpression defines a human NKT cell analogue containing a unique Th0 subpopulation J Immunol 1997 159: 5862–5870

Robertson MJ, Ritz J . Biology and clinical relevance of human natural killer cells Blood 1990 76: 2421–2438

Hollstein M, Sidransky D, Vogelstein B, Harris CC . p53 mutations in human cancers Science 1991 253: 49–53

Srivastava S, Zou Z, Pirollo K, Blattner W, Chang EH . Germ-line transmission of a mutated p53 gene in a cancer-prone family with Li–Fraumeni syndrome Nature 1990 348: 747–749

Nakamura S, Suchi T, Koshikawa T, Kitoh K, Koike K, Komatsu H, Iida S, Kagami Y, Ogura M, Katoh E, Kurita S, Suzuki H, Kobayashi Y, Yamabe H, Hirabayashi N, Ueda R, Takahashi T . Clinicopathologic study of CD56 (NCAM)-positive angiocentric lymphoma occurring in sites other than the upper and lower respiratory tract Am J Surg Pathol 1995 19: 284–296

Yoneda N, Tatsumi E, Teshigawara K, Nagata S, Nakano T, Kishimoto Y, Kawano S, Kimura T, Yasunaga K, Yamaguchi N . Lineage determination of CD7+ CD5− CD2− and CD7+ CD5+ CD2− lymphoblasts: studies on phenotype, genotype, and gene expression of myeloperoxidase, CD3ε, and CD3δ Am J Hematol 1994 45: 310–320

Michalovitz D, Halevy O, Oren M . p53 mutations. Gains or losses? J Cell Biochem 1991 45: 22–29

Kern SE, Pietenpol JA, Thiagalingam S, Seymour A, Kinnzler KW, Vogelstein B . Oncogenic forms of p53 inhibit p53-regulated gene expression Science 1992 256: 827–830

Sugimoto K, Toyoshima H, Sakai R, Miyagawa K, Hagiwara K, Ishikawa F, Takaku F, Yazaki Y, Hirai H . Frequent mutations in the p53 gene in human myeloid leukemia cell lines Blood 1992 79: 2378–2383

Drexler HG, Fombonne S, Matsuo Y, Hu Z-B, Hamaguchi H, Uphoff CC . P53 alterations in human leukemia–lymphoma cell lines: in vitro artifact or prerequisite for cell immortalization? Leukemia 2000 14: 198–206

Karlhofer FM, Orihuela MM, Yokoyama WM . Ly-49-independent natural killer (NK) cell specificity revealed by NK cell clones derived from p53-deficient mice J Exp Med 1995 181: 1785–1795

Gong JH, Maki G, Klingemann HG . Characterization of a human cell line (NK-92) with phenotypical and functional characteristics of activated natural killer cells Leukemia 1994 8: 652–658

Ross E, Caligiuri MA . Cytokine-induced apoptosis of human natural killer cells identifies a novel mechanism to regulate the innate immune response Blood 1997 89: 910–918

Stanbrige FJ . Identifying tumor suppressor genes in human colorectal cancer Science 1990 247: 12–13

Sugimoto K, Toyoshima H, Sakai R, Miyagawa K, Hagiwara K, Hirai H, Ishikawa F, Takaku F . Mutations of the p53 gene in lymphoid leukemia Blood 1991 77: 1153–1156

Rolley N, Butcher S, Milner J . Specific DNA binding by different classes of human p53 mutants Oncogene 1995 11: 763–770

Erber R, Conradt C, Homann N, Enders C, Finckh M, Dietz A, Weidauer H, Bosch FX . TP53 DNA contact mutations are selectively associated with allelic loss and have a strong clinical impact in head and neck cancer Oncogene 1998 16: 1671–1679

Huang C, Kohno N, Inufusa H, Kodama K, Taki T, Miyake M . Overexpression of bax associated with mutations in the loop-sheet-helix motif of p53 Am J Pathol 1999 155: 955–965

Yodoi J, Teshigawara K, Nikaido T, Fukui K, Noma T, Honjo T, Takigawa M, Sasaki M, Minato N, Tsudo M, Uchiyama T, Maeda M . TCGF (IL-2)-receptor inducing factors: regulation of IL-2 receptors on a natural killer-like cell line (YT cells) J Immunol 1985 134: 1623–1630

Robertson MJ, Cochran KJ, Cameron C, Le JM, Tantravahi R, Ritz J . Characterization of a cell line, NKL, derived from an agressive human natural killer cell leukemia Exp Hematol 1996 24: 406–415

Tsuchiyama J, Yoshino T, Mori M, Kondoh E, Oka T, Akagi T, Hiraki A, Nakayama H, Shibuya A, Ma Y, Kawabata T, Okada S, Harada M . Characterization of a novel human natural killer-cell line (NK-YS) established from natural killer cell lymphoma/leukemia associated with Epstein–Barr virus infection Blood 1998 91: 1374–1383

Kagami Y, Nakamura S, Suzuki R, Iida S, Yatabe Y, Okada Y, Kobayashi T, Tsurumi T, Seto M, Ogura M . Establishment of an IL-2-dependent cell line derived from 'nasal-type NK/T-cell lymphoma of CD2+, sCD3−, CD3ɛ+, CD56+ phenotype and associated with the Epstein–Barr virus Br J Haematol 1998 103: 669–677

Drexler HG, Matsuo Y . Guidelines for the characterization and publication of human malignant hematopoietic cell lines Leukemia 1999 13: 835–842
Acknowledgements
We wish to thank Drs S Yamamori and H Matsumoto (Mitsubishi Kagaku Bio-Clinical Labs, Tokyo) for DNA sequencing; and Drs S Inoue and O Yoneda (Osaka Dental University) for proliferation assays. We thank the laboratory staff of SRL, Inc. for providing technical support. We also thank Drs E Tatsumi (Kobe University, Kobe, Japan), K Kita (Mie Medical School, Mie, Japan) and K Oshimi (Juntendo University School of Medicine, Tokyo, Japan) for their valuable comments.
About this article
Cite this article
Yagita, M., Huang, C., Umehara, H. et al. A novel natural killer cell line (KHYG-1) from a patient with aggressive natural killer cell leukemia carrying a p53 point mutation. Leukemia 14, 922–930 (2000). https://doi.org/10.1038/sj.leu.2401769
Received:

Accepted:

Published:

Issue Date:

DOI: https://doi.org/10.1038/sj.leu.2401769
Keywords
cell line

NK cell leukemia

p53

point mutation