Abstract
Communication within the nervous system is mediated by Ca2+-triggered fusion of synaptic vesicles with the presynaptic plasma membrane. Genetic and biochemical evidence indicates that synaptotagmin I may function as a Ca2+ sensor in neuronal exocytosis because it can bind Ca2+ and penetrate into lipid bilayers1,2,3,4. Chronic depolarization or seizure activity results in the upregulation of a distinct and unusual isoform of the synaptotagmin family, synaptotagmin IV (ref. 5). We have identified a Drosophila homologue of synaptotagmin IV that is enriched on synaptic vesicles and contains an evolutionarily conserved substitution of aspartate to serine that abolishes its ability to bind membranes in response to Ca2+ influx. Synaptotagmin IV forms hetero-oligomers with synaptotagmin I, resulting in synaptotagmin clusters that cannot effectively penetrate lipid bilayers and are less efficient at coupling Ca2+ to secretion in vivo : upregulation of synaptotagmin IV, but not synaptotagmin I, decreases evoked neurotransmission. These findings indicate that modulating theexpression of synaptotagmins with different Ca2+-binding affinities can lead to heteromultimers that can regulate the efficiency of excitation–secretion coupling in vivo and represent a new molecular mechanism for synaptic plasticity.
Relevant articles
Open Access articles citing this article.
Mónica C. Quiñones-Frías

&

J. Troy Littleton

Cellular and Molecular Life Sciences Open Access 22 February 2021

Aaron D Talsma

,

John F Chaves

…

Michael J Palladino

Molecular Brain Open Access 05 December 2014

Johnnie M Moore-Dotson

,

Jason B Papke

&

Amy B Harkins

BMC Neuroscience Open Access 24 August 2010
Access options
Subscribe to this journal
Receive 51 print issues and online access
$199.00 per year
only $3.90 per issue
Rent or buy this article
Prices vary by article type
from$1.95
to$39.95
Prices may be subject to local taxes which are calculated during checkout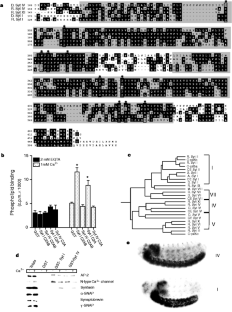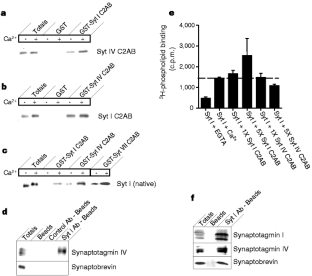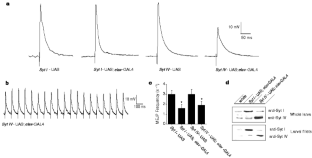 References
Littleton, J. T., Stern, M., Schulze, K., Perin, M. & Bellen, H. J. Mutational analysis of Drosophila synaptotagmin demonstrates its essential role in Ca2+-activated neurotransmitter release. Cell 74, 1125–1134 (1993).

Littleton, J. T., Stern, M., Perin, M. & Bellen, H. J. Calcium dependence of neurotransmitter release and rate of spontaneous vesicle fusions are altered in Drosophila synaptotagmin mutants. Proc. Natl Acad. Sci. USA 91, 10888–10892 (1994).

Geppert, M. et al. Synaptotagmin I: a major Ca2+ sensor for transmitter release at a central synapse. Cell 79, 717–727 (1994).

Chapman, E. & Davis, A. Direct interaction of a Ca2+-binding loop of synaptotagmin with lipid bilayers. J. Biol. Chem. 273, 13995–14001 (1998).

Vician, L. et al. Synaptotagmin IV is an immediate early gene induced by depolarization in PC12 cells and in brain. Proc. Natl Acad. Sci. USA 92, 2164–2168 (1995).

Sudhof, T. & Rizo, J. Synaptotagmins: C2-domain proteins that regulate membrane traffic. Neuron 17, 379–388 (1996).

Perin, M. S., Fried, V. A., Mignery, G. A., Jahn, R. & Südhof, T. C. Phospholipid binding by a synaptic vesicle protein homologous to the regulatory region of protein kinase C. Nature 345, 260–263 (1990).

Brose, N., Petrenko, A. G., Sudhof, T. C. & Jahn, R. Synaptotagmin: a Ca2+ sensor on the synaptic vesicle surface. Science 256, 1021–1025 (1992).

Chapman, E. R., An, S., Edwardson, J. M. & Jahn, R. Anovel function for the second C2 domain of synaptotagmin: Ca2+-triggered dimerization. J. Biol. Chem. 271, 5844–5849 (1996).

Chapman, E. R., Hanson, P. I., An, S. & Jahn, R. Ca2+ regulates the interaction between synaptotagmin and syntaxin 1. J. Biol. Chem. 270, 23667–23671 (1995).

Schiavo, G., Stenbeck, G., Rothman, J. & Sollner, T. Binding of the synaptic vesicle v-SNARE, synaptotagmin, to the plasma membrane t-SNARE, SNAP-25, can explain docked vesicles at neurotoxin-treated synapses. Proc. Natl Acad. Sci. USA 94, 997–1001 (1997).

Li, C. et al. Ca2+-dependent and -independent activities of neural and non-neural synaptotagmins. Nature 375, 594–599 (1995).

Littleton, J. T. et al. Temperature-sensitive paralytic mutations demonstrate that synaptic exocytosis requires SNARE complex assembly and disassembly. Neuron 21, 401–413 (1998).

Sutton, R., Davletov, B., Berghuis, A., Sudhof, T. & Sprang, S. Structure of the first C2 domain of synaptotagmin I: a novel Ca2+/phospholipid-binding fold. Cell 80, 929–938 (1995).

von Poser, C., Ichtchenko, K., Shao, X., Rizo, J. & Sudhof, T. The evolutionary pressure to inactivate: Asubclass of synaptotagmins with an amino acid substitution that abolishes Ca2+ binding. J. Biol. Chem. 272, 14314–14319 (1997).

Chapman, E., Desai, R., Davis, A. & Tornehl, C. Delination of the oligomerization, AP-2 binding, and synprint binding region of the C2B domain of synaptotagmin. J. Biol. Chem. 273, 32966–32973 (1998).

Osborne, S. L., Herreros, J., Bastiaens, P. I. & Schiavo, G. Calcium-dependent oligomerization of synaptotagmins I and II. J. Biol. Chem. 274, 59–66 (1999).

van de Goor, J., Ramaswami, M. & Kelly, R. Redistribution of synaptic vesicles and their proteins intemperature-sensitive shibire(ts1) mutant Drosophila. Proc. Natl Acad. Sci. USA 92, 5739–5743 (1995).

Fukuda, M., Kojima, T., Aruga, J., Niinobe, M. & Mikoshiba, K. Functional diversity of C2 domains of synaptotagmin family. J. Biol. Chem. 270, 26523–26527 (1995).

Ferguson, G. D., Thomas, D. M., Elferink, L. A. & Herschman, H. R. Synthesis degradation, and subcellular localization of synaptotagmin IV, a neuronal immediate early gene product. J. Neurochem. 72, 1821–1831 (1999).
Acknowledgements
We thank R. Kelly, S. Benzer, L. Brodin, C. Goodman, W. Caterall, H. Jackle and R.Jahn for antibodies and reagents, and J. Pendleton for help with sequencing. This work was supported by grants from the NIH and the Howard Hughes Medical Institute. T.L.S. is a Jane Coffin Childs postdoctoral fellow. J.T.L. is a Merck fellow of the Helen Hay Whitney Foundation.
About this article
Cite this article
Littleton, J., Serano, T., Rubin, G. et al. Synaptic function modulated by changes in the ratio of synaptotagmin I and IV. Nature 400, 757–760 (1999). https://doi.org/10.1038/23462
Received:

Accepted:

Issue Date:

DOI: https://doi.org/10.1038/23462
Comments
By submitting a comment you agree to abide by our Terms and Community Guidelines. If you find something abusive or that does not comply with our terms or guidelines please flag it as inappropriate.