Abstract
Analysis of inclusions1 has shown that natural diamond forms at pressures of 5-6 GPa and temperatures in the range 900-1,400 °C. In non-metallic systems2,4, diamond has been synthesized only at pressures greater than 7 GPa and temperatures of more than 1,600 °C. We find that diamond can crystallize in alkaline carbonate-fluid melts at pressures and temperatures that correspond to those of natural diamond formation.
Access options
Access options
Subscribe to Journal
Get full journal access for 1 year
$199.00
only $3.90 per issue
All prices are NET prices.
VAT will be added later in the checkout.
Rent or Buy article
Get time limited or full article access on ReadCube.
from$8.99
All prices are NET prices.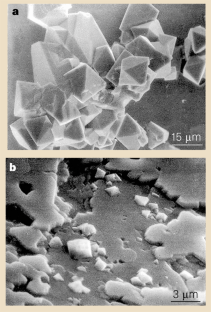 References
1

Haggerty, S. E. Nature 320, 34–38 (1986).

2

Akaishi, S., Kanda, H. & Yamaoka, S. J. Cryst. Growth 104, 578–581 (1990).

3

Arima, M., Nakayama, K., Akaishi, M., Yamaoka, S. & Kanda, H. Geology 21, 968–970 (1993).

4

Taniguchi, T., Dobson, D., Jones, A. P., Rabe, R. & Milledge, H. J. J. Mater. Res. 10, 2622–2632 (1996).

5

Pal'yanov, Yu. N. et al. Russ. Geol. Geophys. 5, 920–945 (1997).

6

Wentorf, R. H. Adv. High-Press. Res. 4, 249–281 (1974).

7

Schrauder, M. & Navon, O. Geochim. Cosmochim. Acta 58, 761–771 (1994).

8

Harlow, G. E. Am. Mineral. 82, 259–269 (1997).

9

Dawson, J. B. Nature 195, 1075–1076 (1962).

10

Sobolev, N. V. & Shatsky, V. S. Nature 343, 742–746 (1990).
Comments
By submitting a comment you agree to abide by our Terms and Community Guidelines. If you find something abusive or that does not comply with our terms or guidelines please flag it as inappropriate.