Abstract
DURING work on the irradiation of bakers' yeast, Saccharomyces cerevisiae, it was found that irradiation of the buffers, sodium cacodylate (sodium dimethylarsinate), (CH3)2 As O O Na, and of tris (hydroxymethyl) aminomethane (=tris= 2-amino-2-hydroxymethyl-1, 3-propanediol),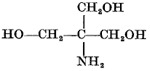 yielded substances giving positive Fiske–SubbaRow1 and ninhydrin2 colorimetric tests, respectively. Further investigations have been carried out to assess the value of these systems in radiation dosimetry.
Access options
Access options
Subscribe to Journal
Get full journal access for 1 year
$199.00
only $3.90 per issue
All prices are NET prices.
VAT will be added later in the checkout.
Rent or Buy article
Get time limited or full article access on ReadCube.
from$8.99
All prices are NET prices.
References
1

Fiske, C. H., and SubbaRow, Y., J. Biol. Chem., 63, 375 (1925).

2

Moore, S., and Stein, W. H., J. Biol. Chem., 176, 367 (1948).

3

Samples irradiated in 'High Temp' plastic culture tubes supplied by Falcon Plastics Co., Division of Becton, Dickinson and Co.

4

To receive 105 rads, the conveyor travelled at about 3.5 ft. /min through the 4.72 ft. of the source.

5

Hart, E. J., and Walsh, P. D., Radiat. Res., 1, 342 (1954).

6

β-Irradiation with the 2.0-MeV Van de Graaff Electron Accelerator at Electronized Chemicals Corp., Burlington, Mass.
Rights and permissions
To obtain permission to re-use content from this article visit RightsLink.
Comments
By submitting a comment you agree to abide by our Terms and Community Guidelines. If you find something abusive or that does not comply with our terms or guidelines please flag it as inappropriate.