Abstract
In chaotic scattering, an initially freely moving orbit (such as that of an atom or a star) enters a scattering region and evolves chaotically for a period of time before it escapes and returns to free motion1. We have looked at cases in which escape can occur in three or more distinct ways. Using a laboratory model, we demonstrate experimentally that the regions of state space (called basins) corresponding to different ways of escaping can have an interesting topological property that we call the Wada property, by which we mean that these regions of state space might be so convoluted that every point on the boundary of a basin is on the boundary of all basins2,3.
This is a preview of subscription content
Access options
Subscribe to Journal
Get full journal access for 1 year
$199.00
only $3.90 per issue
All prices are NET prices.
VAT will be added later in the checkout.
Tax calculation will be finalised during checkout.
Buy article
Get time limited or full article access on ReadCube.
$32.00
All prices are NET prices.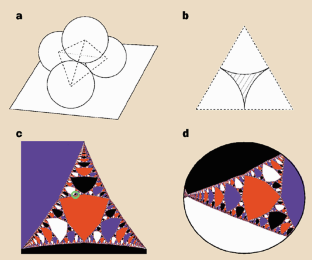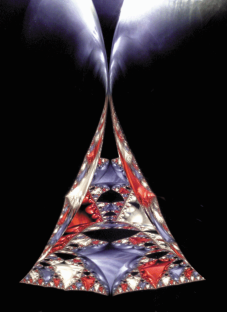 References
Ott, E. Chaos in Dynamical Systems 166-179 (Cambridge Univ. Press, 1993).

Poon, L., Campos, J., Ott, E. & Grebogi, C. Int. J. Bifurc. Chaos 6, 251–265 (1996).

Nusse, H. E. & Yorke, J. A. Science 271, 1376–1380 (1996).

Kovàcs, Z. & Wiesenfeld, L. Phys. Rev. E 51, 5476–5494 (1995).

Boyd, P. T. & McMillian, S. L. W. Chaos 3, 507–523 (1993).

Sommerer, J. C., Ku, H.-C. & Gilreath, H. E. Phys. Rev. Lett. 77, 5055–5058 (1996).

Baranger, H. U., Jalabert, R. A. & Stone, A. D. Chaos 3, 665–682 (1993).

Chen, Q. & Ding, M. & Ott, E. Phys. Lett. A 115, 93–100 (1990).

Alligood, K., Sauer, T. D. & Yorke, J. A. Chaos—An Introduction to Dynamical Systems 432-439 (Springer, New York, 1997).

Alexander, D. S. AHistory of Complex Dynamics 131, 141-142 (Vieweg, 1994).
About this article
Cite this article
Sweet, D., Ott, E. & Yorke, J. Topology in chaotic scattering. Nature 399, 315–316 (1999). https://doi.org/10.1038/20573
Issue Date:

DOI: https://doi.org/10.1038/20573
Comments
By submitting a comment you agree to abide by our Terms and Community Guidelines. If you find something abusive or that does not comply with our terms or guidelines please flag it as inappropriate.