Abstract
Although plants transformed with genetic material from the bacterium Bacillus thuringiensis (Bt ) are generally thought to have negligible impact on non-target organisms1, Bt corn plants might represent a risk because most hybrids express the Bt toxin in pollen2, and corn pollen is dispersed over at least 60 metres by wind3. Corn pollen is deposited on other plants near corn fields and can be ingested by the non-target organisms that consume these plants. In a laboratory assay we found that larvae of the monarch butterfly, Danaus plexippus, reared on milkweed leaves dusted with pollen from Bt corn, ate less, grew more slowly and suffered higher mortality than larvae reared on leaves dusted with untransformed corn pollen or on leaves without pollen.
Access options
Access options
Subscribe to Journal
Get full journal access for 1 year
$199.00
only $3.90 per issue
All prices are NET prices.
VAT will be added later in the checkout.
Rent or Buy article
Get time limited or full article access on ReadCube.
from$8.99
All prices are NET prices.
References
1

Ostlie, K. R., Hutchison, W. D. & Hellmich, R. L. Bt Corn and European Corn Borer (NCR publ. 602, Univ. of Minnesota, St Paul, 1997).

2

Fearing, P. L., Brown, D., Vlachos, D., Meghji, M. & Privalle, L. Mol. Breed. 3, 169–176 (1997).

3

Raynor, G. S., Ogden, E. C. & Hayes, J. V. Agron. J. 64, 420–427 (1972).

4

Malcolm, S. B., Cockrell, B. J. & Brower, L. P. in Biology and Conservation of the Monarch Butterfly (eds Malcolm, S. B. & Zalucki, M. P.) 253-267 (Natural History Museum of Los Angeles County, Los Angeles, 1993).

5

Malcolm, S. B., Cockrell, B. J. & Brower, L. P. J. Chem. Ecol. 15, 819–853 (1989).

6

Yenish, J. P., Fry, T. A., Durgan, B. R. & Wyse, D. L. Weed Sci. 45, 44–53 (1997).

7

Brower, L. P. J. Exp. Biol. 199, 93–103 (1996).

8

Wassenaar, L. I. & Hobson, K. A. Proc. Natl Acad. Sci. USA 95, 15436–15439 (1998).

9

Andow, D. A. & Hutchison, W. D. in Now or Never: Serious New Plans to Save a Natural Pest Control (eds Mellon, M. & Rissler, J.) 19-65 (Union of Concerned Scientists, Cambridge, Massachusetts, 1998).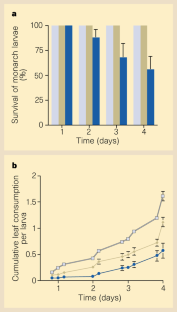 Comments
By submitting a comment you agree to abide by our Terms and Community Guidelines. If you find something abusive or that does not comply with our terms or guidelines please flag it as inappropriate.