Abstract
Archaeopteris is an extinct plant which is of botanical interest for two reasons. It was the main component of the earliest forests until its extinction around the Devonian/Carboniferous boundary1,3, and phylogenetically, it is the free-sporing taxon that shares the most characteristics with the seed plants4,5. Here we describe the largest group of anatomically preserved Archaeopteris remains ever found, from the Famennian marine beds of south-eastern Morocco6, and provide the first evidence that, in terms of development and branching strategies, these 370-million-year-old plants were the earliest known modern trees. This modernization involved the evolution of four characteristics: a lateral branching syndrome similar to the axillary branching of early seed plants; adventitious latent primordia similar to those produced by living trees, which eventually develop into roots on stem cuttings; nodal zones as important sites for the subsequent development of lateral organs; and wood anatomy strategies that minimize the mechanical stresses caused by perennial branch growth.
Access options
Subscribe to Journal
Get full journal access for 1 year
$199.00
only $3.90 per issue
All prices are NET prices.
VAT will be added later in the checkout.
Rent or Buy article
Get time limited or full article access on ReadCube.
from$8.99
All prices are NET prices.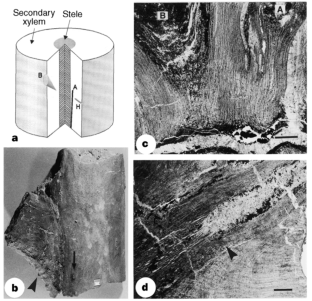 References
1

Fairon-Demaret, M. Some uppermost Devonian megafloras: a stratigraphical review. Ann. Soc. Géol. Belgique 109, 43–48 (1986).

2

Beerbower, R. et al. in Terrestrial Ecosystems Through Time (ed. Behrensmeyer, A. K.) 205–325 (Univ. of Chicago Press, Chicago, 1992).

3

Scheckler, S. E. Geology, floristics, and paleoecology of Late Devonian coal swamps from Appalachian Laurentia (U.S.A.). Ann. Soc. Géol. Belgique 109, 209–222 (1986).

4

Rothwell, G. W. & Serbet, R. Lignophyte phylogeny and the evolution of spermatophytes: a numerical cladistic analysis. Syst. Bot. 19, 443–482 (1994).

5

Nixon, K. C., Crepet, W. L., Stevenson, D. & Friis, E. M. Areevaluation of seed plant phylogeny. Ann. Missouri Bot. Gard. 81, 484–533 (1994).

6

Wendt, J. & Belka, Z. Age and depositional environment of Upper Devonian (Early Frasnian to Early Famennian) black shales and limestones (Kellwasser facies) in the eastern-Anti-Atlas, Morocco. Facies 25, 51–90 (1991).

7

Beck, C. B. & Wight, D. C. in Origin and Evolution of Gymnosperms (ed. Beck, C. B.) 1–84 (Columbia University Press, New York, 1988).

8

Beck, C. B. On the anatomy and morphology of lateral branch systems of Archaeopteris. Am. J. Bot. 58, 758–784 (1971).

9

Carluccio, L. M., Hueber, F. M. & Banks, H. P. Archaeopteris macilenta, anatomy and morphology of its front. Am. J. Bot. 53, 719–730 (1966).

10

Kenrick, P. & Fairon-Demaret, M. Archaeopteris roemeriana (Göppert) sensu Stockmans, 1948 from the Upper Famennian of Belgium: anatomy and leaf polymorphism. Bull. Inst. R. Sci. Nat. Belgique, Sci. Terre 61, 179–195 (1991).

11

Scheckler, S. E. Ontogeny of progymnosperms. II. Shoots of Upper Devonian Archaeopteridales. Can. J. Bot. 56, 3136–3170 (1978).

12

Galtier, J. & Holmes, J. New observations on the branching of Carboniferous ferns and pteridosperms. Ann. Bot. 49, 737–746 (1982).

13

Trivett, M. L. An architectural analysis of Archaeopteris, a fossil tree with pseudomonopodial and opportunistic adventitious growth. Bot. J. Linn. Soc. 111, 301–329 (1993).

14

Meyer-Berthaud, B., Wendt, J. & Galtier, J. First record of a large Callixylon trunk from the Late Devonian of Gondwana. Geol. Mag. 134, 847–853 (1997).

15

Fink, S. Adventitious root primordia — The cause of abnormally broad xylem rays in hardwood and softwoods. IAWA Bull. n.s. 3, 31–38 (1982).

16

Larson, P. R. The Vascular Cambium: Development and Structure 1–725 (Springer, Berlin, 1994).

17

Mattheck, C. & Kubler, H. Wood — The Internal Optimization of Trees 1–129 (Springer, Berlin, 1995).

18

Zobel, B. J. & van Buijtenen, J. P. Wood Variation: its Causes and Control 1–363 (Springer, Berlin, 1989).
Acknowledgements
Portions of this study were supported by a sabbatical research leave from VPI & SU and a grant from the National Science Foundation (USA), Division of Integrative Biology and Neuroscience, Program for Ecological and Evolutionary Physiology (to S.E.S.). We thank M. Boutaleb and A. Fadile for the issue of working permits and the export of samples; S.Doering, R. Feist, B. Kaufmann, C. Klug and D.Korn for advice in the field; and J. Guiraud and L.Meslin for technical help. This work was supported by grants from IGCP (North Gondwanan mid-Palaeozoic biodynamics) and CNRS.
About this article
Cite this article
Meyer-Berthaud, B., Scheckler, S. & Wendt, J. Archaeopteris is the earliest known modern tree. Nature 398, 700–701 (1999). https://doi.org/10.1038/19516
Received:

Accepted:

Issue Date:
Comments
By submitting a comment you agree to abide by our Terms and Community Guidelines. If you find something abusive or that does not comply with our terms or guidelines please flag it as inappropriate.