Abstract
THE exceptional efficiency of the commercially available iron chelate of N,N′-ethylenebis-[2-(o-hydroxyphenyl)]-glycine (EHPG) in correcting iron chlorosis induced by lime in plants has long been recognized1. Extensive studies of solution equilibria2, analytical3 and medical4 applications of this substance have also been conducted. The fact that stereo-isomeric forms of it are possible has not been indicated previously. On inspection of the molecular structure of EHPG: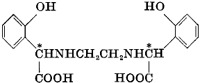 it is apparent that two like asymmetric carbon atoms are present as indicated by the asterisks. Accordingly, two forms of the compound with different physical and chemical properties should exist, a meso form and a dl-racemic mixture. It was of interest, therefore, to separate and characterize these isomers and to determine their possible significant difference in translocating iron to plants.
Access options
Access options
Subscribe to Journal
Get full journal access for 1 year
$199.00
only $3.90 per issue
All prices are NET prices.
VAT will be added later in the checkout.
Rent or Buy article
Get time limited or full article access on ReadCube.
from$8.99
All prices are NET prices.
References
1

Kroll, H., Knell, M., Powers, J., and Simonian, J., J. Amer. Chem. Soc., 79, 2024 (1957).

2

Frost, A. E., Freedman, H. H., Westerback, S. J., and Martell, A. E., J. Amer. Chem. Soc., 80, 530 (1958).

3

Hill-Cottingham, D. G., Analyst, 82, 524 (1957).

4

Rubin, M., and Princiotto, J. V., Ann. N.Y. Acad. Sci., 88, 450 (1960).
Rights and permissions
To obtain permission to re-use content from this article visit RightsLink.
Further reading
W. D. C. Schenkeveld

,

A. M. Reichwein

,

E. J. M. Temminghoff

&

W. H. van Riemsdijk

Plant and Soil (2007)
Comments
By submitting a comment you agree to abide by our Terms and Community Guidelines. If you find something abusive or that does not comply with our terms or guidelines please flag it as inappropriate.