Abstract
WITH the view of further pharmacological work by one of us (K. V.-B.), it was decided to synthesize certain esters of chromone-2-carboxylic acid, not previously described1–4. The following compounds were obtained : dimethylaminoethyl-chromone-2-carboxylate hydrochloride (Ia), the methiodide of the base (Ib); tropyl-chromone-2-carboxylate (IIa), its hydrochloride (IIb), methobromide (IIc) and methiodide (IId):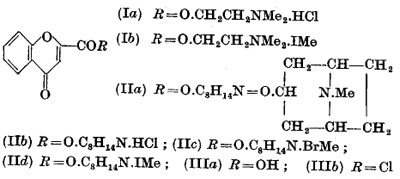 References
1

Schmutz, J., Lauener, H., Hirt, R., and Sanz, M., Helv. Chim. Acta, 34, 767 (1951).

2

Vejdelek, Z. J., Trcka, V., Chyba, O., and Chybova, H., Chem. Listy, 47, 575 (1953); Chem. Abst., 49, 300 (1955).

3

Zagorevskii, V. A., Zykov, D. A., and Pronina, L. P., Zhur. Obshchei Khim., 29, 1026 (1959).

4

Zagorevskii, V. A., Zykov, D. A., and Vinokurov, V. G., Zhur. Obshchei Khim., 29, 2302 (1959).

5

Cramer, F., Papierchromatographie, fourth ed., 164 (Verlag Chemie, Weinheim, 1958).
Rights and permissions
To obtain permission to re-use content from this article visit RightsLink.
Comments
By submitting a comment you agree to abide by our Terms and Community Guidelines. If you find something abusive or that does not comply with our terms or guidelines please flag it as inappropriate.