Abstract
THE derivative of 2,4-dichloro-6-anilino-s-triazine containing a chlorine atom in the benzene ring ortho to the imino group is less toxic to conidia of Neurospora sitophila (Mont.) Shear and Dodge than the corresponding meta or para isomer1.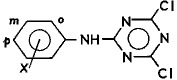 Access options
Subscribe to Journal
Get full journal access for 1 year
$199.00
only $3.83 per issue
All prices are NET prices.
VAT will be added later in the checkout.
Rent or Buy article
Get time limited or full article access on ReadCube.
from$8.99
All prices are NET prices.
References
1

Burchfield, H. P., and Storrs, Eleanor E., Contrib. Boyce Thompson Inst., 18, 429 (1957).

2

Storrs, Eleanor E., thesis, M. S., New York University (1958).
About this article
Cite this article
BURCHFIELD, H., STORRS, E. An Ortho Effect influencing Fungitoxicity, Electronic Absorption Spectra, and Chemical Reactivity with Mercaptalbumin. Nature 187, 593–594 (1960) doi:10.1038/187593a0
Comments
By submitting a comment you agree to abide by our Terms and Community Guidelines. If you find something abusive or that does not comply with our terms or guidelines please flag it as inappropriate.