Abstract
The larvae of jewel beetles of the genus Melanophila (Buprestidae) can develop only in the wood of trees freshly killed by fire1. To arrange this, the beetles need to approach forest fires from as far as 50 kilometres away1, 2. They are the only buprestid beetles known to have paired thoracic pit organs3, which behavioural2, ultrastructural4 and physiological experiments5 have shown to be highly sensitive infrared receptors, useful for detecting forest fires. It has been suggested that Melanophila can sense the smoke from fires6, but behavioural experiments failed to show that crawling beetles approach smoke sources2. We find that the antennae of jewel beetles can detect substances emitted in smoke from burning wood.
This is a preview of subscription content
Access options
Subscribe to Journal
Get full journal access for 1 year
$199.00
only $3.90 per issue
All prices are NET prices.
VAT will be added later in the checkout.
Tax calculation will be finalised during checkout.
Rent or Buy article
Get time limited or full article access on ReadCube.
from$8.99
All prices are NET prices.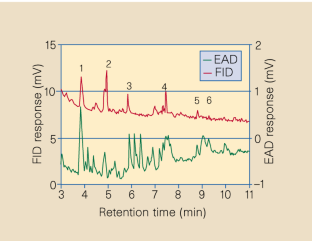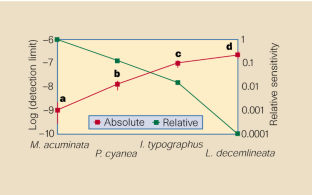 References
1

Linsley, E. G. J. Econ. Entomol. 36, 341–342 (1943).

2

Evans, W. G. Nature 202, 211 (1964).

3

Sloop, K. D. Univ. Calif. Berkeley Publ. Entomol. 7, 1–20 (1937).

4

Vondran, T., Apel, K. -H. & Schmitz, H. Tiss. Cell 27, 645–658 (1995).

5

Schmitz, H., Mürtz, M. & Bleckmann, H. Nature 386, 773–774 (1997).

6

Manee, A. H. Entomol. News 24, 167–171 (1913).

7

Weissbecker, B., Schütz, S., Klein, A. & Hummel, H. E. Talanta 44, 2217–2224 (1997).

8

Sagebiel, J. C. & Seiber, J. N. Environ. Tox. Chem. 12, 813–822 (1993).

9

Edye, L. A. & Richards, G. N. Environ. Sci. Technol. 25, 1133–1137 (1991).

10

Bossert, W. H. & Wilson, E. O. J. Theor. Biol. 5, 443–468 (1963).

11

Schütz, S., Weissbecker, B. & Hummel, H. E. Biosens. Bioelectron. 11, 427–433 (1996).
About this article
Cite this article
Schütz, S., Weissbecker, B., Hummel, H. et al. Insect antenna as a smoke detector. Nature 398, 298–299 (1999). https://doi.org/10.1038/18585
Comments
By submitting a comment you agree to abide by our Terms and Community Guidelines. If you find something abusive or that does not comply with our terms or guidelines please flag it as inappropriate.