Abstract
WE would like to call attention to a new procedure suitable for purification of simple compounds weakly associated with high molecular weight substances. The method, which was proposed elsewhere by one of us1, is based on separation according to molecular size achievable by means of filtration through dextran gels2. The principle which involves three operations may be illustrated for protein-bound peptides by the following scheme :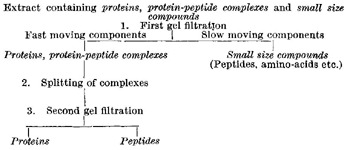 Access options
Access options
Subscribe to Journal
Get full journal access for 1 year
$199.00
only $3.90 per issue
All prices are NET prices.
VAT will be added later in the checkout.
Rent or Buy article
Get time limited or full article access on ReadCube.
from$8.99
All prices are NET prices.
References
1

Porath, J., Biochim. Biophys. Acta (in the press).

2

Porath, J., and Flodin, P., Nature, 183, 1657 (1959).

3

Moore, S., and Stein, W. H., J. Biol. Chem., 211, 907 (1954).

4

Dekanski, J., Brit. J. Pharmacol., 7, 567 (1952).

5

Coon, J. M., Arch. internat. pharmacody. thérap., 62, 79 (1939).

6

Lowry, O. L., et al., Biol. Chem., 193, 265 (1951).
Further reading
Jerker Porath

&

Per Flodin

Chromatographia (1987)

Nature New Biology (1972)
Comments
By submitting a comment you agree to abide by our Terms and Community Guidelines. If you find something abusive or that does not comply with our terms or guidelines please flag it as inappropriate.