Abstract
WEISS et al.1 have shown that X-irradiation of aerated aqueous solutions of nucleic acids, pyrimidine nucleotides or pyrimidine bases gives rise to hydroperoxides. In the case of thymine, they proposed the following possible structures:

which are in agreement with previous preliminary results from this laboratory2. As the hydroperoxide produced by X-irradiation of thymine was sufficiently stable to permit isolation, the synthesis of compounds corresponding to formulæ I and II was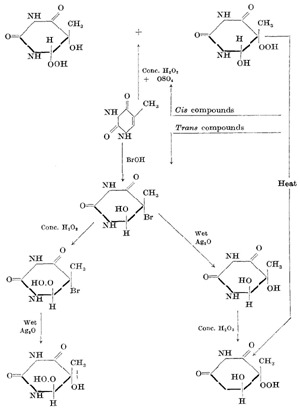 attempted in order to compare them with the products isolated from X-irradiated thymine solutions. Each of these two compounds can presumably exist in two forms, cis and trans: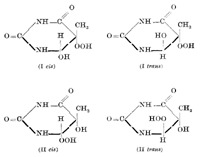 Access options
Subscribe to Journal
Get full journal access for 1 year
$199.00
only $3.90 per issue
All prices are NET prices.
VAT will be added later in the checkout.
Rent or Buy article
Get time limited or full article access on ReadCube.
from$8.99
All prices are NET prices.
References
1

Scholes, G., Weiss, J., and Wheeler, C. M., Nature, 178, 157 (1956). Daniels, M., Scholes, G., Weiss, J., and Wheeler, C. M., J. Chem. Soc., 226 (1957). Weiss, J., "Les peroxydes organiques en radiobiologie", 42 (Masson, Paris, 1958).

2

Ekert, B., and Monier, R., Ann. Inst. Pasteur, 92, 556 (1957).

3

Jones, W. S., Z. physiol. Chem., 29, 20 (1899–1900).

4

Baudish, O., and Davidson, D., Ber. deut. chem. Ges., 58, 1680 (1925).
About this article
Cite this article
EKERT, B., MONIER, R. Structure of Thymine Hydroperoxide produced by X-Irradiation. Nature 184, BA58–BA59 (1959) doi:10.1038/184058a0b
Comments
By submitting a comment you agree to abide by our Terms and Community Guidelines. If you find something abusive or that does not comply with our terms or guidelines please flag it as inappropriate.