Abstract
THE isotopic work of Jackel, Mosbach, Burns and King1 with rats, and that of Sivarama Sastry and Sarma2 with plants, showed definitely that in both these species, glucose is the direct precursor of L-ascorbic acid. The studies of Horowitz and King3 and Isherwood, Chen and Mapson4 have established that in both cases glucuronic acid is an intermediate in the conversion of glucose to ascorbic acid, which takes place according to the sequence: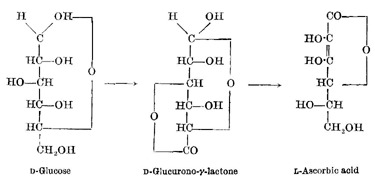 Access options
Subscribe to Journal
Get full journal access for 1 year
$199.00
only $3.90 per issue
All prices are NET prices.
VAT will be added later in the checkout.
Rent or Buy article
Get time limited or full article access on ReadCube.
from$8.99
All prices are NET prices.
References
1

Jackel, S. S., Mosbach, E. H., Burns, J. J., and King, C. G., J. Biol. Chem., 186, 569 (1950).

2

Sivarama Sastry, K., and Sarma, P. S., Biochem. J., 62, 451 (1956).

3

Horowitz, H. H., and King, C. G., J. Biol. Chem., 205, 815 (1954).

4

Isherwood, F. A., Chen, Y. T., and Mapson, L. W., Biochem. J., 56, 1 (1954).

5

Geiger-Huber, Max, and Galli, Heidi, Verhandl. Naturforsch. Ges. Basel, 56, Pt. I, 37 (1944–45).

6

Butkevitch, V. S., Menshinskaja, E. V., and Trofimova, E. I., C.R. Acad. Sci. U.R.S.S., 18, No. 9, 659 (1938).

7

Sivarama Sastry, K., M.Sc. thesis submitted to University of Madras, Jan. 1955.

8

Walker, T. K., "Adv. Enzymol.", 9, 537 (1949).
About this article
Cite this article
SASTRY, K., SARMA, P. Glucuronic Acid, a Precursor of Ascorbic Acid in Aspergillus niger. Nature 179, 44–45 (1957). https://doi.org/10.1038/179044a0
Comments
By submitting a comment you agree to abide by our Terms and Community Guidelines. If you find something abusive or that does not comply with our terms or guidelines please flag it as inappropriate.