Abstract
The role of very late antigen-5 (VLA-5) in homing and mobilization of hematopoietic stem cells from normal bone marrow (NBM) and bone marrow (MBM) and peripheral blood (MPB) from mobilized mice was investigated. We found a decreased number of VLA-5-expressing cells in the lineage-negative fraction of MPB. However, virtually all stem/progenitor cells were present in the VLA-5+ fraction and hence mobilization of hematopoietic stem cell subsets does not coincide with a downregulation of VLA-5. Stem/progenitor cells from MPB and MBM demonstrated enhanced stromal-derived factor-alpha-induced migration. This enhanced migration correlates with an improved hematopoietic reconstitution potential, with the migrated MPB cells showing the fastest reconstitution. Interestingly, homing of MPB, MBM and NBM stem/progenitor cells in bone marrow and spleen did not differ and is therefore not responsible for the differences in hematopoietic reconstitution. The observed increase in VLA-5+ cells in the recipients after transplantation can most probably be attributed to selective homing of VLA-5+ cells instead of an upregulation of VLA-5. Treatment with an antibody to VLA-5 partially inhibited bone marrow homing of progenitor cells, whereas homing in the spleen was hardly affected. These data indicate a differential role for VLA-5 in the movement of stem cells from and toward bone marrow.
Access options
Subscribe to this journal
Receive 12 print issues and online access
$259.00 per year
only $21.58 per issue
Rent or buy this article
Prices vary by article type
from$1.95
to$39.95
Prices may be subject to local taxes which are calculated during checkout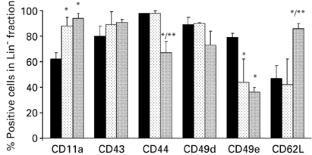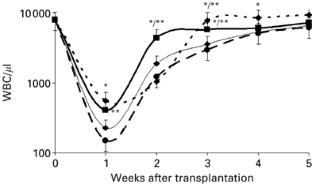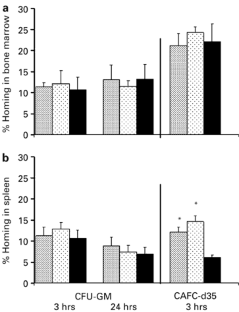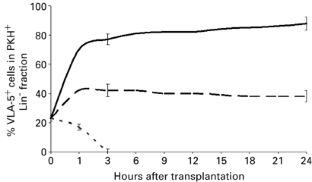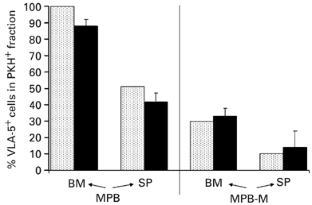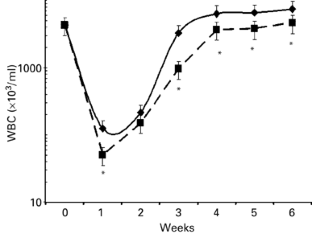 References
Gratwohl A, Baldomero H, Schmid O, Horisberger B, Bargetzi M, Urbano-Ispizua A . Change in stem cell source for hematopoietic stem cell transplantation (HSCT) in Europe. Bone Marrow Transplant 2005; 36: 575–590.

Shpall EJ, Cagnoni PJ, Bearman SI, Ross M, Jones RB . Peripheral blood stem cells for autografting. Ann Rev Med 1997; 48: 241–251.

To LB, Haylock DN, Simmons PJ, Juttner CA . The biology and clinical uses of blood stem cells. Blood 1997; 89: 2233–2258.

Ahmed T, Ciavarella D, Cook P, Wuest D . Blood progenitor cells: collection techniques and applications. Cancer Invest 1994; 12: 421–424.

Moog R, Muller N . Technical aspects and performance in collecting peripheral blood progenitor cells. Ann Hematol 1998; 77: 143–147.

Beyer J, Schwella N, Zingsem J, Strohscheer I, Schwaner I, Oettle H et al. Hematopoietic rescue after high-dose chemotherapy using autologous peripheral blood progenitor cells or bone marrow: a randomized comparison. J Clin Invest 1995; 13: 1328–1335.

Urbano-Ispizua A, Rozman C, Martínez C, Marín P, Briones J, Rovira M et al. Rapid engraftment without significant graft-versus-host disease after allogeneic transplantation of CD34+ selected cells from peripheral blood. Blood 1997; 89: 3967–3973.

Visani G, Lemoli RM, Tosi P, Martinelli G, Testoni N, Ricci P et al. Use of peripheral blood stem cells for autologous transplantation in acute myeloid leukemia patients allows faster engraftment and equivalent disease-free survival compared with bone marrow cells. Bone Marrow Transplant 1999; 24: 467–472.

Vellenga E, Van Putten WLJ, Boogaerts MA, Daenen SMGJ, Verhoef GEG, Hagenbeek A et al. Peripheral blood stem cell transplantation as an alternative to autologous marrow transplantation in the treatment of acute myeloid leukemia? Bone Marrow Transplant 1999; 23: 1279–1282.

Champlin RE, Schmitz N, Horowitz MM, Chapuis B, Chopra R, Cornelissen JJ et al. Blood stem cells compared with bone marrow as a source of hematopoietic cells for allogeneic transplantation. Blood 2000; 95: 3902–3909.

Vermeulen M, Le Pesteur F, Gagnerault MC, Mary JY, Sainteny F, Lepault F . Role of adhesion molecules in the homing and mobilization of murine hematopoietic stem and progenitor cells. Blood 1998; 92: 894–900.

Verfaille CM . Adhesion receptors as regulators of the hematopoietic process. Blood 1998; 92: 2609–2612.

van der Loo JC, Xiao X, McMillin D, Hashino K, Kato I, Williams DA . VLA-5 expressed by mouse and human long-term repopulating hematopoietic cells and mediates adhesion to extracellular matrix protein fibronectin. J Clin Invest 1998; 178: 1498–1504.

Prosper F, Stroneck D, McCarthy JB, Verfaille CM . Mobilization and homing of peripheral blood progenitors is related to reversible downregulation of α4β1 integrin expression and function. J Clin Invest 1998; 101: 2456–2477.

Lichterfeld M, Martin S, Burkly L, Haas R, Kronenwett R . Mobilization of CD34+ haematopoietic stem cells is associated with a functional inactivation of the integrin very late antigen 4. Br J Haematol 2000; 110: 71–81.

Szilvassy SJ, Meyerrose TE, Ragland PL, Grimes B . Differential homing and engraftment properties of hematopoietic progenitor cells from murine bone marrow, mobilized peripheral blood, and fetal liver. Blood 2001; 98: 2108–2115.

Craddock CF, Nakamoto B, Elices M, Papayannopoulou T . The role of CS1 moiety of fibronectin in VLA-4 mediated haemopoietic progenitor trafficking. Br J Haematol 1997; 97: 15–21.

Papayannopoulou T, Priestly GV, Nakamoto B . Anti VLA4/VCAM1-induced mobilization requires cooperative signaling through the kit/mkit ligand pathway. Blood 1998; 91: 2231–2239.

Watanabe T, Dave B, Heimann DG, Lethaby E, Kessinger A, Talmadge JE . GM-CSF-mobilized peripheral blood CD34+ cells differ from steady-state bone marrow CD34+ cells in adhesion molecule expression. Bone Marrow Transplant 1997; 19: 1175–1181.

Turner ML, McIIwaine K, Anthony RS, Parker AC . Differential expression of cell adhesion molecules by human hematopoietic progenitor cells from bone marrow and mobilized adult peripheral blood. Stem Cells 1995; 13: 311–316.

Carion A, Domenech J, Herault O, Benboubker L, Clement N, Bernard MC et al. Decreased stroma adhesion capacity of CD34+ progenitor cells from mobilized peripheral blood is not lineage- or stage-specific and is associated with low beta 1 and beta 2 integrin expression. J Hematother Stem Cell Res 2002; 11: 491–500.

Dercksen MW, Gerritsen WR, Rodenhuis S, Dikson MK, Slaper-Cortenbach IC, Schaasberg WP et al. Expression of adhesion molecules on CD34+ cells: CD34+ L-selectin+ cells predict a rapid platelet recovery after peripheral blood stem cell transplantation. Blood 1995; 85: 3313–3319.

Peled A, Kollet O, Ponomaryov T, Petit I, Franitza S, Grabovsky V et al. The chemokine SDF-1 activates the integrins LFA-1, VLA-4, and VLA-5 on immature human CD34+ cells: role in transendothelial/stromal migration and engraftment of NOD/SCID mice. Blood 2000; 95: 3289–3296.

Yahata T, Ando K, Sato T, Miyataka H, Nakamura Y, Muguruma Y et al. A highly sensitive strategy for SCID-repopulating cell assay by direct injection of primitive human hematopoietic cells into NOD/SCID mice bone marrow. Blood 2003; 101: 2905–2913.

Kollet O, Spiegel A, Peled A, Petit I, Byk T, Hershkoviz R et al. Rapid and efficient homing of human CD34+CD38-/lowCXCR4+ stem and progenitor cells to the bone marrow and spleen of NOD/SCID and NOD/SCID/B2mnull mice. Blood 2001; 97: 3283–3291.

Zanjani ED, Flake AW, Almeida-Porada G, Tran N, Papayannopoulou T . Homing of human cells in the fetal sheep model: modulation by antibodies activating or inhibiting very late activation antigen-4 dependent function. Blood 1999; 94: 2515–2522.

Asaumi N, Omoto E, Mahmut N, Katayama Y, Takeda K, Shinagawa K et al. Very late antigen-5 and leukocyte function-associated antigen-1 are critical for early stage hematopoietic progenitor cell homing. Ann Hematol 2001; 80: 387–392.

Spiegel A, Kollet O, Peled A, Abel L, Nagler A, Bielorai B et al. Unique SDF-1-induced activation of human precursor-B ALL cells as a result of altered CXCR4 expression and signaling. Blood 2004; 103: 2900–2907.

Orschell-Traycoff CM, Hiatt K, Dagher RN, Rice S, Yoder MC, Srour EF . Homing and engraftment potential of Sca-1+ Lin- cells fractionated on the basis of adhesion molecule expression and position in the cells cycle. Blood 2000; 96: 1380–1387.

Plett PA, Frankovitz SM, Orschell-Traycoff CM . In vivo trafficking, cell cycle activity, and engraftment potential of phenotypically defined primitive hematopoietic cells after transplantation into irradiated or nonirradiated recipients. Blood 2002; 100: 3545–3552.

Hidalgo A, Sanz-Rodrigues F, Rodrigues-Fernandez JL, Albella B, Blaya C, Wright N et al. Chemokine stromal cell- derived factor-1alpha modulates VLA-4 integrin-dependent adhesion to fibronectin and VCAM-1 on bone marrow hematopoietic progenitor cells. Exp Hematol 2001; 29: 345–355.

Giet O, Huygen S, Beguin Y, Gothot A . Cell cycle activation of hematopoietic progenitor cells increase very late antigen-5-mediated adhesion to fibronectin. Exp Hematol 2001; 29: 515–524.

Wierenga PK, Setroikromo R, Kamps G, Kampinga HH, Vellenga E . Peripheral blood stem cells differ from bone marrow stem cells in cell cycle status, repopulating potential, and sensitivity toward hyperthermic purging in mice mobilized with cyclophosphamide and granulocyte colony-stimulating factor. J Hematother Stem Cell Res 2002; 11: 523–532.

Gazitt Y . Homing and mobilization of hematopoietic stem cells and hematopoietic cancer cells are mirror image processes, utilizing similar signaling pathways and occurring concurrently: circulating cancer cells constitute an ideal target for concurrent treatment with chemotherapy and antilineage-specific antibodies. Leukemia 2004; 18: 1–10.

Peled A, Petit I, Kollet O, Magid M, Ponomaryov T, Byk T et al. Dependence of human stem cell engraftment and repopulation of NOD/SCID mice on CXCR4. Science 1999; 283: 845–848.

Lapidot T . Mechanism of human stem cell migration and repopulation of NOD/SCID and B2mnull NOD/SCID mice. The role of SDF-1/CXCR4 interactions. Ann NY Acad Sci 2001; 938: 83–95.

Ploemacher RE, Van Der Sluijs JP, Van Beurden CAJ, Baert MRM, Chan PL . Use of limiting-dilution type long-term marrow cultures in frequency analysis of marrow-repopulating and spleen colony-forming hematopoietic stem cells in the mouse. Blood 1991; 78: 2527–2533.

Boggs DR . The total marrow mass of the mouse: a simplified method of measurement. Am J Hematol 1984; 16: 277–286.

Richman CM, Weiner RS, Yankee RA . Increase in circulating stem cells following chemotherapy in man. Blood 1976; 47: 1031–1039.

To LB, Shepperd KM, Haylock DN, Dyson PG, Charles P, Thorp DL et al. Single high doses of cyclophosphamide enable the collection of high numbers of hemopoietic stem cells from the peripheral blood. Exp Hematol 1990; 18: 442–447.

Spangrude GJ, Brooks DM . Mouse strain variability in the expression of the hematopoietic stem cell antigen Ly-6A/E by bone marrow cells. Blood 1993; 82: 3327–3332.

Jones RJ, Wagner JE, Celano P, Zicha MS, Sharkis SJ . Separation of pluripotent haematopoietic stem cells from spleen colony-forming cells. Nature 1990; 347: 188–189.

Osawa M, Hanada K, Hamada H, Nakauchi H . Long-term lymphohematopoietic reconstitution by a single CD34-low/negative hematopoietic stem cell. Science 1996; 273: 242–245.

Zijlmans JMJM, Visser JWM, Laterveer L, Kleiverda K, Heemskerk DPM, Kluin PM et al. The early phase of engraftment after murine blood cell transplantation is mediated by hematopoietic stem cells. Proc Natl Acad Sci USA 1998; 95: 725–729.

Wagers AJ, Allsopp RC, Weissman IL . Changes in integrin expression are associated with altered homing properties of Lin-/loThu.1loSca-1+c-kit+ hematopoietic stem cells following mobilization by cyclophosphamide/granulocyte colony-stimulating factor. Exp Hematol 2002; 30: 176–185.

Szilvassy SJ, Bass MJ, Van Zant G, Grimes B . Organ-selective homing defines engraftment kinetics of murine hematopoietic stem cells and is compromised by ex vivo expansion. Blood 1999; 93: 1557–1566.

Lanzkron SM, Collector MI, Sharkis SJ . Hematopoietic stem cell trafficking in vivo: a comparison of short-term and long-term repopulating cells. Blood 1999; 93: 1916–1921.

Plett PA, Frankovitz SM, Orschell CM . Distribution of marrow repopulating cells between bone marrow and spleen early after transplantation. Blood 2003; 102: 2285–2291.
About this article
Cite this article
Wierenga, P., Weersing, E., Dontje, B. et al. Differential role for very late antigen-5 in mobilization and homing of hematopoietic stem cells. Bone Marrow Transplant 38, 789–797 (2006). https://doi.org/10.1038/sj.bmt.1705534
Received:

Accepted:

Published:

Issue Date:

DOI: https://doi.org/10.1038/sj.bmt.1705534
Keywords